The new school year isn't too far away. Even if you have a bit to wait, I bet the thought has crept into your mind right? Each year I've adjusted my back to school plan just a little bit. There are some some staple things that I have found I absolutely need while other things didn't work out as well as I hoped. I feel that for being a therapist that travels between schools and never has the same day to day I've become decently organized in my ever developing back to school plan! Check out the tips and freebies below!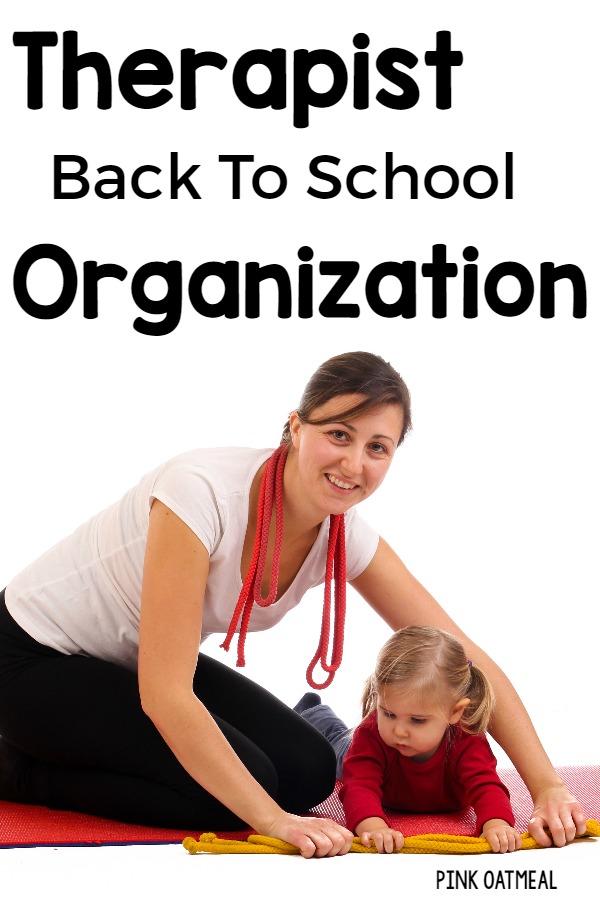 Documentation and Organization
Hands down, the best thing I did for my organization and documentation sanity was shift my documentation and folders online using Microsoft OneNote.
We can talk about it as a way of documentation, but it really goes so much beyond that. It is a full organization system for all things.
When I started as a school PT, I was handed (or given boxes) of different file folders for students. I found myself spending excessive time printing items, trying to find folders/not having folders/carrying folders around. On top of that I was doing paper notes or trying to figure out a completely different system for notes along with everything else I needed.
Enter OneNote, and it all changed. I had all my folders in an ORGANIZED online system. I could print IEP's, doctor notes, or student information right into the students online folders.
I could add photos of activities, links to different digital activities, links to ideas from the web all right into their folders. No more sticky notes!!!
On top of that, all my documentation could be done right in OneNote in much faster and efficient way. I could create templates with goals, checkboxes etc. right in OneNote and cruise through the year getting my notes done in a much for efficient manner.
SEE THE SCHOOL BASED THERAPIST DOCUMENTATION AND ORGANIZATION COURSE
Digital Resource Organization
After the past year, many people have acquired several different digital resources along with a much better understanding of the digital world! The great news is that digital resources are easy to organize.
Many digital resources can be saved right to your computer, but you can also save them to cloud based systems so that you can pull them up from any device.
I have my digital resources in 2 different places. I have digital resources in Dropbox as well as any Google Games in Google Drive. I have them all organized by season or theme. You an pick your favorite cloud based system and do the same.
PLUS, with OneNote, you can add links to these digital resources right into your students folder and you have it ready to go!!!
Now, let's say that you are going out to the school and you have 3 games that you specifically want to have available to use along with a couple of videos. You have a couple of options.
You an easily pull them up from your cloud based storage and have the videos linked and ready to go.
You can have the links on a planning sheet or already linked to that kiddos folder (if using an online system like OneNote)
Have all the games you want pulled up and ready to go on your computer or tablet.
SEE ALL OF THE DIGITAL RESOURCES FROM PINK OATMEAL
Of course, if you are a Pink Oatmeal All-Access Pass holder, you also have a huge set of online plans already done for you and available in Google Drive.
Daily Communication Forms
As much as I LOVE digital organization, there are a few things that I like to keep paper. I have a form that I try to send home with my students after each session. I found this faster and easier than trying to dig up email addresses and sit down and email after each session. I always thought these notes promoted a good relationship with the student's parents when I update them on what's going on in regards to their school based therapy.
GET THE DAILY COMMUNICATION FORMS IN THE PINK OATMEAL FREEBIE LIBRARY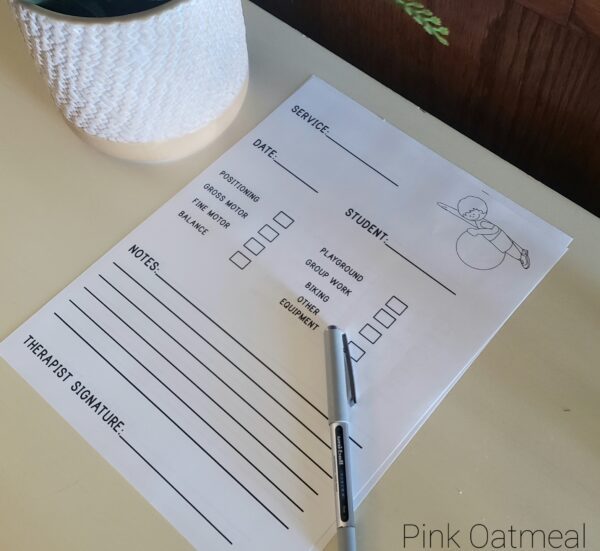 Planning Resources
I always went to see my kids with a plan of what I was going too do. I allowed the plan to be loose as I knew that I sometimes wouldn't necessarily have the space or things might now exactly go as I hoped.
I found that if I stuck with a general theme I always did better. For example, if I had a kiddo that loved basketball my therapy plan was going to revolve around basketball. This gave me many options that I could choose from including agility drills, basketball warm-ups (which was a whole lot of gross motor activities), basketball games (printable and digital format), walking in a gait trainer to the basketball hoop, then getting to shoot etc. This way I could pick and choose what worked that day, but sticking with the theme was more engaging! On the Pink Oatmeal blog, there are several themed ideas to get you started
SEE ALL OF THE THEMED IDEAS FROM PINK OATMEAL
Equipment In A Car
A Storage Bin
My office (aka my car) has a lot of stuff in it during the school year. I had a large storage bin that I put in the back of my car. In this storage bin are several different pieces of equipment that I like to have on hand to use, especially if I am in a pinch. I have an Amazon storefront where I share some of my favorite equipment! I traveled to a lot of different schools. In some schools I had access to plenty of equipment, and didn't have to use my own. I never took everything in to a school, only what I specifically needed.
SEE MY AMAZON STOREFRONT FOR EQUIPMENT IDEAS
THERAPY BAG ORGANIZATION
Before I go into this, I will admit, my therapy bag always started off nice and organized, but often ended up a disaster that would have to be re-organized. There were some things in my therapy bag I really couldn't go without, number one being tools.
I never knew how much I would have to use tools in my job! I have an Allen wrench, screwdriver, and needle nose on hand. I also carry tape, Velcro, and sidewalk chalk in my bag at all times!
Along with this I always had my iPad full of different resources and videos I could pull up at anytime (Pink Oatmeal has over a 100 more digital resources now). If I had any printable resources I planned to use that day with specific kids I would have those in my bag too.
SEE ALL THE DIGITAL RESOURCE OPTIONS
Organizing Your Therapy Room
When I say therapy room this may also include therapy office or even home for those of you that don't have an actual therapy room (raising my hand over here) Therapists often have lots of equipment and extras that can be everywhere! I know it can be hard to keep it all organized. I had my desk plus a closet in my room dedicated to stuff. I found out that organizing and labeling is what worked for me. This way I had better luck actually finding things when I needed them, instead of digging through several boxes. You can get these therapy room printable labels here!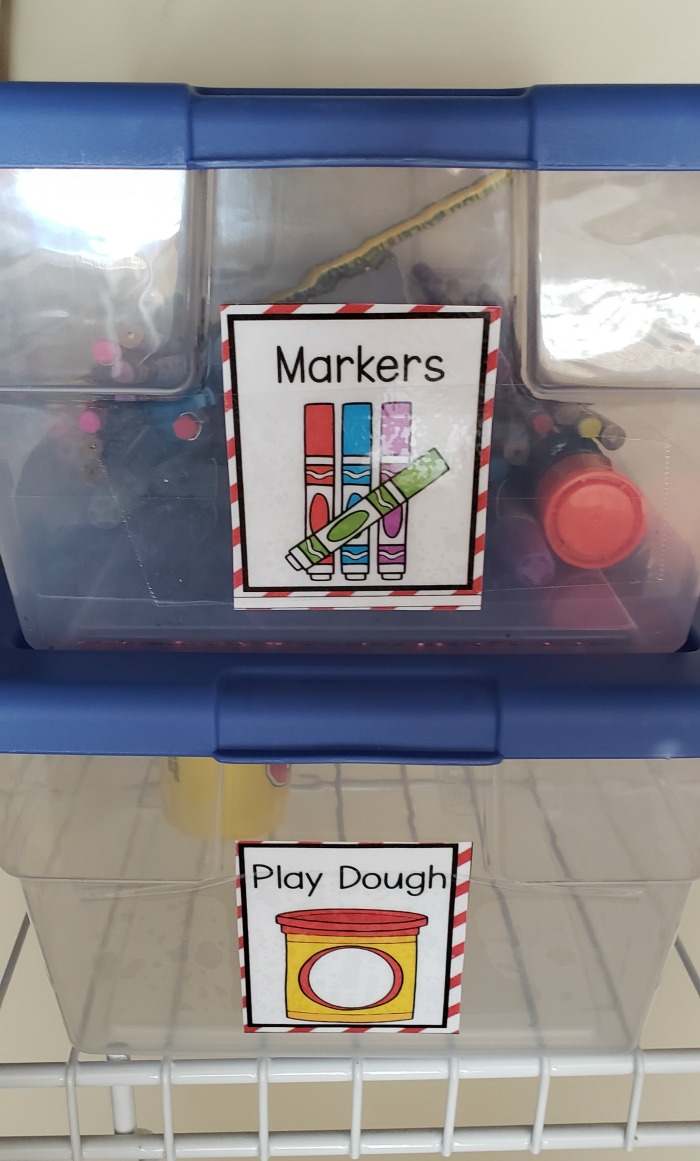 Themed Therapy Room Organization
For those of you that are lucky enough to have your own therapy room, there is the option to stay organized with a theme! I've always admired how cute so many teachers had there room. Therapists can too! In the Pink Oatmeal shop you can find Superhero Themed Therapy Room Resources. This pack includes therapy notes, therapy punch cards, calendar, days of the week, birthday printable, the therapist is… printable, therapy welcome signs, therapy bunting, labels all with a superhero theme! Even though I don't have a therapy room myself plenty of these resources are perfect for the traveling therapist as well! Grab it this summer and have your Superhero Room ready for your Superheroes when you get back!
GET THE THERAPY ROOM RESOURCES IN THE SHOP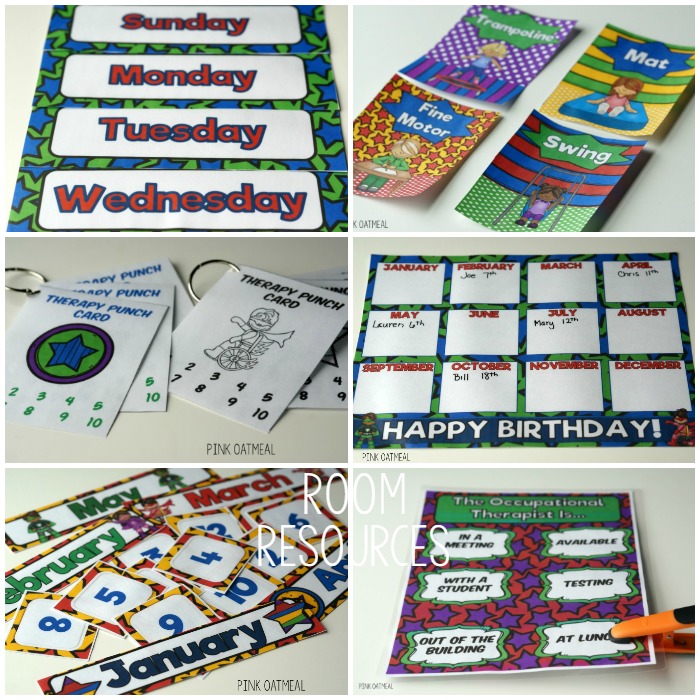 How about having everything done for you?
Pink Oatmeal is now offering Membership options! The membership options give you access to a video library, members only products, and themed planning ideas each month. With a subscription to the annual membership you get ALL of the resources available on Pink Oatmeal! With a monthly membership you get credit to use towards products in the Pink Oatmeal shop!