The new school year isn't too far away. Even if you have a bit to wait, I bet the thought has crept into your mind right? Each year I've adjusted my back to school plan just a little bit. There are some some staple things that I have found I absolutely need while other things didn't work out as well as I hoped. I feel that for being a therapist that travels between schools and never has the same day to day I've become decently organized in my ever developing back to school plan! Check out the tips and freebies below!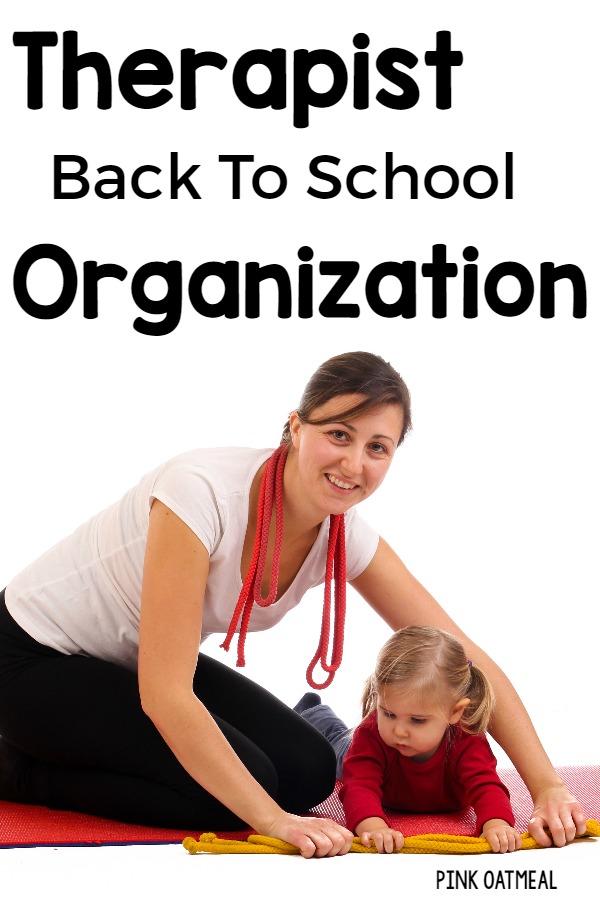 Therapist Organization
Being a organized as a school-based therapist is no joke. Whether you run an organized ship or not can make or break your year and your time. After a couple of years strumming through paper folders and paper notes, I made some big changes that made my life so much easier. I've also continued to create more resources to make life so much easier for therapists who understand the struggles of time constraints, space constraints, and LOTS of paperwork.
I talk about some different programs I use below.
Microsoft OneNote – Seriously the best for organization.
Microsoft OneNote Course – I take a deep dive into all the features of Microsoft OneNote for the cost of taking me out to dinner.
Pink Oatmeal Video Library – Already organized for you, and I must say really, really great. (You can use other video links to ideas as well.)
Obviously, being that is is Pink Oatmeal, we use our stuff. I've worked hard to make it the best and most organized option for you out there, but you don't have to be exclusive to Pink Oatmeal resources to use this same form of documentation and organization.
Documentation and Organization
When I started as a school PT, I was handed (or given boxes) of different file folders for students. I found myself spending excessive time printing items, trying to find folders/not having folders/carrying folders around. On top of that I was doing paper notes or trying to figure out a completely different system for notes along with everything else I needed .A few years in the school with no system, I was done. I played around with a few different online programs (Google Suite), but then I found it….
Hands down, the best thing I did for my organization and documentation sanity was shift my documentation and folders online using Microsoft OneNote.
We can talk about it as a way of documentation, but it really goes so much beyond that. It is a full organization system for all things.
Below is a video of how I organized and documented using OneNote.
Here is how it worked.
I created a notebook for the new school year: Example 2022-2023 School Year
Within each notebook I had section groups, these groups were the different schools I worked at. Example would be Oak Elementary, Maple Elementary etc.
Within each section group was a folder for each student.
In each students folder I had their daily documentation using a template that I could copy and paste each day making documentation very easy, IEP, Evaluation, Dr. Orders, photos etc.
I was able to stay almost completely paperless when it came to organizing and documenting. I could also document from almost anywhere being that I used the cloud based system.
OneNote was a game changer for organization and documentation.
I had all my folders in an ORGANIZED online system. I could print IEP's, doctor notes, or student information right into the students online folders. I could add photos of activities, links to different digital activities, links to ideas from the web all right into their folders. No more sticky notes!!!
On top of that, all my documentation could be done right in OneNote in much faster and efficient way. I could create templates with goals, checkboxes etc. right in OneNote and cruise through the year getting my notes done in a much for efficient manner. You can also link to notes from any outside source such as Google Forms, Notes etc. if you feel like you have those systems rocking.
To get a full understanding of OneNote and how AMAZING all the functions are, I put together a short and cheap course (think of buying me dinner for my time). There is so much greatness to how this program works, I can't put it all in one blog post.
SEE THE SCHOOL-BASED THERAPIST DOCUMENTATION AND ORGANIZATION COURSE
Therapy Planning and Organization
My online organization system, also made planning very easy for me. I could link to video ideas and resources so easily. I could plan for an entire group or I could plan for an individual using the same ideas.
You can find a lot of great YouTube videos out there, however I feel confident saying that the Video Library at Pink Oatmeal is one of the best out there. When I'm talking videos, I'm not necessarily talking about videos kids watch and follow with movement. I'm talking about videos that give me ideas for different core strength, balance, coordination exercises.
In the following video I talk about how easy it is to plan using these videos. I show how I do it in my OneNote organization using Pink Oatmeal's video library. That being said, the same planning concept applies to any video links you find and any organization system you use.
Some pretty rocking bonuses of the Pink Oatmeal Video Library is that a lot of the organization is already done for you. So if your planning is for a school where you know that you can use a scooter board or Bosu Ball, you just have to go under those tabs and pick the exercises that you want, copy the link and you're done!
Adding Resources
You can also quickly add resources to your organization. You can link directly to the resources OR if you save them in a cloud based system you can link to them in your cloud based system. If you are a Pink Oatmeal All-Access Member you can link right to Pink Oatmeal and download from there.
Digital resources can generally be played right on the tablet. For example, if you plan to play a digital game with a student as part of their treatment you can pull that game right up from your planning and play on your tablet, computer or interactive whiteboard.
Even if a resource you are using is a printable resource, it's nice to link that resource to your plans so you can come back and reference it when you are documenting, when planning for the next session or even a year later.
Again, you can have these plans in each individual students folder or in it's own folder. That part is really up to you and what works best for your organization system and the students you service. Plus, you can always start one way and change it up, copy and paste are your friends in the electronic world.
Taking Planning One Step Further
If you are a Pink Oatmeal All-Access Pass Member, you probably already have checked out the themed lesson plans. If you aren't an All-Access Pass holder, run now and check it out! These lesson plans are another simple and easy way to have lots of planning already done for you! Check out the video below of the lesson plans in action.
The best part, you can take any of these ideas and add to them from the video library or other resources you use from Pink Oatmeal or elsewhere!
Daily Communication Forms
As much as I LOVE digital organization, there are a few things that I like to keep paper. I have a form that I would to send home with my students after each session if the parents liked updates. I found this faster and easier than trying to dig up email addresses and sit down and email after each session. I always thought these notes promoted a good relationship with the student's parents when I update them on what's going on in regards to their school based therapy.
GET THE DAILY COMMUNICATION FORMS IN THE PINK OATMEAL FREEBIE LIBRARY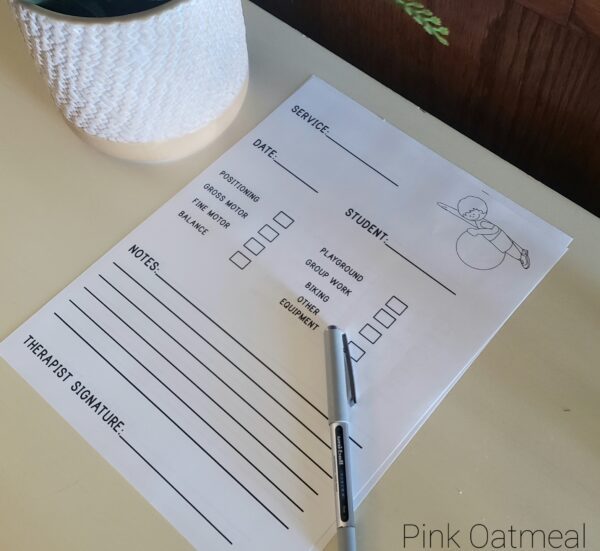 Equipment
Let's talk about equipment. Before you go crazy worrying about equipment, get a feel to what you already have available you. Visit your classrooms, motor rooms and talk with the physical education teachers. You may find you have more than you think right at the schools. Once you get your feel for equipment, you can create a list of what you need or want. I always had a large plastic tote in the back of my care that I carried around what I needed along with a small tool kit.
There are a lot of things you can do with some very basic equipment, so don't get overwhelmed worrying about this. The Pink Oatmeal video library has tons of ideas with basic equipment as well as searches on YouTube and/or Instagram.