The sound of crinkling leaves, the shorter days, and all things pumpkin are reminders that fall is officially here! Now is a great time to incorporate the fall themed gross motor and fine motor activities into your planning for your classroom, home or therapy sessions.

Fall Themed Motor Planning – Fine Motor and Gross Motor
This list of fall themed motor planning activities are perfect for this time of year.
Along with these fall themed activities you need to check out Apple Themed Motor Planning Ideas and pumpkin themed fine motor and gross motor planning these are perfect for this time of the year as well!
Autumn Brain Breaks
Start off your fall activities by getting little bodies wiggling and ready to work with autumn themed brain break ideas. Read about all the different ideas and get your own set of autumn themed brain break cards!
Brain breaks are an excellent option for fast, fun, and effective movement while maintaining social distancing. Most of these cards do not require a large amount of space to perform the activity.
GET THE FALL THEMED BRAIN BREAKS FROM PINK OATMEAL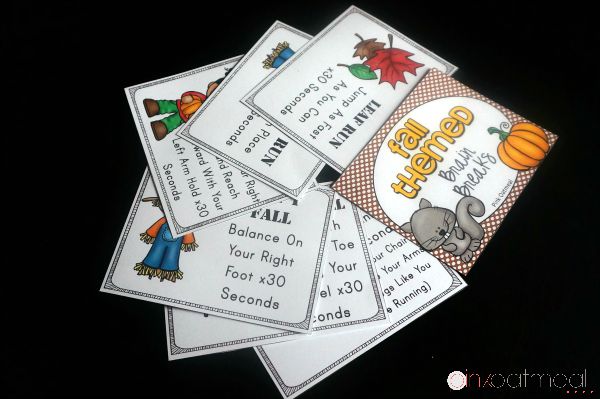 Fall Themed Pre-Writing Skills
This fall themed activity focuses on pre-writing strokes which need to be developed before kids actually start writing letters. I love pre-writing strips because they can be used over and over again and wiped off with a paper towel. The pre-writing strips can be found in the Fall Themed Fine Motor Activities Pack.
GET THE FALL THEMED FINE MOTOR ACTIVITIES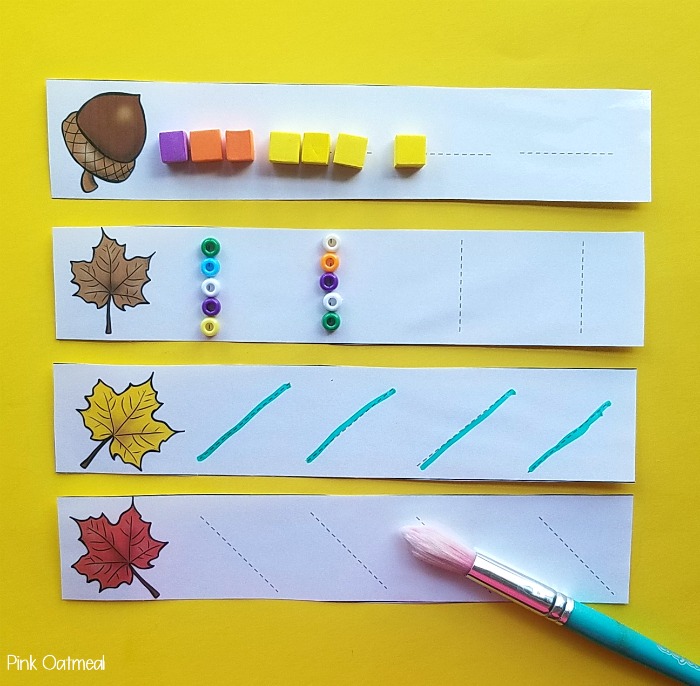 Maybe you want an interactive game that works on pre-writing strokes with a fall theme? Pink Oatmeal has that available for you too! Check out the Fall Friends Pre-Writing Game. This digital game can be played on a tablet, computer, interactive whiteboard or screen cast onto a television. The actual pre-writing sheets can be printed to work on the pre-writing strokes in game format!
GET THE FALL FRIENDS PRE-WRITING GAME
Fall Themed Sensory Path
Do you have a sensory path that you have created? How about adding fall themed printables to your sensory paths to keep them fresh and exciting? The fall theme is perfect for September, October, or November. Get the fall themed sensory path printables here.
Sensory paths are a great social distancing option and can easily be adapted by removing any touch items from the path.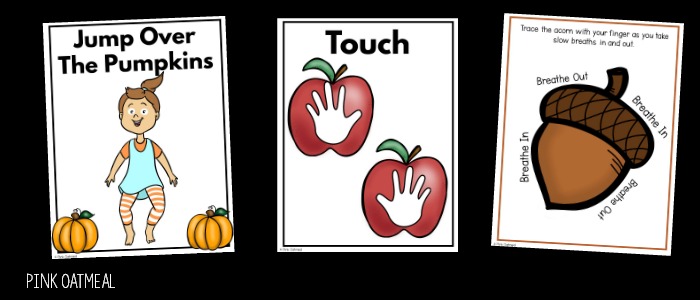 Fall Themed Cutting
Make sure that your scarecrow is keeping unwanted visitors out of your garden. Give your scarecrow the proper haircut with this fun fall themed cutting activity. This activity can be found in the Fall Themed Fine Motor pack.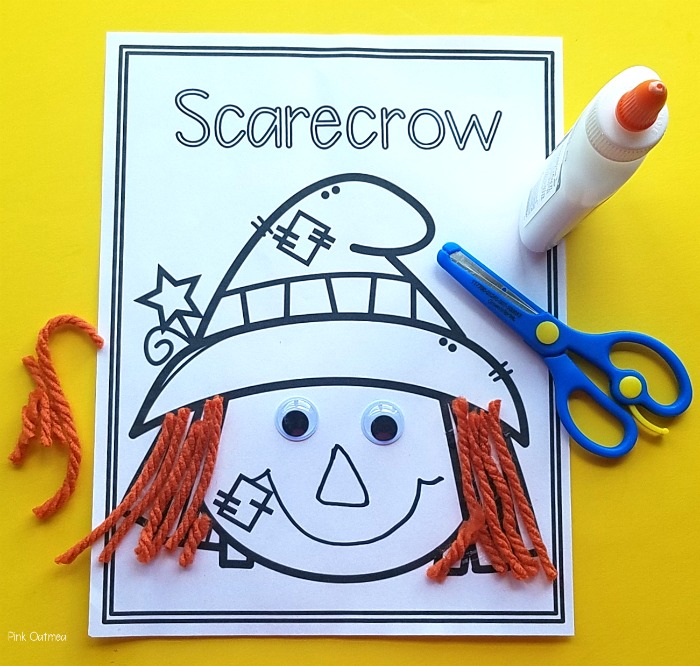 Fall Themed Mazes
With the fall comes acorns. Work on pencil control skills while navigating through Acorn Mazes. This activity can be found in the Fall Themed Fine Motor pack.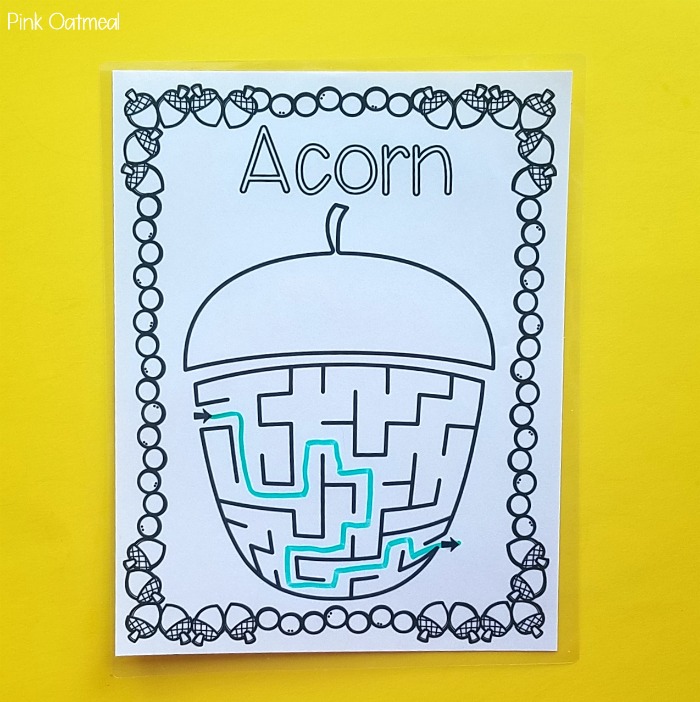 These mazes can be used the traditional way, but there are so many different options to use these fall themed printables. The photo below shows this printable in action on the vertical surface. The half standing works on balance and cores strength. This is a great way to incorporate gross motor skills as well!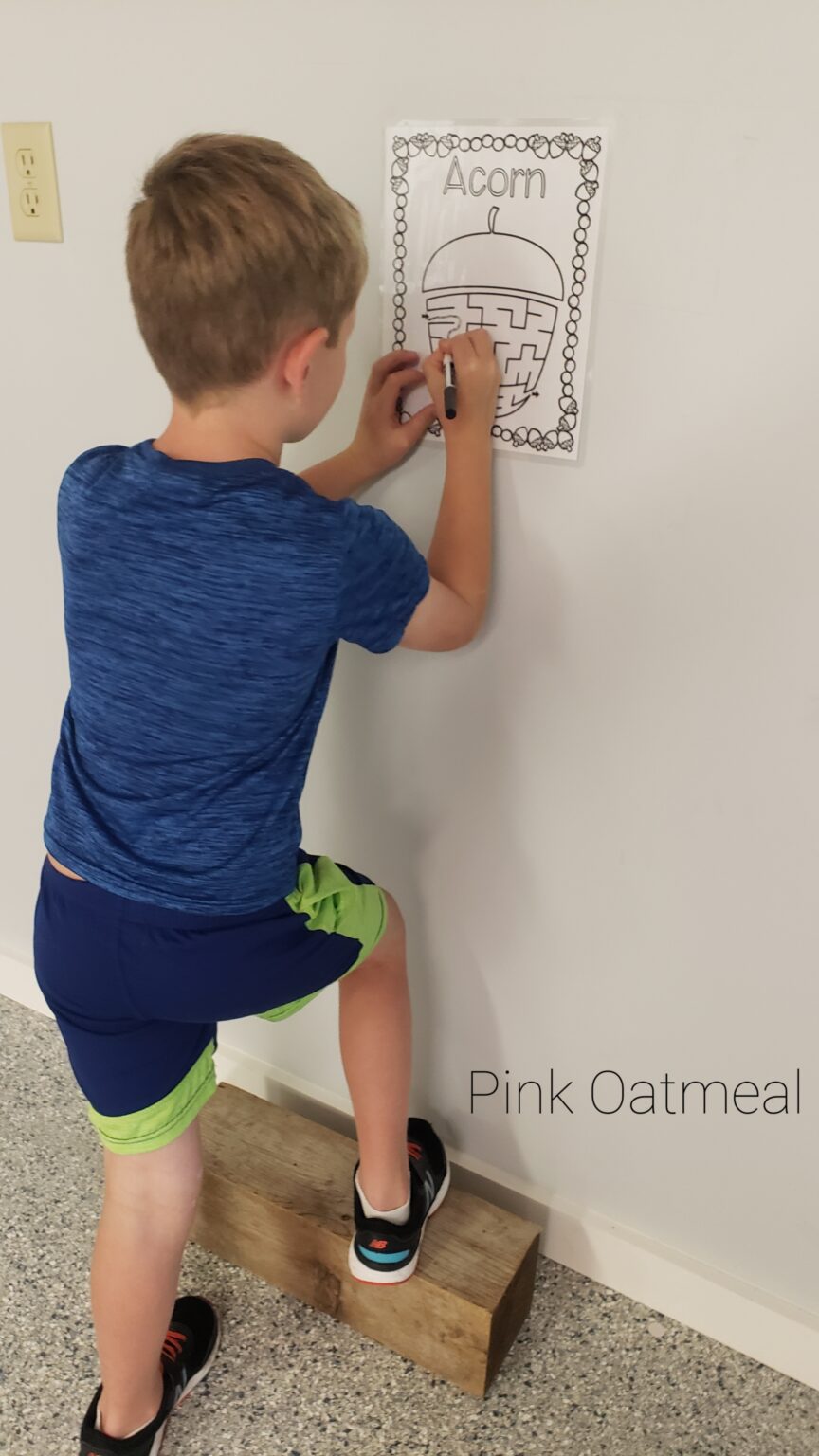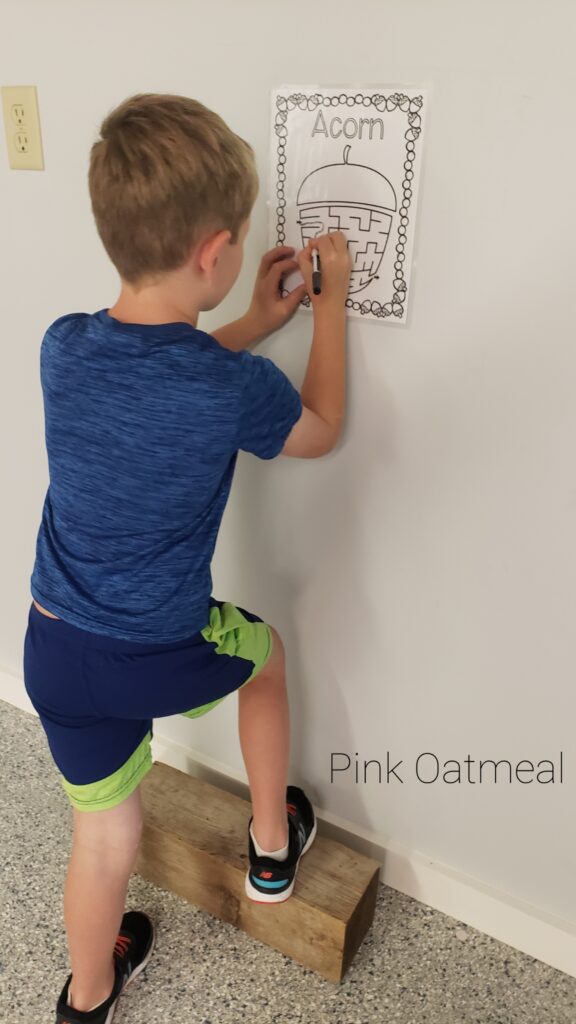 Fall Themed Yoga
Work on gross motor skills with these fun fall themed yoga pose ideas. You can get a set of Fall Yoga Cards and Printables to use yourself! You can use the yoga cards and printables in a traditional way or think outside the box and use them as a movement wall or even a seasonal bulletin board!
GET THE FALL THEMED YOGA CARDS AND PRINTABLES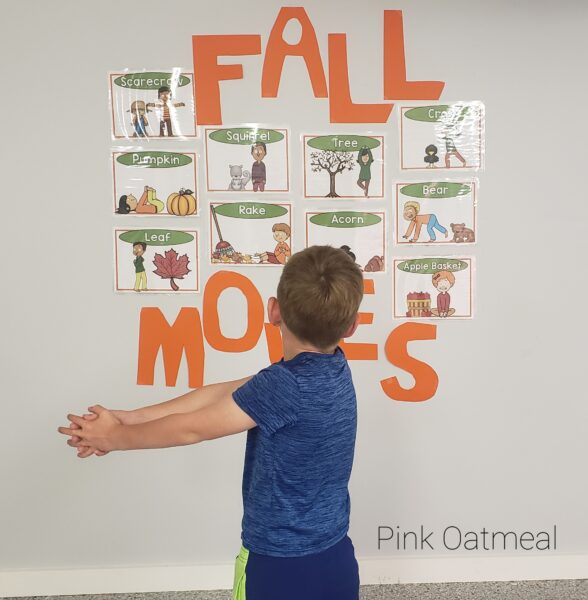 Fall Themed Movement Story
Take these same yoga poses and movements and turn them into a story. The fall themed yoga and movement story is the perfect addition to distance or in person learning!
GET THE FALL THEMED MOVEMENT STORY
Fall Writing Practice
If you kids have mastered pre-writing strokes and are ready for letter formations check out these cards that are perfect for writing stations with a fall theme! Find this in the Fall Themed Fine Motor Pack!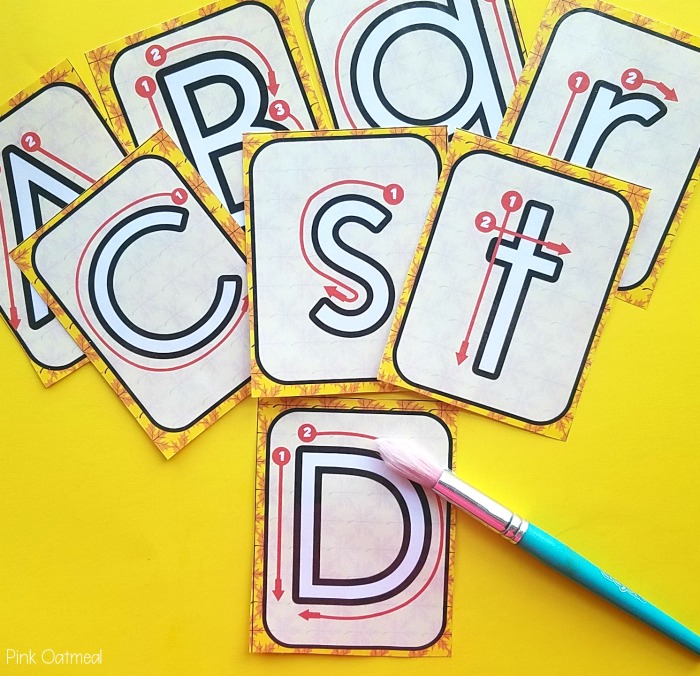 Fall Themed Scavenger Hunt
Now head outside and get moving on a scavenger hunt. Grab this Fall Themed Scavenger Hunt in the Pink Oatmeal Freebie Library!
Another great option to maintain social distancing while having fun!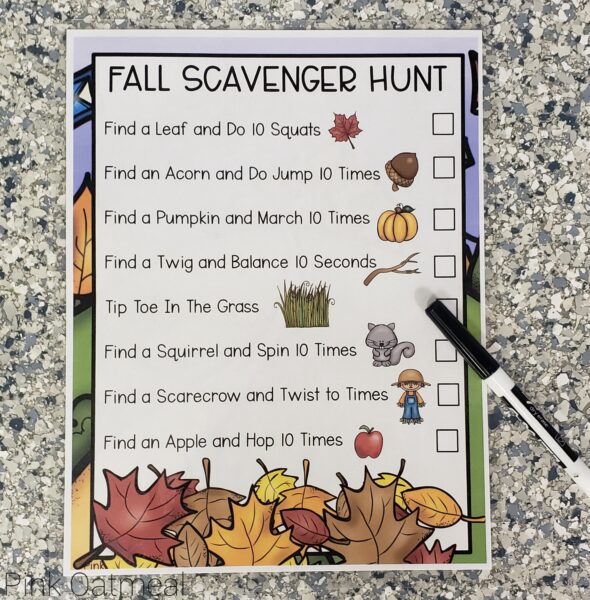 Fall Themed Clip Cards
Work on counting skills with fine motor skills with these fall themed clip cards. These are part of the Fall Theme Fine Motor Pack.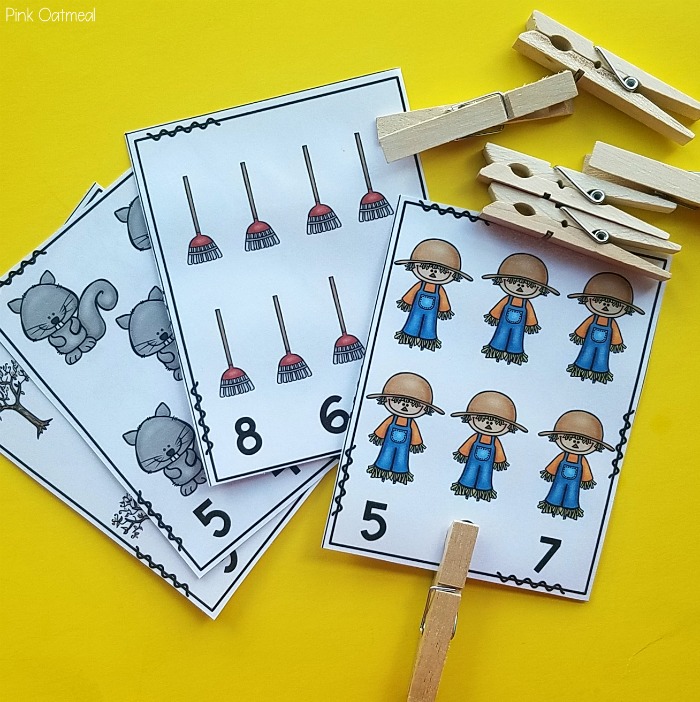 Fall Themed Interactive Brain Breaks
A game perfect for both in person and distance learning is the fall themed brain break game. Pick your favorite fall symbols and move like them in this interactive game. This game can be played on a computer, tablet, interactive whiteboard or you can screen cast it onto the television. It is fantastic for one child or an entire group of kiddos!
GET THE FALL THEMED BRAIN BREAK GAME
The best part of this game is that you can use it in many different ways. Print the sheets instead of playing them digitally and make a game out of them!
Fall Themed Pom Transfer
Fine motor skills and number recognition skills can be practiced with this roll and cover pom transfer game with a fall theme. Grab this game in the Fall Fine Motor Activities Pack.
GET THE FALL THEMED FINE MOTOR ACTIVITIES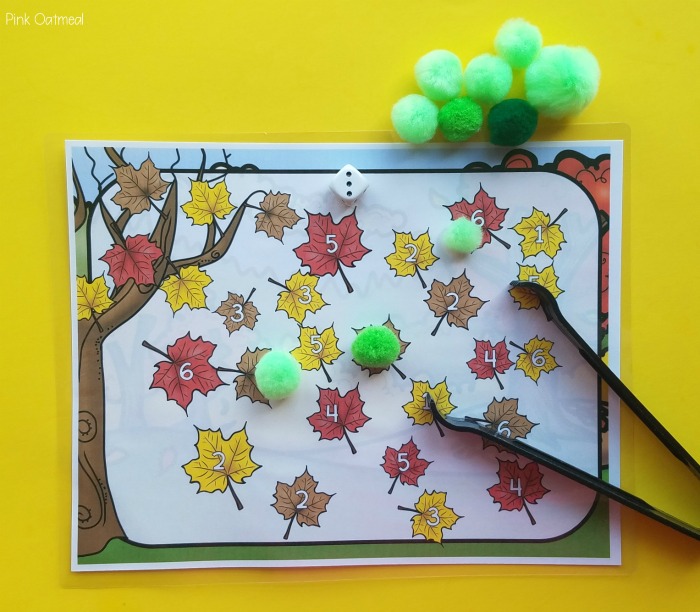 Play this out of the traditional seated position. Try in prone to work on proprioceptive input, scapular and core strength.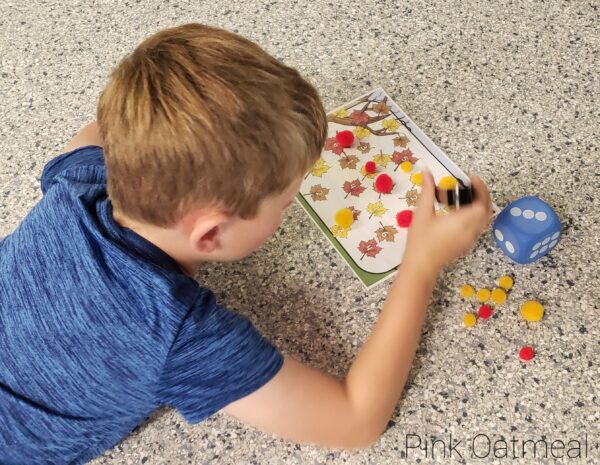 Fall Leaf Counting
Pink Oatmeal has such a fun leaf counting game available for you that is perfect for the fall season! This game focuses on different balance activities in game format! Count the leaves on the tree and select the correct answer. If you answer correctly, you get an activity to try. If you get it wrong, not big deal try again! is available to use on your computer, tablet, interactive whiteboard or screencast onto your television. You can even print this game and use it as visuals!
Fall Gross Motor Dice Games
Keep the dice out to play these fun fall themed gross motor dice games. Roll and move your body! These games are easy to print and carry. Laminate the games and use them over and over again. A dry erase marker is easy to wipe off laminated surfaces.
GET THE FALL THEMED DICE GAMES IN THE FALL THEMED MOVEMENT PACK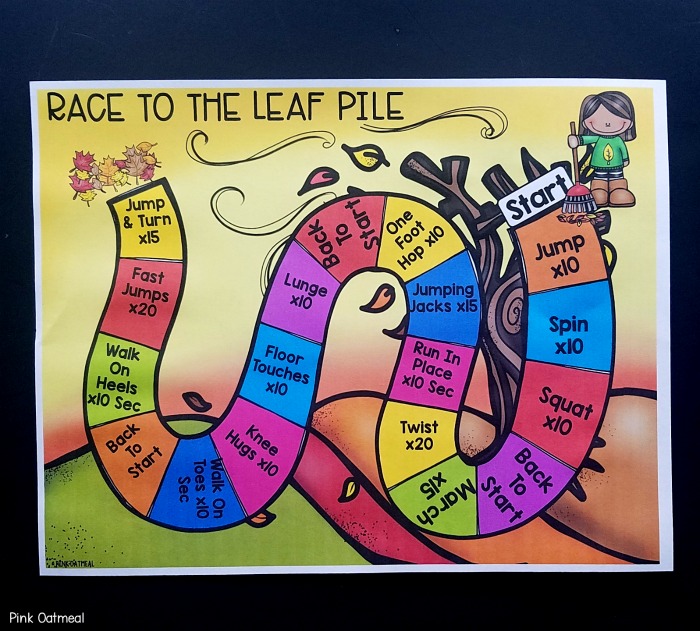 Don't forget these games can be played in all positions! Add even more gross motor into these games by playing in prone and working on moving up to standing to perform the activities!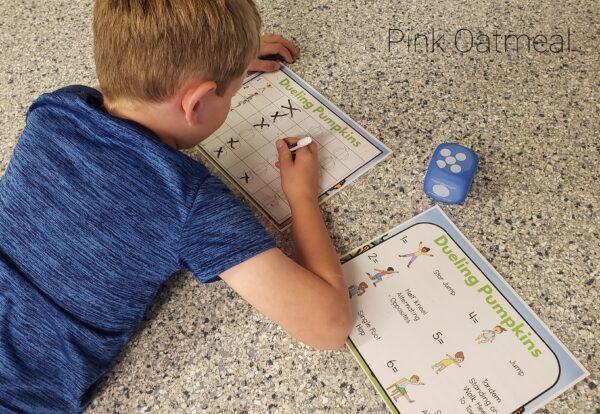 Raking Leaves
Another fun gross motor game is raking leaves. Use a pool noodle or plastic rakes. Tape or draw a square on the floor. Use balls of newspaper or fake leaves. Have your kiddos get all of the "leaves" into the square. It looks much like the video below!
Fall Tracing
Finally work on those tracing skills this fall with these fun fall themed leaves tracing patterns!
Grab these in the Fall Theme Fine Motor Pack!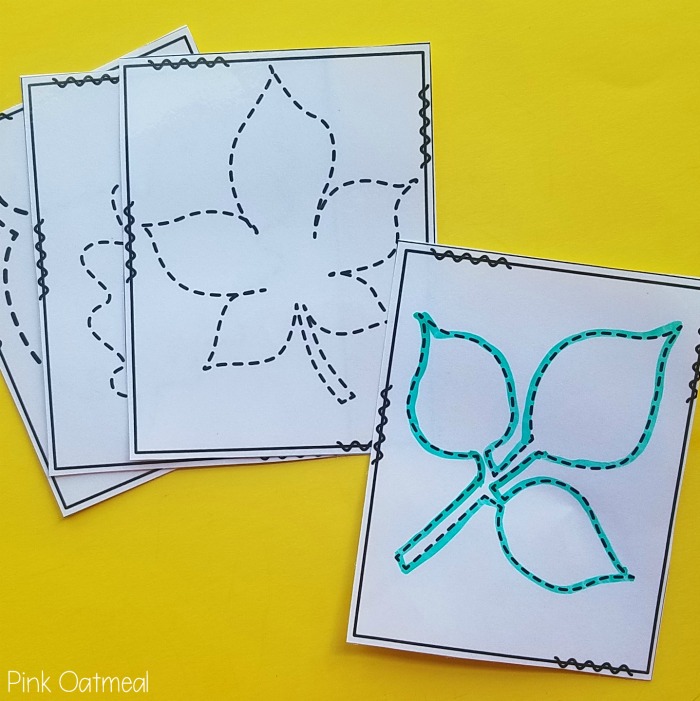 Take your traditional tracing activities and think outside the box too! A favorite way to use the fall themed tracing sheets for me is on the vertical surface with stickers! Add in a challenge such as a Bosu Ball (standing or kneeling) and include fall themed gross motor and fine motor in one activity!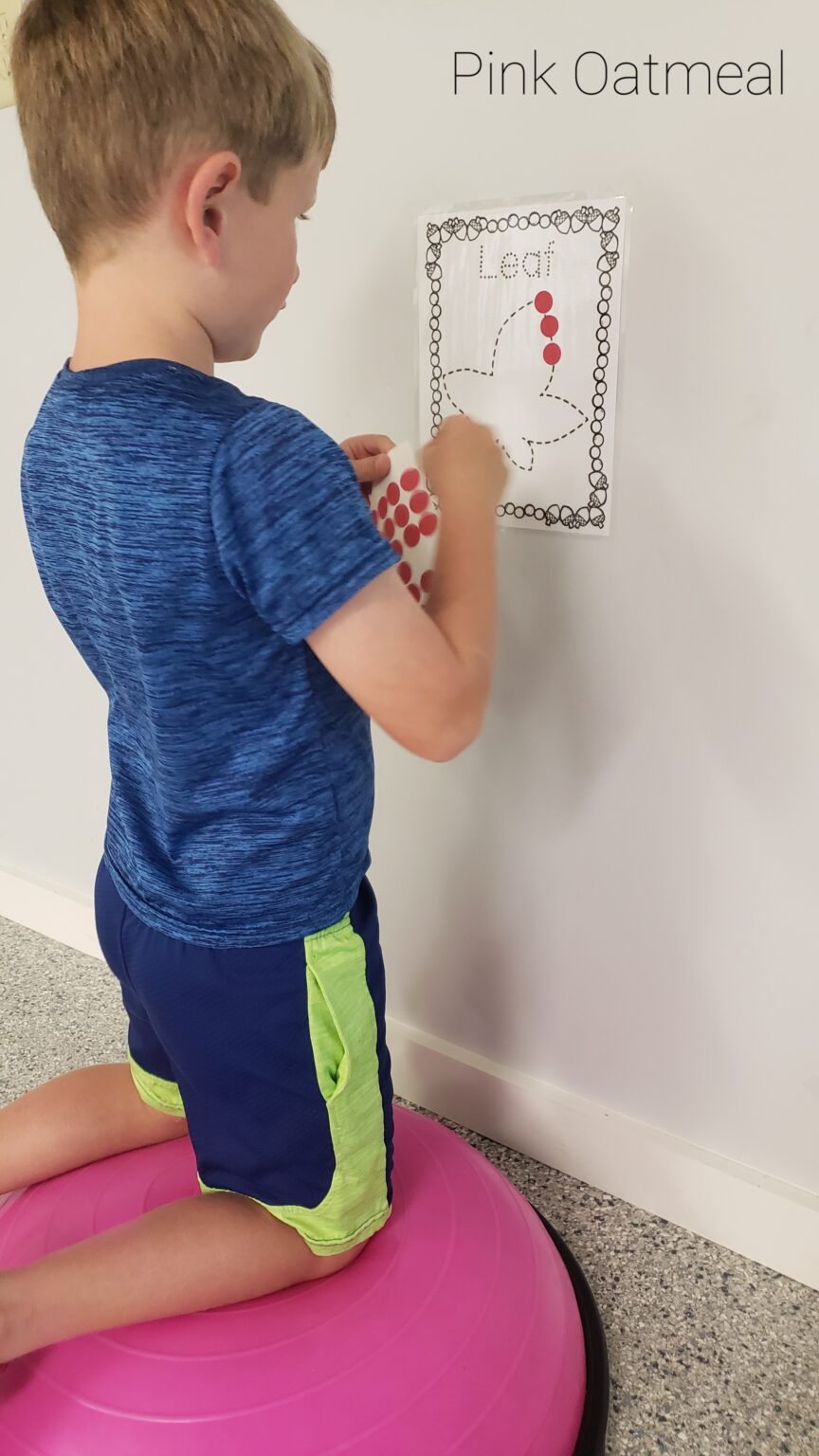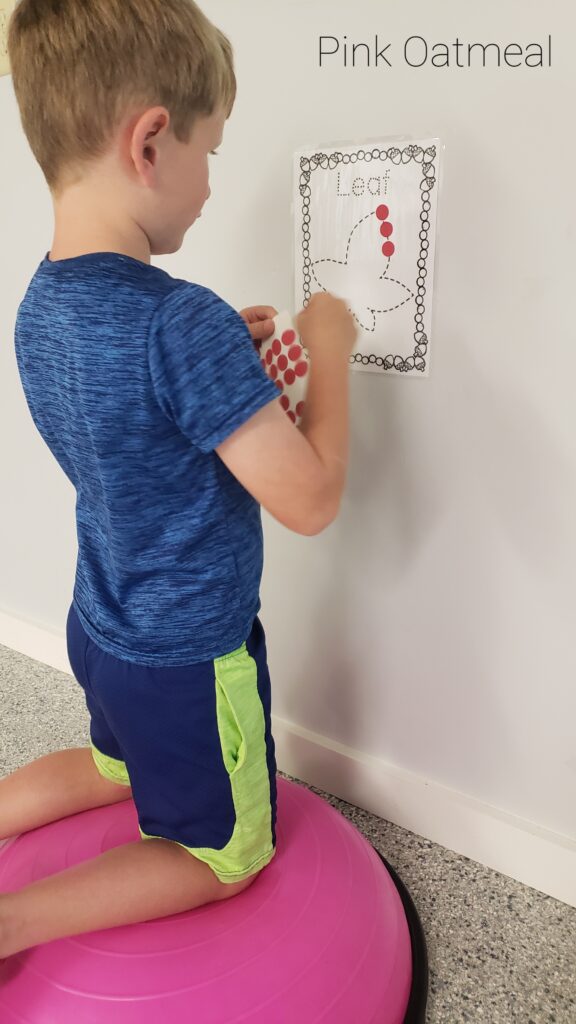 Fall Themed Wheelchair Activities
Pink Oatmeal also has movement based activities for your kiddos that use a wheelchair. The Fall Themed Wheelchair Game is available to use on your computer, tablet, interactive whiteboard or screencast onto your television. This game can also be printed and used as amazing visuals for your kiddos. You could even make an entire bulletin board or movement area with these!
GET THE FALL THEMED WHEELCHAIR GAME NOW
Check out this cute way to use the Fall Themed Wheelchair Game when printing it! This bulletin board is adorable! The possibilities are really endless with how you could use it as a printable!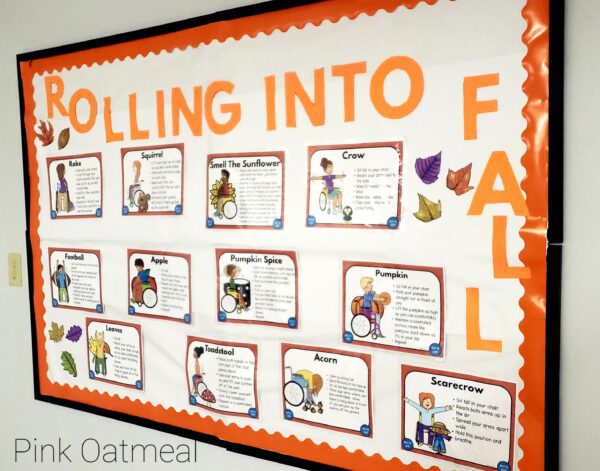 See All Fall Resource From Pink Oatmeal
Click on the links below to get a detailed view of each product! There are so many to choose from you can't go wrong. Be sure to check out the Pink Oatmeal All-Access Pass to get your hands on EVERYTHING for free when you become an All-Access Pass member!