I remember entering the world of school-based physical therapy and looking at books at Barnes and Noble to help prepare me. I also remember ordering equipment magazines to be sent to my house to familiarize myself with different equipment options. That was 8 years ago. Things have changed so much in those 8 years. There are so many more school-based physical therapy resources out there! I'm going to share with you some of my favorite resources for school-based physical therapists.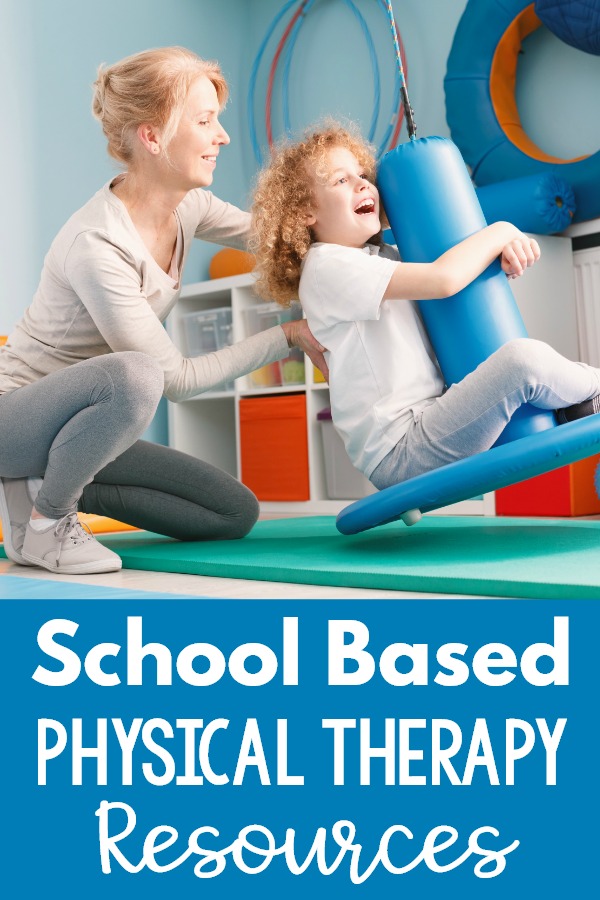 School-Based Physical Therapy Resources
As a school-based physical therapist, you may find yourself not seeing other therapists to collaborate with as you would working in the clinical setting. It also happens to be an area that seems to have a lot of gray with people doing things a bit differently between districts, cities and states.
Start by visiting Pink Oatmeal's pediatric physical and occupational therapist resource page. This page has everything from motor planning ideas, creative exercises, research, and more!
The freebie library from Pink Oatmeal has a plethora of school-based physical therapy resources for free. Among these free resources are brain break cards, yoga cards, equipment information, daily notes, and teacher/parent note templates. This is an awesome starting point for accessing free resources!
E-Books: There are so many great e-books available for pediatric therapists today! E-books can range from exercise ideas to discussing different diagnosis. Check out this great collection of pediatric therapy e-books.
Courses – When I started in school-based physical therapy, it was so difficult to find any school-based therapy courses. With the emergence of online courses, there are so many more readily available. Check out this great run down of pediatric occupational and physical therapy continuing education courses.
Facebook Groups – There are several different Facebook Groups to look into dedicated to school based occupational and physical therapists. School based physical therapists, be sure to join the school-based physical therapy lounge Facebook group. This group is dedicated to sharing ideas and advice for physical therapists working in the school.
Dosage Considerations for School-Based Physical Therapists – Understanding what appropriate service minutes in a school versus a clinic can be a lot different. This dosage information from the APTA is very helpful in understanding this.
School-Based versus Clinical Physical Therapy – This is another great resource for understanding the difference between school based physical therapy and clinical physical therapy.
Physical Therapy Under IDEA – This is a great research based study on school based physical therapy under IDEA.
School-Based Physical Therapy Practice Guidelines – Be sure to check and see if your state has developed guidelines. Many states have done this.
IDEA – Physical therapists and occupational therapists in the school setting are a related service. Understanding IDEA is important in understanding your role as a school based physical therapist.
APTA school based SIG – The APTA school based SIG provides a huge wealth of resources in regards to working as a school based physical therapist.
More Physical Therapy Ideas
Follow Pink Oatmeal's board Pediatric Physical Therapy Ideas on Pinterest.
I WANT TO HEAR FROM YOU
Let's connect! Pink Oatmeal is on Facebook, Pinterest, Twitter, and Instagram!