Fall is just around the corner.  This year I'm SO looking forward to fall weather.  Usually, I hate to bid summer goodbye, but the third trimester of pregnancy is begging for a little cooler weather.  It also means the start of the school year.  With the transition from summer to school brain breaks are a must.  There are plenty of great ways to incorporate brain breaks into a fall theme.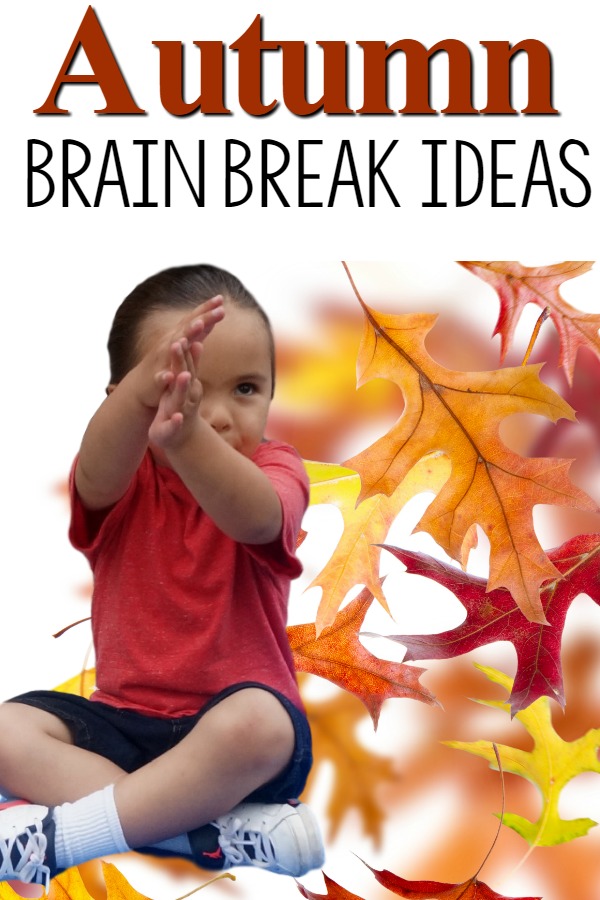 Fall Themed Brain Breaks
Fall themed brain breaks can be a ton of fun!  Determine the duration and number of repetitions for the students as you work on the brain breaks.  Keep them moving!
Leaf Pile – Think of jumping into the leaf pile or stomping on the leaves!  
Right Foot Hops, Left Foot Hops, Jumping Up and Down, Jump and Turn, Side to Side Jumps, Forward and Backward Jumps, Stomping Down The Leaves, Stomping and Turning In A Circle
Pumpkin Patch – All the fun things you can do at the pumpkin patch!
Squats (Pick Pumpkins), Touch The Ground Reach For The Sky (Pumpkin Picking), Lunges (Pumpkin Picking), Marching Over Pumpkins, Tip Toe Through The Patch, Heel Walk Around The Patch, Side Step Around The Patch, Gallop Around The Patch
Apple Picking
Ladder Climbing (Alternating Arm and Leg Movements), Overhead Picking (Moving Arms Overhead), Toe Raises (Get those apples!),  Heel Raises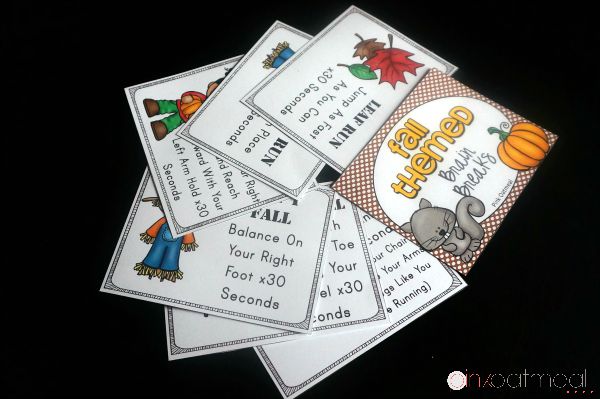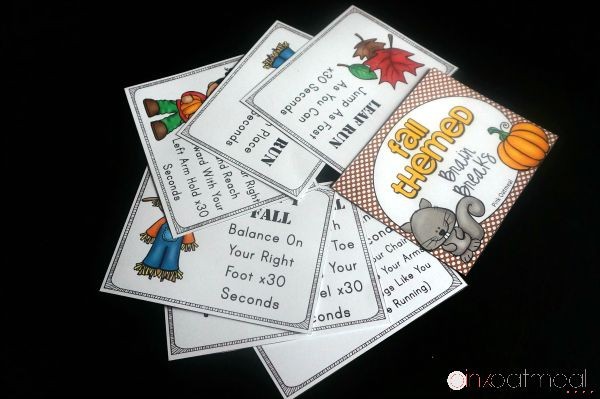 Back To School
Sequence Patterns – Jump, Spin, Clap Repeat etc.  Choose From Any Pattern You'd Like!
Fall Party
Body Wiggles, Dance Party, Hokey Pokey, YMCA
Pumpkin Play – Use a Ball, Pumpkin, or Your Imagination
Roll The Pumpkin Forward, Roll The Pumpkin Backward, Knee Walk Rolling The Pumpkin, Pass The Pumpkin Around The Room
Don't Fall- Balance Activities
Right Foot Balance, Left Foot Balance, Heel To Toe Standing (Both Sides), One Foot Stand With A Knee Squeeze (Both Sides), Stand On Your Foot and Reach Forward With Your Opposite Hand (Both Sides)
Leaf Run – Think of Moving Fast!
Run In Place, Chair Run (Arms and Legs Going While In The Chair), Arm Circles, Jump As Fast As You Can
Get Your Own Fall Brain Break Cards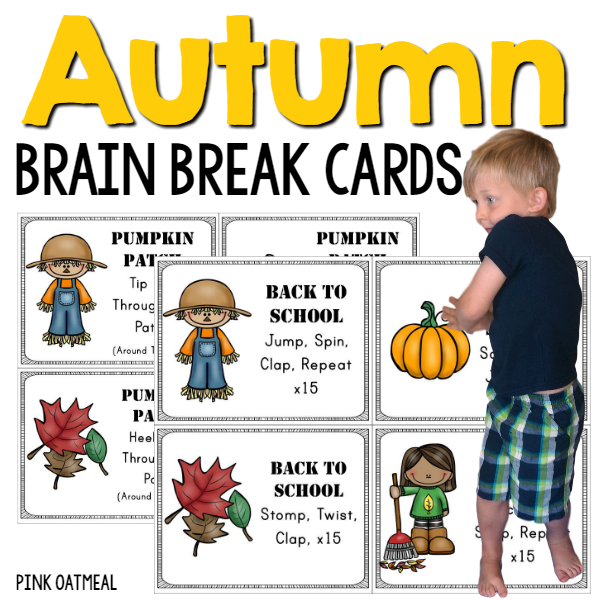 If  you love the idea of fall brain breaks I have a full set of 48 cards available in my Teachers Pay Teachers store for download.  It can also be found in my shop on the blog.    They are a fun and exciting way to get the kids moving.  They are perfect to incorporate into stations, baseball units, morning meetings, or as brain breaks.  Make movement fun!  More fall movement fun can also be found in my Fall Themed Movement Games.  They can be found in my TPT store or at the shop on the blog.

MORE GROSS MOTOR IDEAS
Follow Pink Oatmeal's board Gross Motor For Kids on Pinterest.


I WANT TO HEAR FROM YOU
Let's connect!  Pink Oatmeal is on Facebook, Pinterest, Twitter, and Instagram!
YOU MAY BE INTERESTED IN
My store at Pink Oatmeal has ideas to get the kids moving at home, in the classroom, and in therapy!  If you prefer Teachers Pay Teachers you can find me there too with even more ideas to get the kids moving!