With the Winter Games quickly approaching it's the perfect theme to add to motor planning activities! There are so many great winter sports as part of the Winter Games that it's easy to make activities fun for the kids and stick with the theme! Here are some fun fine gross motor activities to get you started in your winter sports motor activities planning!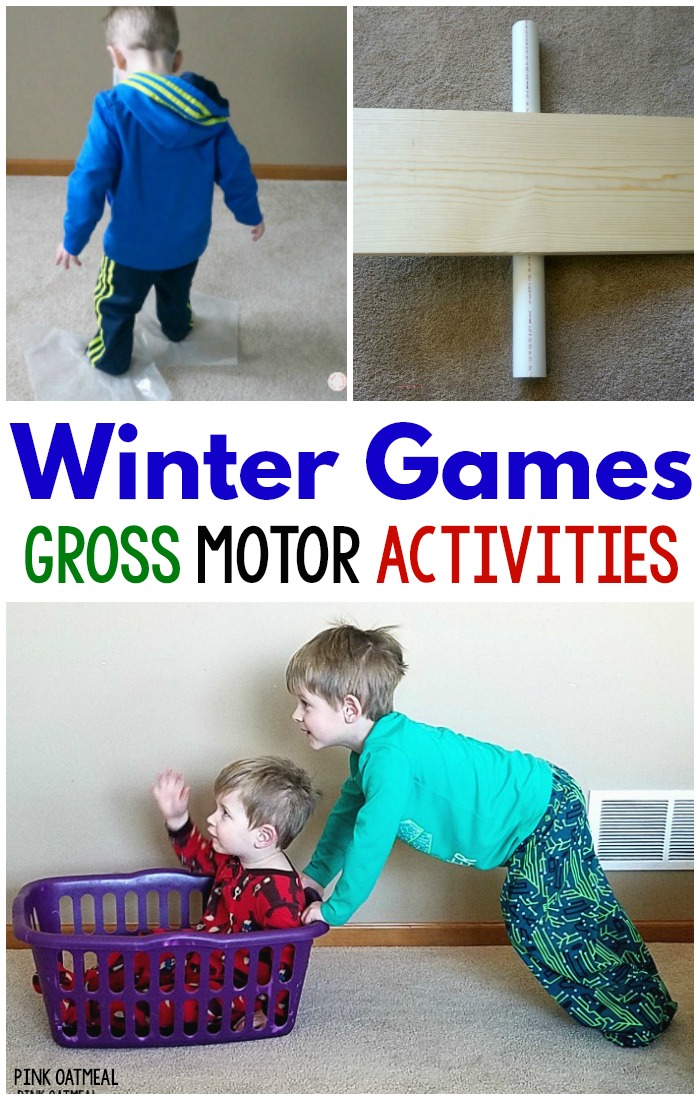 Winter Sports Motor Activities
Gross motor activities are a great way to burn off energy and work on strengthening, flexibility, and fitness. See even more gross motor activities from Pink Oatmeal. They are also so important in fine motor skills. Be sure to check out all the fun ways to add fine motor skills in with a winter games theme!
Winter Sports Gross Motor Activities
Let's start off with indoor ice skating! This is easy to do indoors and can be used for speed skaters and figure skaters! Put shoe boxes on your feet and add poles to your hands and suddenly you've become a cross country skier as well!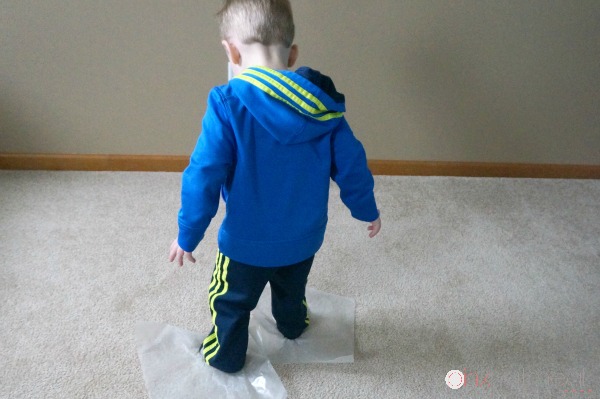 Check out the Winter Sports Stations set up. A fun way to move through a circuit performing moves related to all different winter sports activities. The different winter sports include curling, skiing, bobsledding, figure skating, cross country skiing, skeleton, luge, snowboarding and ice hockey. Get these printables in the Shop.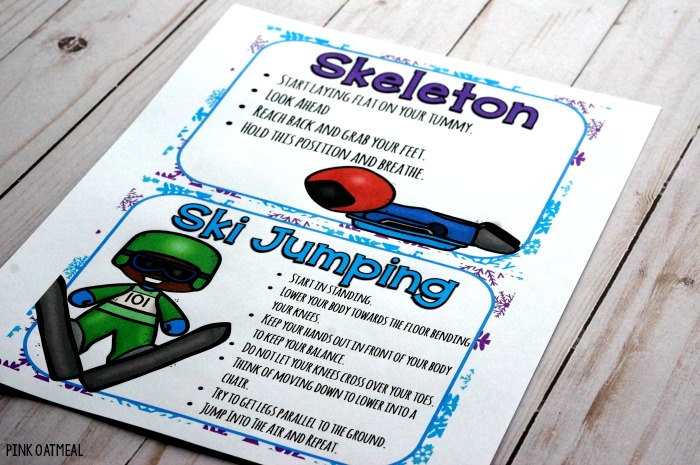 Scooter boards are perfect for skeleton races! Get tummy down on the scooter board and go!
How about Bobsled Races? All you need is a laundry basket or box that slides on the floor. Have one child in the laundry basket while the other pushes the basket. Give everyone a turn to push the basket!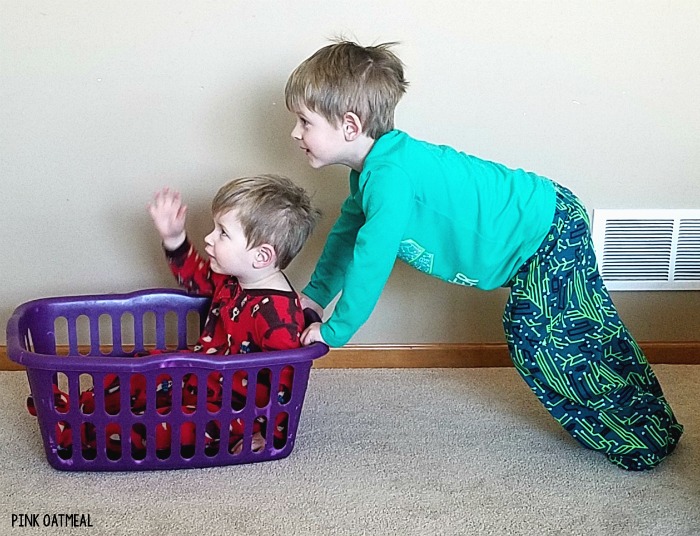 A simple activity with a line of tape is ski racing! Tape a piece of tape to the floor and jump side to side. Use a timer and track how many jumps happen in a designated amount of time.
Use that same line of tape and try ski jumping! Start behind the line and see how far forward you can jump!
Try this DIY balance board and ride like a snowboarder!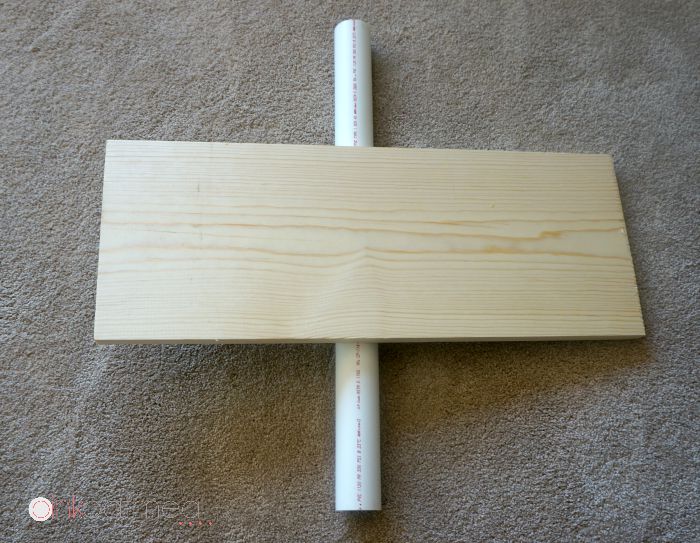 Grab your FREE ice hockey brain breaks in the Freebie Library to get started with moving with a winter sports theme this week!
Digital Winter Games
How about a winter games theme in digital format? Pink Oatmeal has that for you! The Winter Sports Digital Game makes moving with winter sports fun in digital format. This can be used for in person work or is an awesome option for distance learning or teletherapy.
Winter Games Fine Motor
While you are working on your winter games fine motor activities you must check out the winter games fine motor ideas!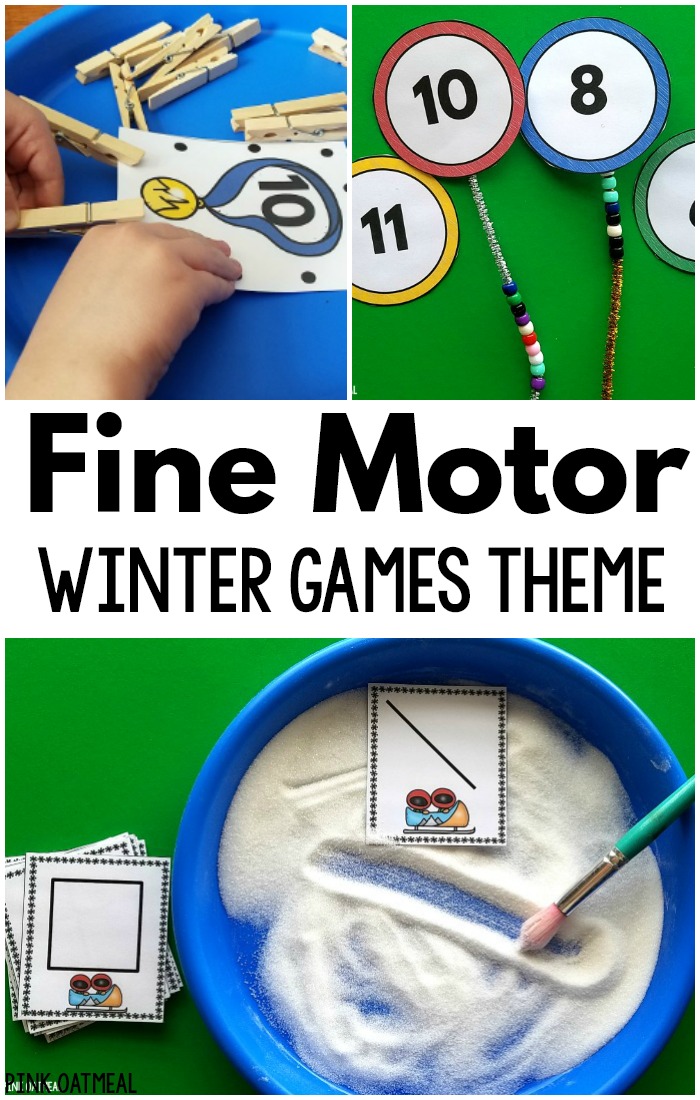 Get Winter Games Gross Motor
Want something to get you started on gross motor right now? Grab these print and go Winter Sports Stations! They combine fitness activities and yoga poses with a winter games and sports theme. You can even go no-prep on these and pull them up on your white board to add some physical activity into the day. They are available in the Shop.