Thanksgiving will be here before we know it! Do you notice all of the different running/walking events that you can participate in on the morning of Thanksgiving? Probably for good reason with the feasting going on later that day, and of course many of them focus on giving back. My family often times will participate in a walk on the morning of Thanksgiving. This is one of those things that we do to work on encouraging exercise as well as an understanding of giving back. The following Thanksgiving themed brain breaks and gross motor ideas are a fun way to incorporate movement and exercise as part of your Thanksgiving lesson! These moves are meant to be fast, fun, and efficient.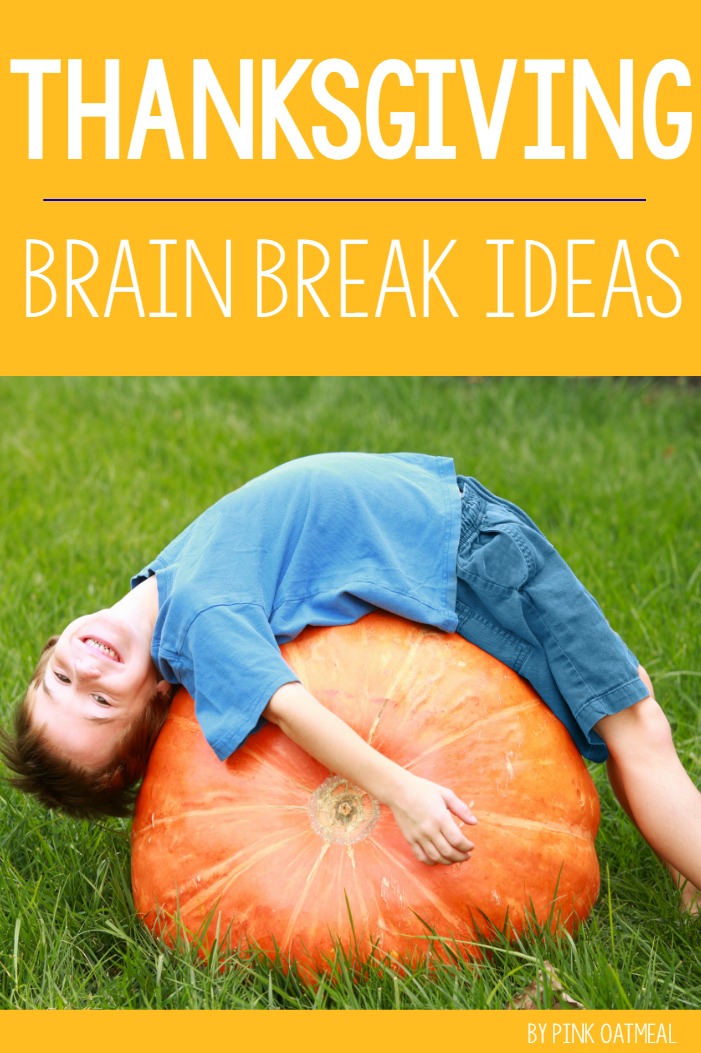 Thanksgiving Brain Breaks and Gross Motor Ideas
Thanksgiving themed brain breaks and gross motor ideas can be utilized in small or large spaces. You can decide on times, distances, and duration based on your needs! These moves can be performed with no set up or prep time.
Short on time and want your own set of Thanksgiving Brain Break Cards that are ready made for you? All you have to do is cut and laminate if you choose and you have movement fun for many Thanksgivings to come! Kids LOVE doing these! The cards are available in the shop.
Want even more Thanksgiving? Check out all of the Thanksgiving Themed Gross Motor and Fine Motor Ideas from Pink Oatmeal!
Thanksgiving Brain Breaks
Turkey Trot
Walk Heel To Toe, Walk Backward, Heel Walk, Toe Walk, March, Skip, Heel Walk, Jump (For Distance – Across A Room)
Do Turkeys Fly?
Forward Arm Circles, Backward Arm Circles, Arm Crosses above and below (hold arms in front of body), Make Wings with your Arms and Flap Them, Clasp Hands Together and Move Them Up and Down Reaching Overhead, Clap From the Ground to Above Your Head, Tap Elbow to Opposite Knee, and Side Arm Circles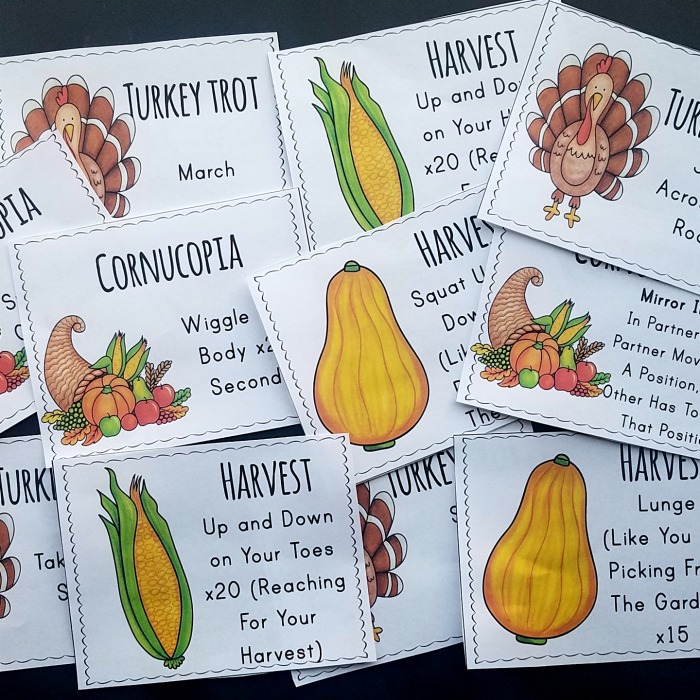 Harvest
Squat, Up and Down on Heels, Up and Down on Toes, Lunge
Pumpkin
Lay On Your Back. Grab Your Knees. Roll Side To Side, Spin Right and Left, Twist Side To Side, Hop Over the Pumpkins
Black Friday
Jump Up and Down, Chair Run, Run In Place, Move Your Hands Up and Down Overhead, Jump Side To Side, Jump Backward and Forward, Plant Your Feet and Lean Side To Side
Cornucopia
Start on Your Knees and Move to Stand Without Using Your Hands, Wiggle Your Body, Simon Says, Mirror Image, Spin-Jump-Clap-Repeat
Pilgrim
Stand Tall, Place Your Palms Together, Reach Overhead and Breathe, Stand On One Leg Try Not To Wiggle, Place Your Right Toe Behind Your Left Heel – Hold As Still As Possible. Repeat On The Opposite Side, Line Up Tallest To Shortest.
Get Your Own Thanksgiving Brain Breaks and Gross Motor Cards
Do you love the idea of Thanksgiving Themed Brain Break and Gross Motor Cards, but want them ready made for you to have at any time? I don't blame you! The good news is these are available for you in the shop .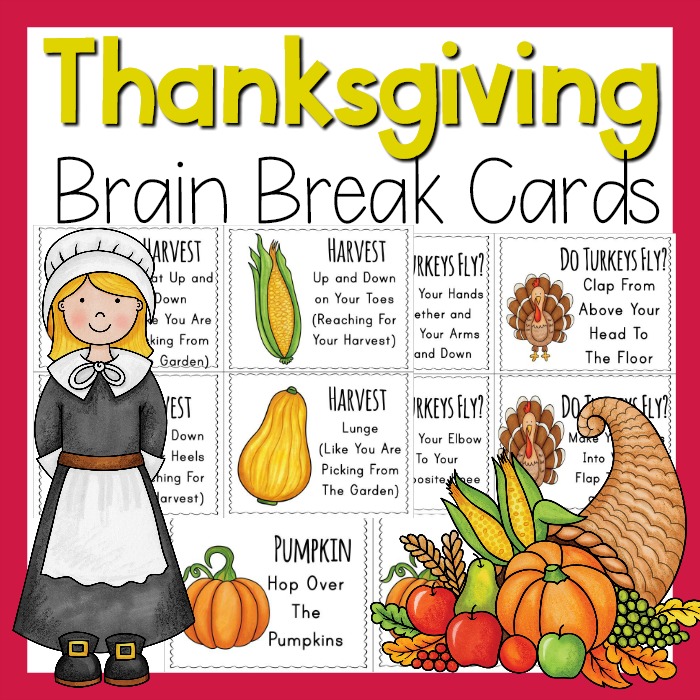 More Thanksgiving Movement
Save yourself any time and planning and get the Thanksgiving Movement Pack with everything you need to add movement with a Thanksgiving theme!