With President's weekend quickly approaching, it is the perfect time to talk about President's Day gross motor activities. Pink Oatmeal has several patriotic gross motor and fine motor activities that go perfect on President's Day. All of the games we talk about below can be found in Patriotic Gross Motor Pack in the Pink Oatmeal shop.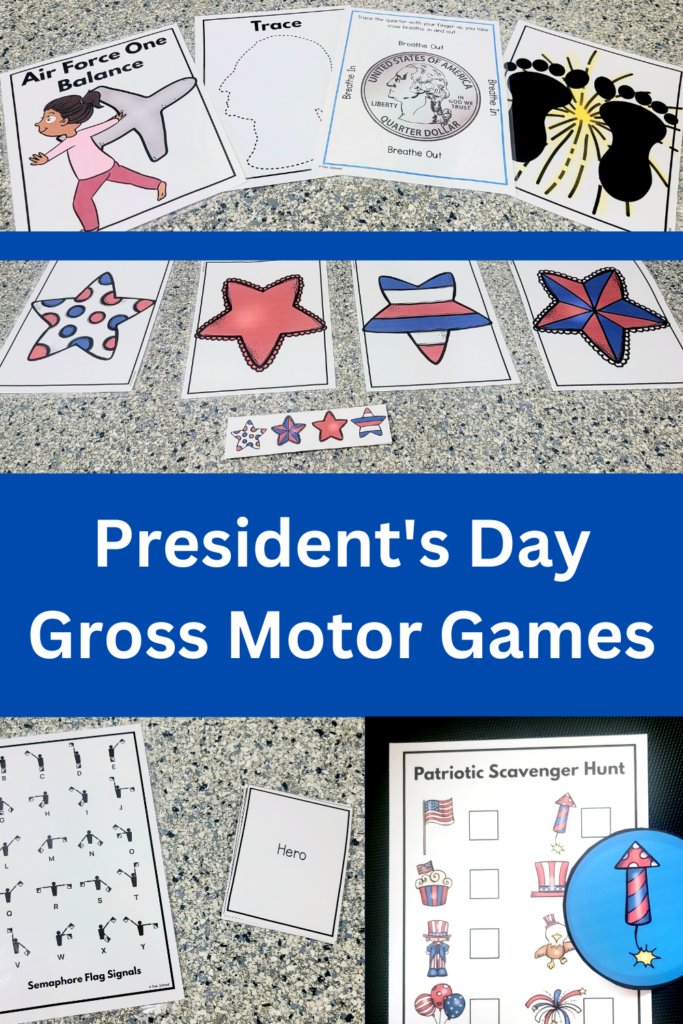 President's Day Gross Motor Activities
Let's start off with President's Day motor paths and sensory stops. These are so amazing because it is simple printables that you can add to your already created obstacle courses. For example, I love to add the footprint printables right next to the agility ladder so the kiddos have to follow the footprint patterns. After the agility ladder would be a sensory stop such as Air Force One, where the kiddos would stand on one leg.


Adding printables makes these so versatile! You can quickly change up a few printables and you can have an entirely different challenge.
Patriotic Jumping
Up next is an adorable jumping game that uses patriotic patterns. In this particular game, 4 different full sheet patriotic stars are taped to the floor.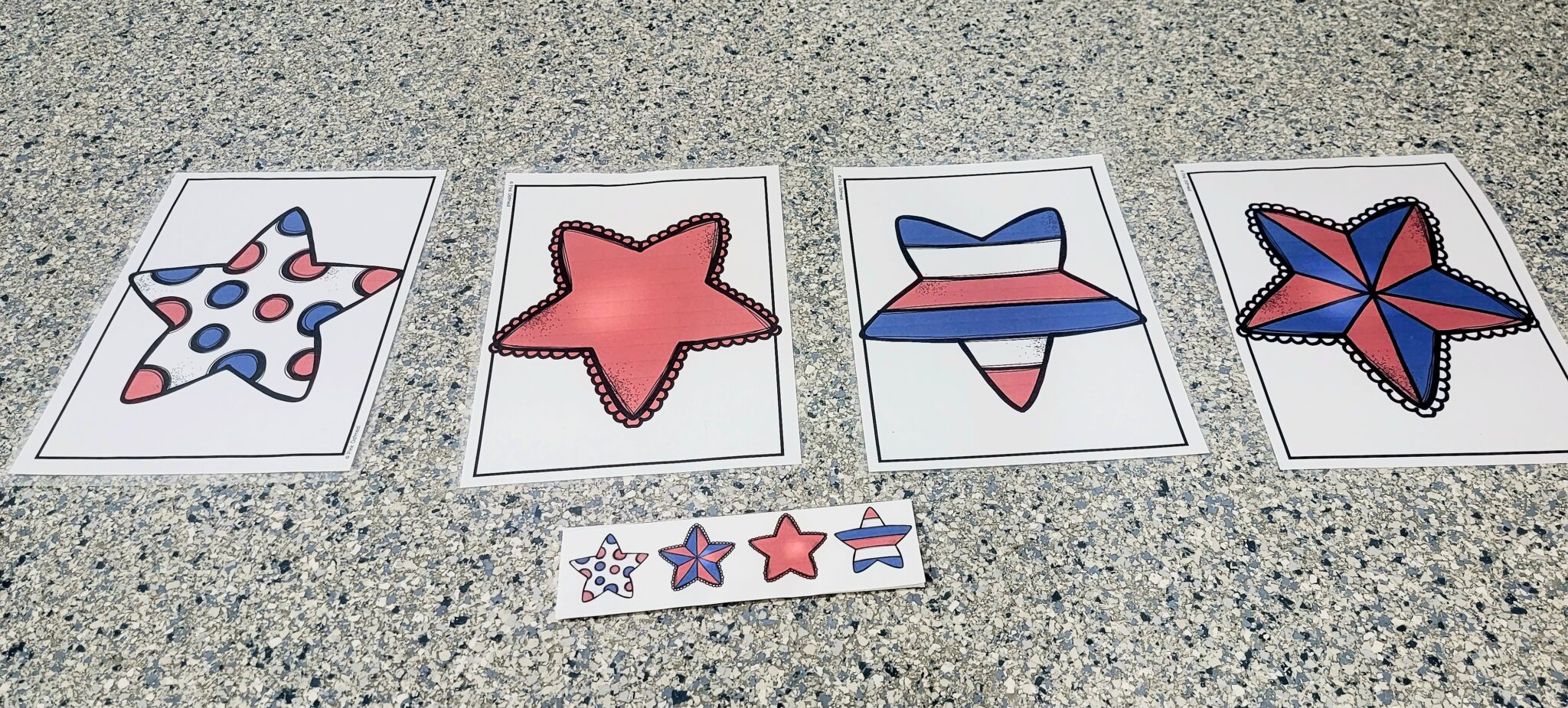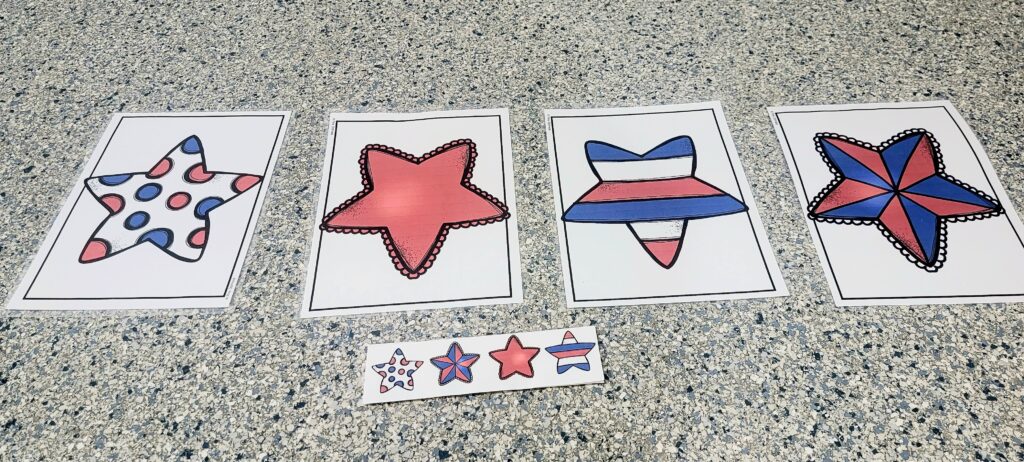 The kiddo chooses a pattern strip and jumps that pattern. Jumping may be performed laterally or in a forward/backward manner.
Several different pattern strips can be used. We also have a US coin jumping game just like this one at Pink Oatmeal.
Semaphore Flag Signals
A semaphore system conveys information at a distance by means of visual signals, in this case, with hand-held flags. These are used by maritime world with organizations such as the U.S. Coast Guard and U.S. Navy which makes it perfect for President's Day or a Patriotic Theme.
This game is really fun for body awareness and visual motor skills. Your kiddo will draw a card and spell out the word on the card using the flag signals. They will need to reference the flag signal sheet that is included with the game. They can use the words on the cards or you can make up your own words.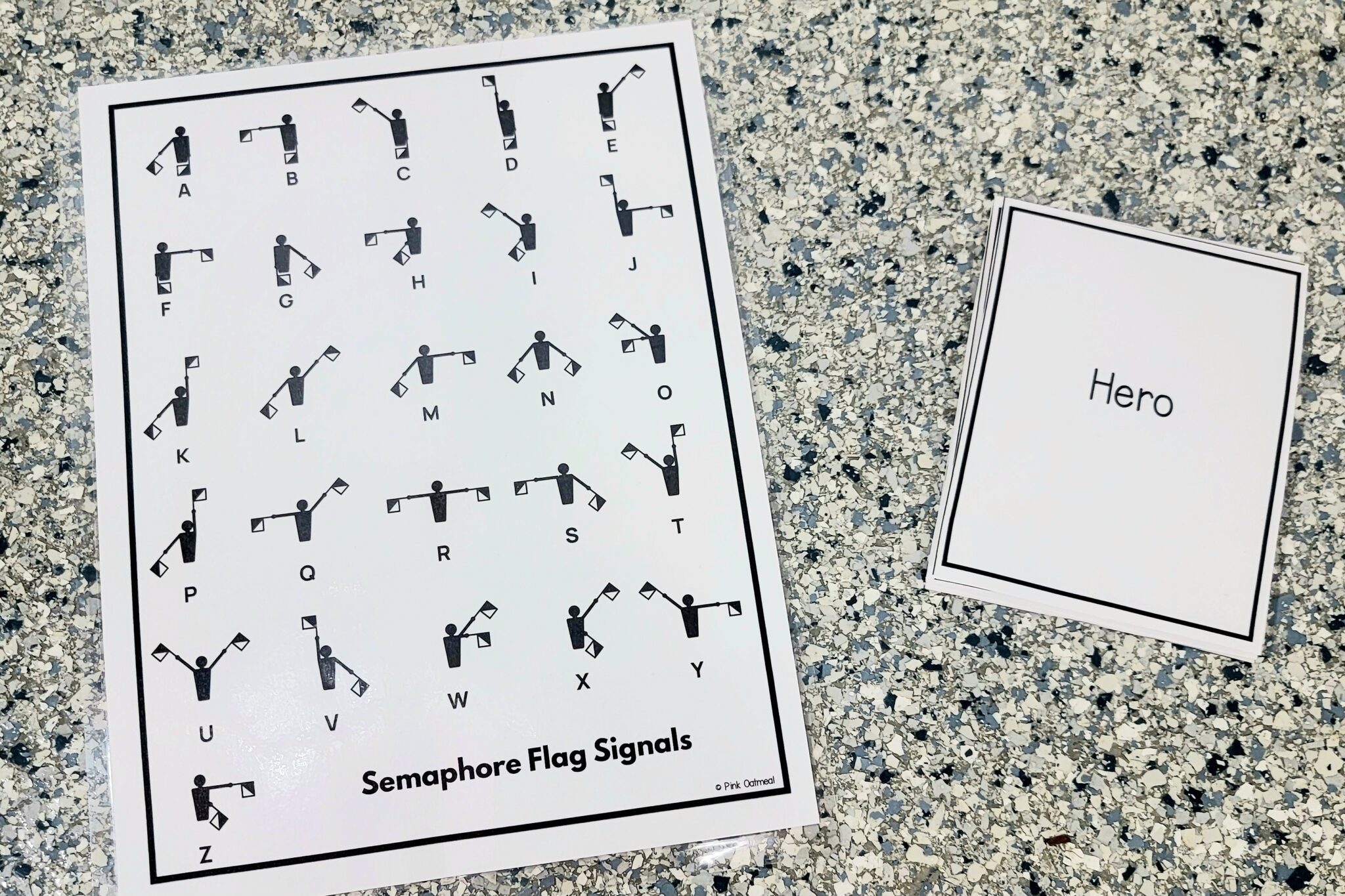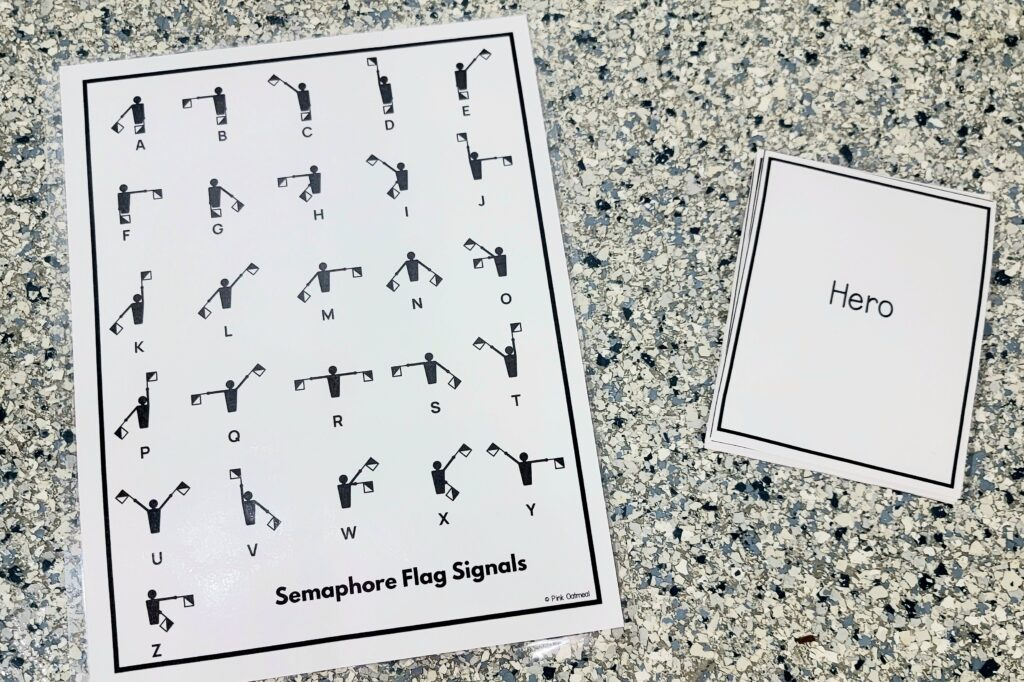 You will want to use two flags or something similar to flags to get the most out of this activity.
U.S. Landmark Balance Spots
Challenging balance and learning about U.S. landmarks can come together in one with the U.S. landmark balance spots.
Here is how you play!
•Place four to six spots on the wall.
•Call out the landmark of the spot that you would like the child to touch.
Tap the spot that is called with…
Toes
Knees
Elbows
Right hand only
Left hand only
While on their hands in knees
While in tall kneeling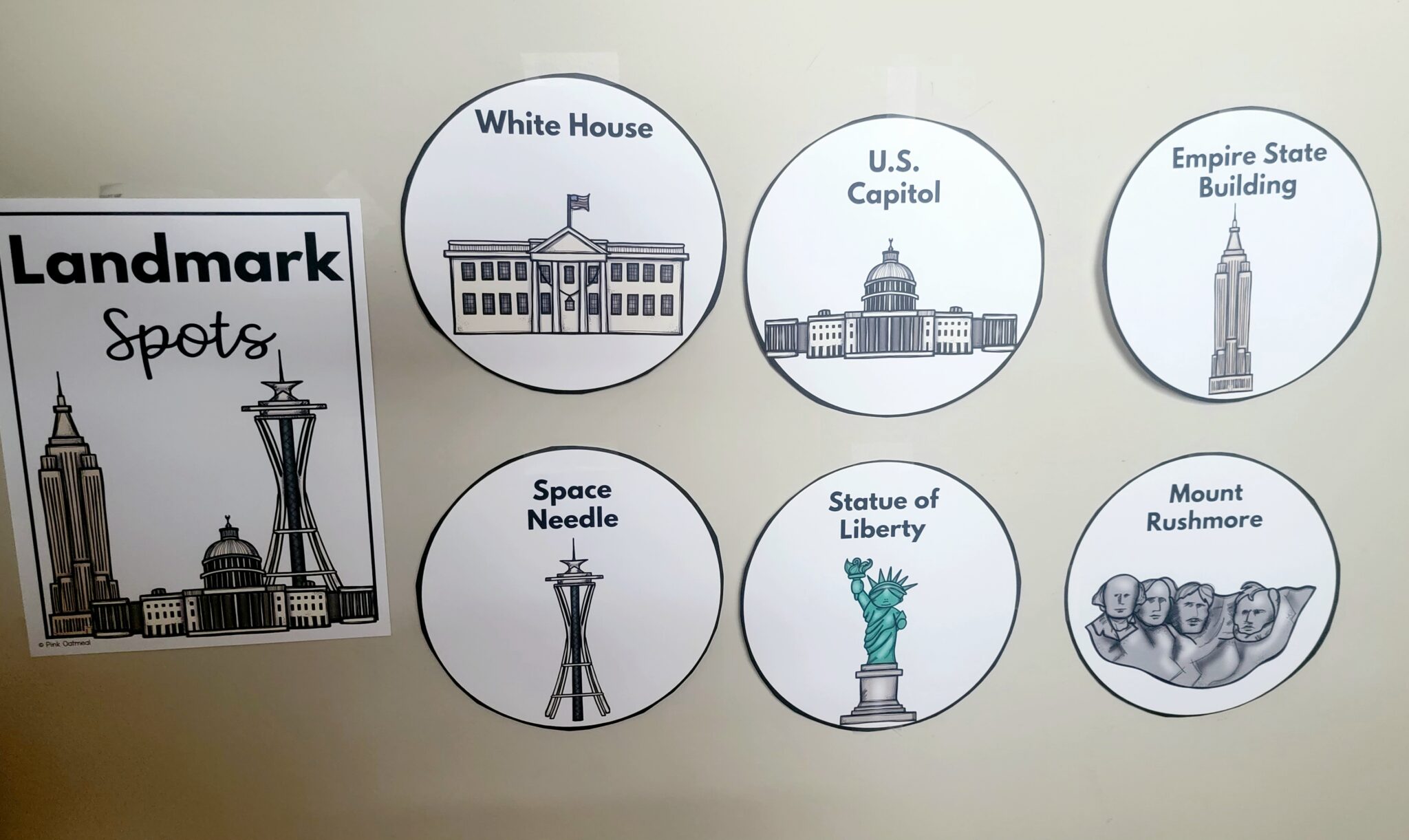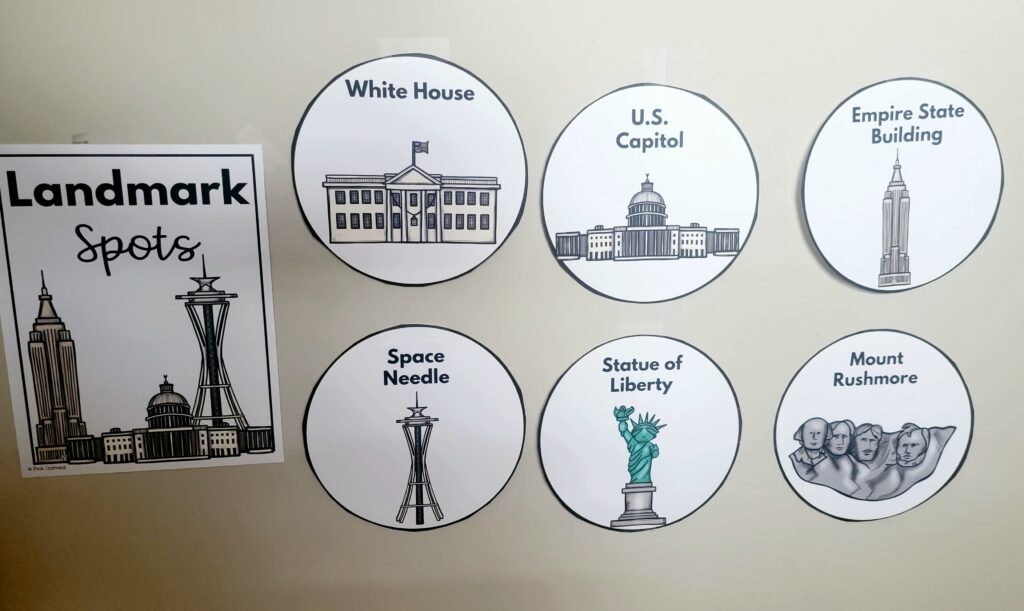 Patriotic Scavenger Hunt
A patriotic scavenger hunt is another fantastic President's Day gross motor activity for ALL ability levels.
Print and laminate scavenger hunt for extended use.
Cut out scavenger hunt cards and hide them for children to search out.
Use dry erase markers to mark off the Patriotic Checklist so they can easily be erased off and used over and over again.
Add additional locomotor movements as children are searching.
Examples: Skipping, jumping, jogging, walking backward, side steps, marching, toe walking and heel walking.
This scavenger hunt is a great option for kiddos using adaptive equipment (gait trainers, adapted bicycles etc.) as well. Place the scavenger hunt cards at a reasonable distance for your kiddo to be successful. This may be done all at once or take several sessions to complete.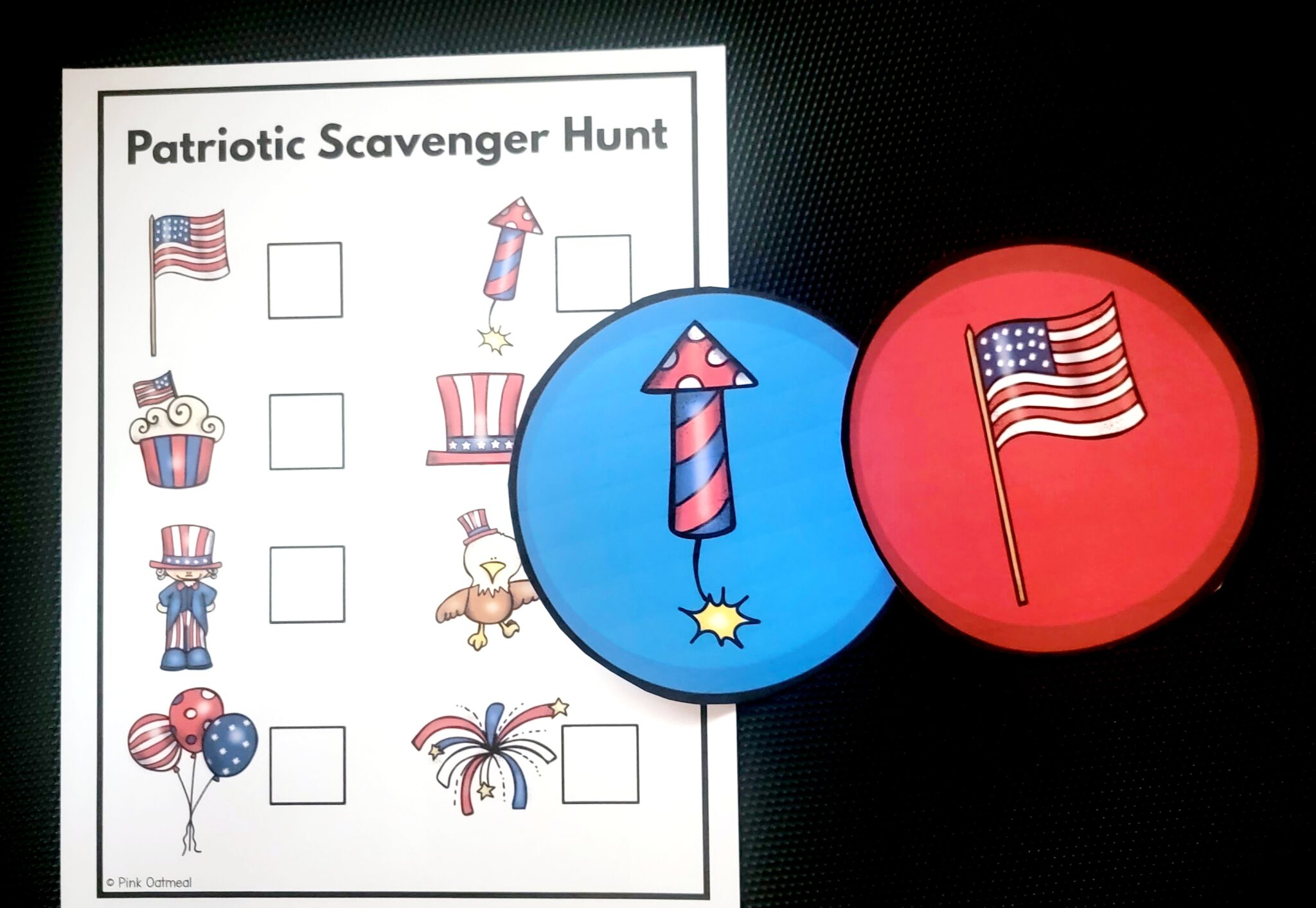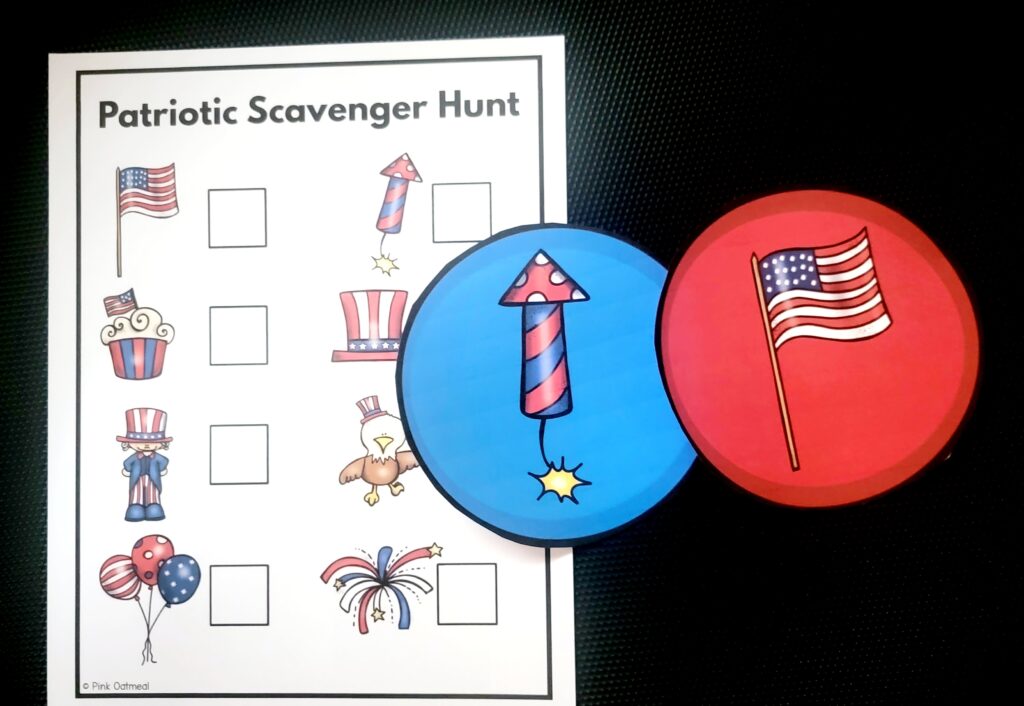 Patriotic Yoga
Patriotic yoga is another fantastic way to work on gross motor skills! These adorable Patriotic yoga cards can be found in the Pink Oatmeal freebie library. You can also ready more about patriotic yoga in this blog post.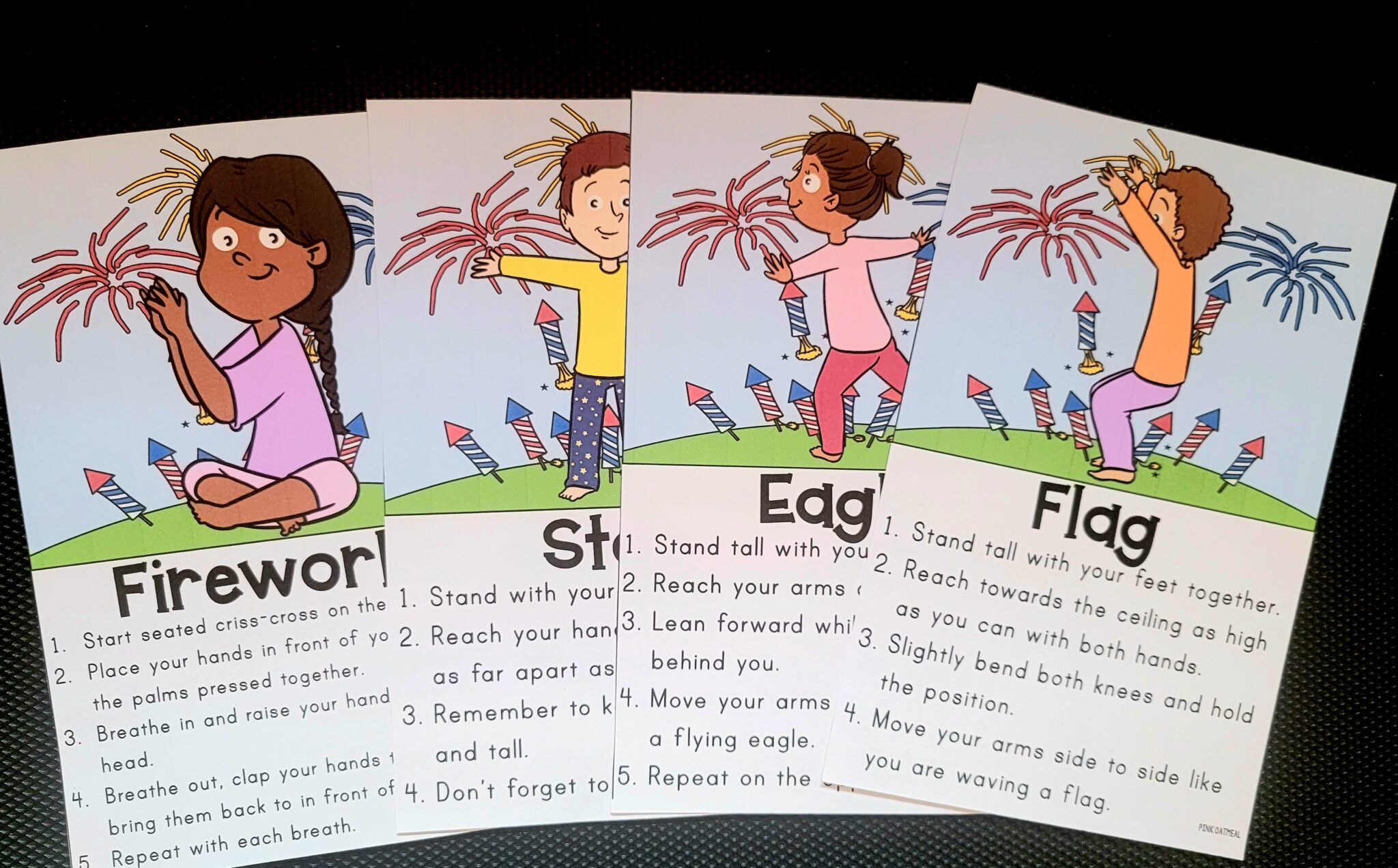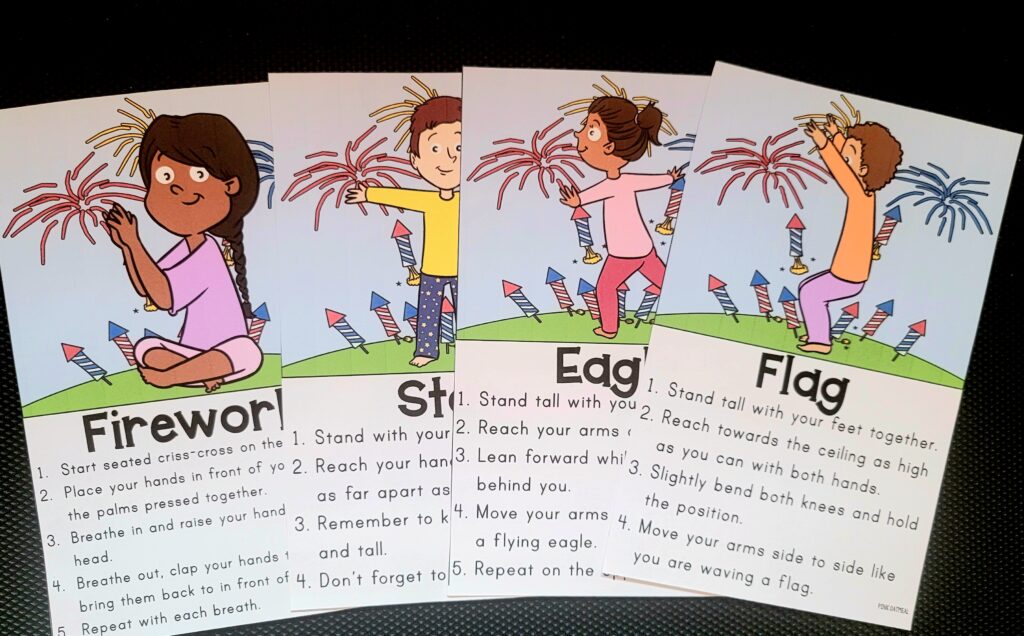 President's Day Gross Motor
These Patriotic Gross Motor Activities are your perfect solution to making movement fun at President's Day, Memorial Day or the Fourth of July. You can grab this set of Patriotic Gross Motor Activities in the Pink Oatmeal shop!