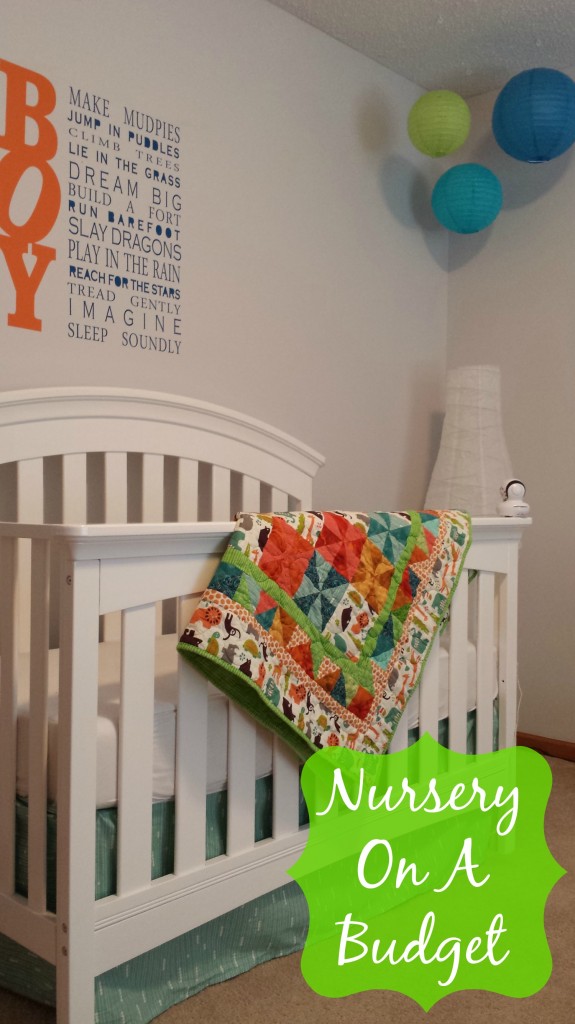 We have been doing a lot of projects around the house this weekend which inspired me to give a little tour of one of my past projects.  When I put together C's nursery it was mainly DIY.  Really, the only things in his nursery that aren't DIY are his crib and the rocker.  Some of the stuff worked out fabulous, some of the stuff not so good.  This nursery was a very budget friendly nursery.  The only thing we really splurged on was his mattress.  We opted for an organic and firm mattress
.  We decided since it was the thing that he would spend the most time on we wanted it to be of the highest quality. Enjoy the tour!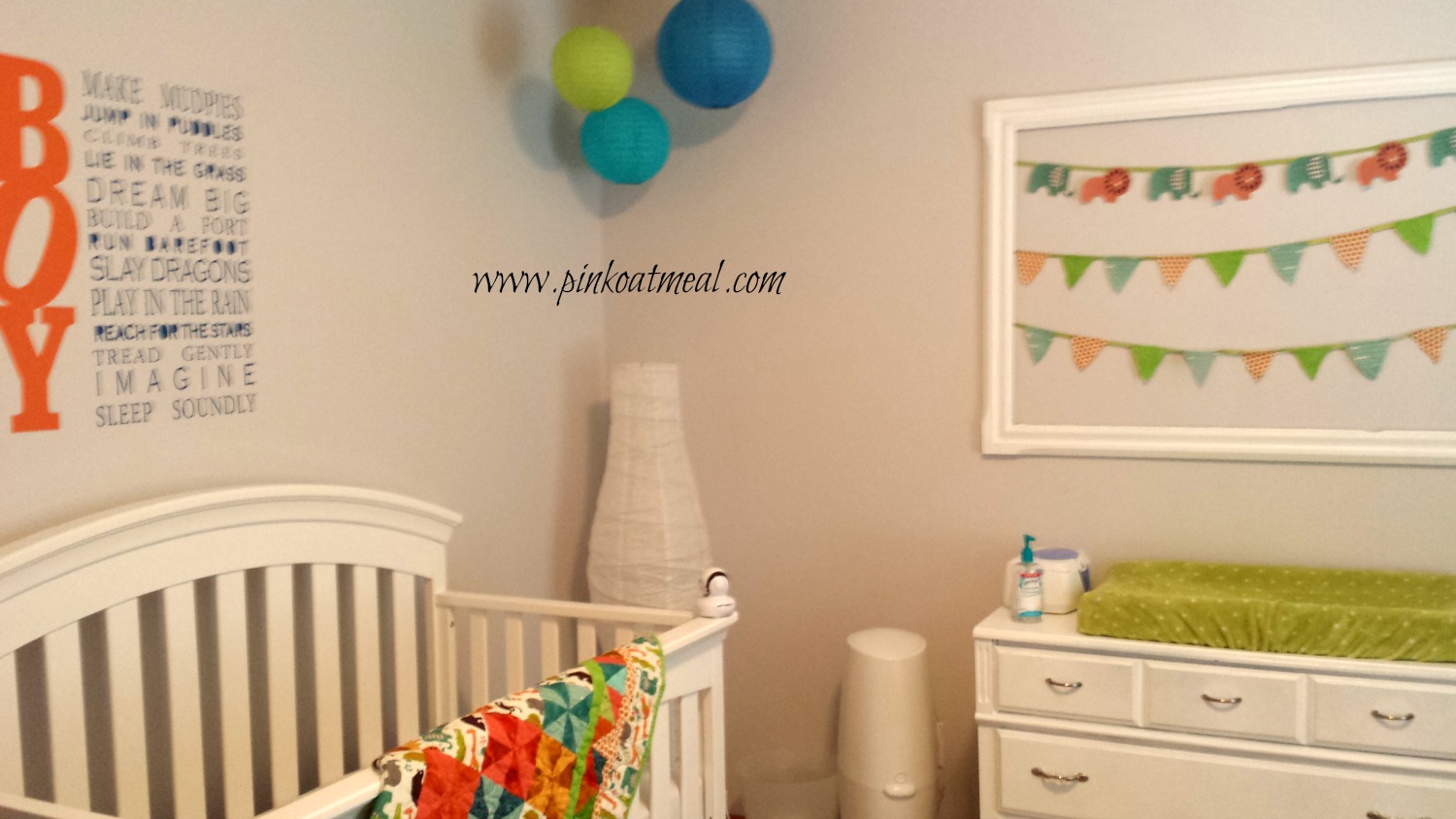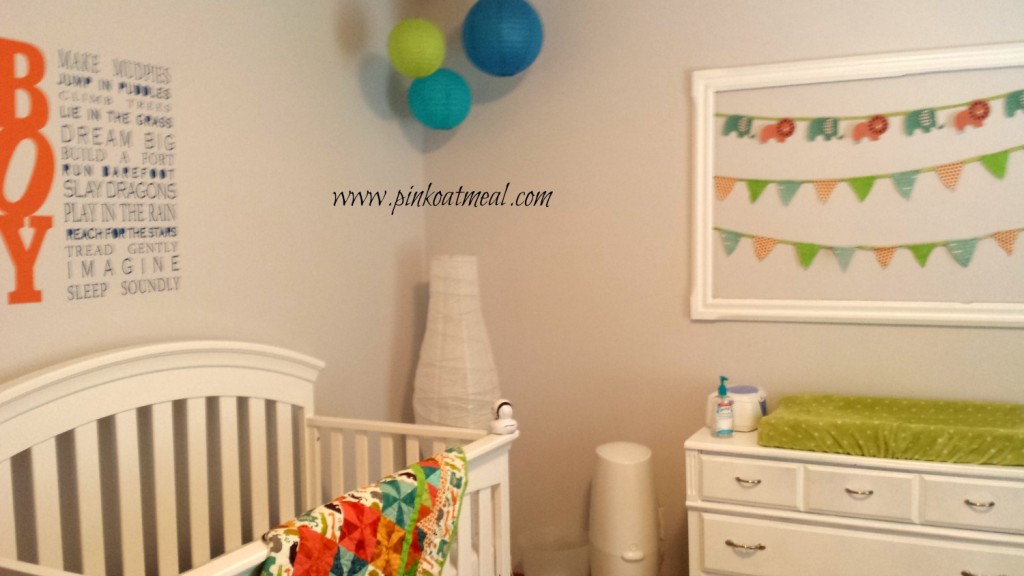 This post may contain affiliate links.  I only recommend products that I love or personally use. 
Starting with the basics,  I choose a color scheme.  I decided on blue, orange, and green.  I wanted to have an animal accent in the room but not a crazy amount of animals.  I picked my fabrics that I found online and found some furniture at a thrift store and took off from there.  I wish I had taken pictures of how I had made everything back when I did it, but I didn't so this is mainly a little tour to enjoy!
First up is the corner of his room where he has a armoire.  I purchased the armoire at a local thrift store for $38.  It was pretty ugly and a wood color but it was of nice quality. I used a primer and white paint to clean up the outside.  I replaced the yucky drawer pulls with new drawer pulls.  In the inside I used fun wrapping paper and modge podge it on.  I was thrilled with how it turned out!  I wish I had before and afters!  We love the armoire because it stores so much in it!
On top of his armoire are framed animals.  The animals actually are exact matches to the animals on fabric used in his room.  These were quite easy to make and you can find the tutorial of how to make them in my framed animal art post.  It goes into more detail of how to match the animals to your fabric as well.   I picked up 8×10 frames on sale  for this particular project.
1. Animal Art
2. Re-Purposed Armoire (Thrift Store)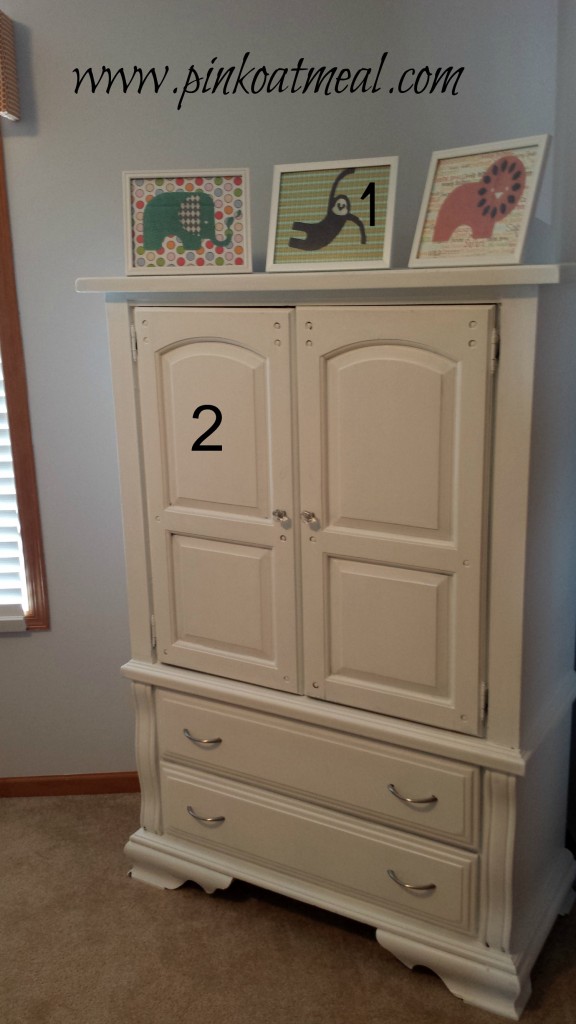 Next up is the reading corner of his room and the area I spent a lot of time nursing at first. The rocker came for a discount when purchased with his crib.  We only had to pay $50 for it.  The books are stored in spice racks turned bookshelves.  The spice racks came in a wood color and they were painted white.  This is a bit of a sore spot for me as the paint job isn't exactly as I would have like it.  Be sure to give these a good sanding before you paint.  I didn't relay that message clear enough to the husband when I asked him to do it and they don't quite look the quality I would have liked but really no one notices but me!  I picked up a clock and finished off the corner with a framed Dr. Seuss quote.  I printed the quote on scrapbook paper and framed.  We love this little corner of his room!
1. Rocker With Ottoman
(Bought with crib for discount.)
2. Spice Rack Book Holder
3. Clock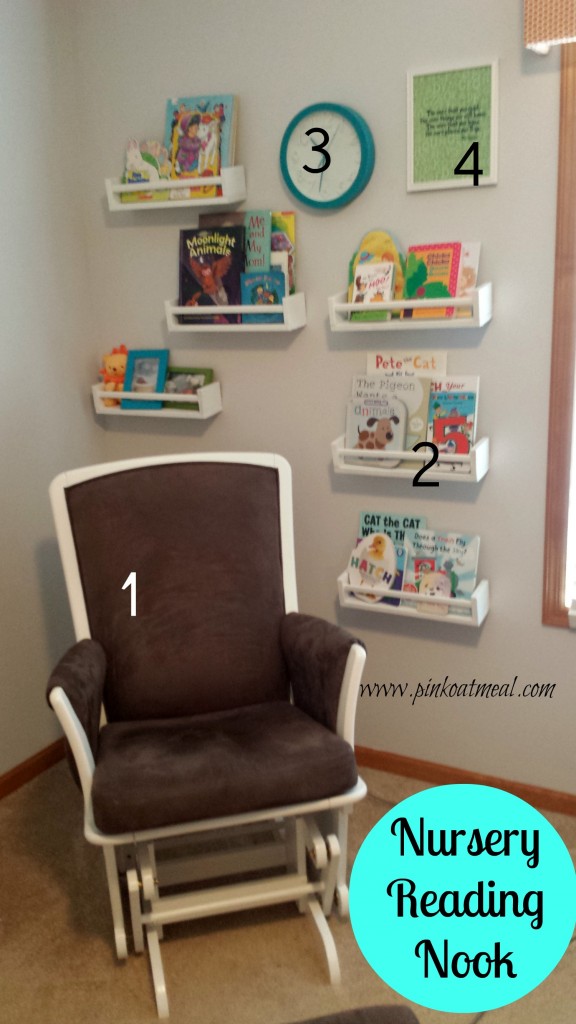 The changing table area was made using his dad's old dresser from when he was a baby in the 1980's.  The dresser looked very 1980ish.  I re-did the dresser like I had the armoire with the primer and paint and modge podged wrapping paper on the inside. The changing pad covers were a good deal.   The frame above the bed I made using an old frame to a mirror that I had bought at a garage sale.  The animals again match the animal fabric in his room.  I have a tutorial on how to make this frame in a previous blog post.  It was really simple and cost me about $30 for supplies and the purchase of the mirror previously.
1. Dresser (Dad's Old Dresser)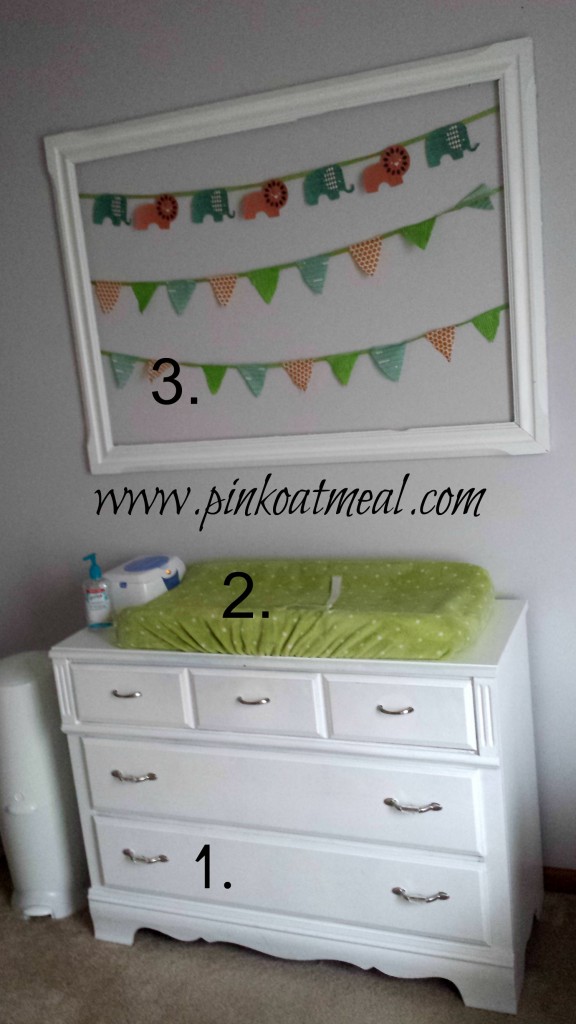 The crib area is one of my favorite parts of the room.  We purchased his crib through Target.  I actually made the crib skirt.  It was only straight line sewing but still a challenge for me!  There are tons of tutorials on Pinterest about how to make a crib skirt.  The quilt was made by a friend of mine and turned out beautiful!  Notice the animals in the fabric are the same animals that accent throughout his room.  I just used basic organic jersey cotton sheets on his bed. I have a few different solid colors.  I opted out of anything around the crib that I thought could possibly fall into the crib, so instead I found the vinyl wall art on Etsy that I love!  I put the party lanterns in the corner as a distant mobile.  I purchased them at a party store.  Rounding off the corner is a lamp that I purchased at Ikea for $13.  It serves it's purpose.
1. Crib
2. Material for crib skirt
3. Crib Sheets
4. Quilt – Gift from friend
5. Vinyl Wall Cling
6. Party Lanterns
7. Lamp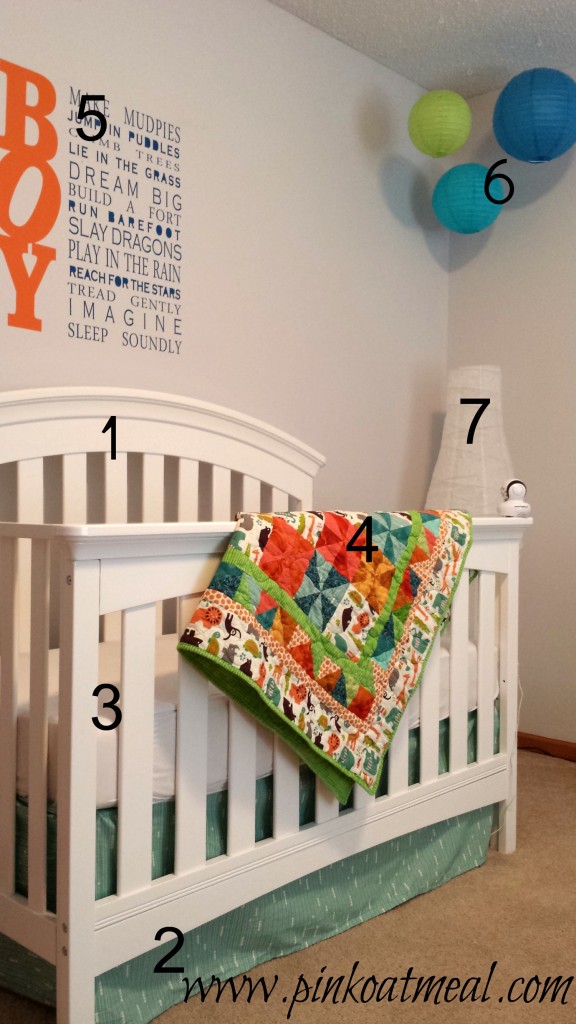 Hope you enjoyed the tour and found some good ideas on how to save in a baby's nursery!  Also be sure to check out my post on organization in the baby's closet with closet dividers!  We are lucky to have a nice big closet in our nursery and love utilizing the closet dividers!
I Want To Hear From You!
Let's stay connected!  You can find me on Facebook, Twitter, Instagram, or Pinterest.  I'd love to hear from you!
You Might Like
My shop is full of ideas to promote getting the kids moving.  Stop by you might just see something fun for home or the classroom!  I can also be found on Teachers Pay Teachers.