This week we are talking farm yoga and movements. Last week I shared about zoo themed yoga. The farm is another awesome place for kids to visit and explore. My son is particularly fond of the farm. He's pretty darn good at all the farm animal sounds! Yoga can easily be incorporated into a farm theme along with other farm themed sensory and motor play. Farm yoga is fun to use from toddlers through elementary school.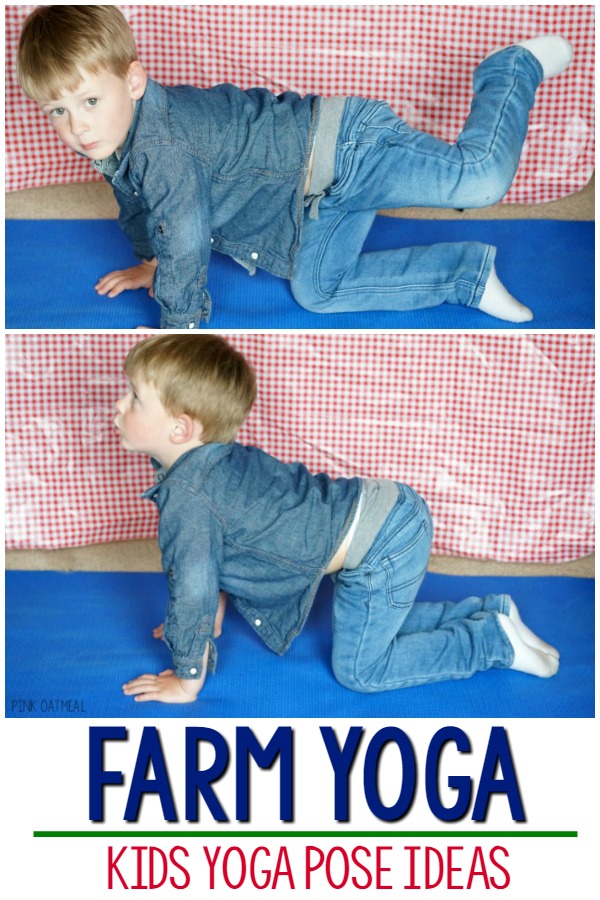 Farm Poses
Each pose represents something associated with the farm. Whether you are posing like a pig or a cow be sure to enjoy your yoga! Modify the poses as needed. Let the kids enjoy the yoga and be creative with their poses. Save yourself time and effort and get ready made farm themed yoga cards and printables in the shop.
Cat
Cat pose and works perfect with the cow pose.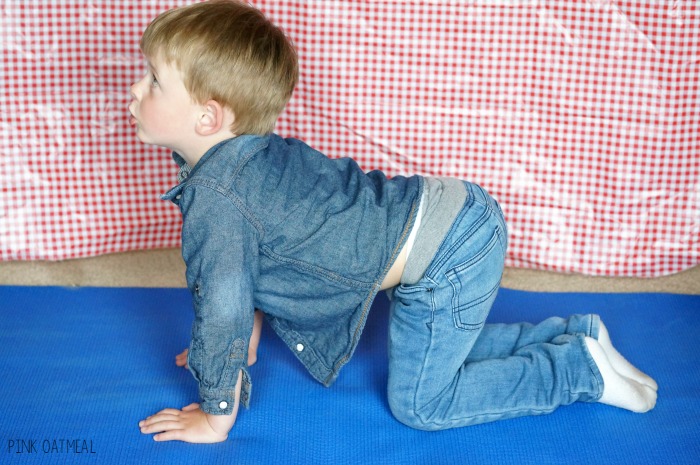 Cow
Cow Pose and works perfect with the cat pose.
Pig
Happy Baby Pose – Rock back and forth like a pig rolling in the mud!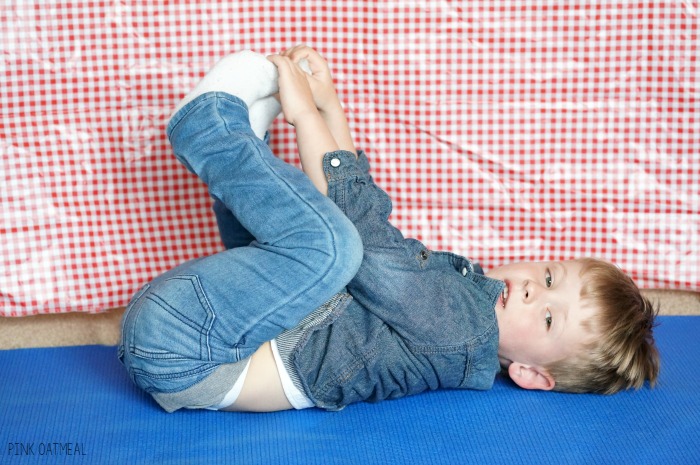 Dog
Downward dog pose along with some barking can make this pose fun.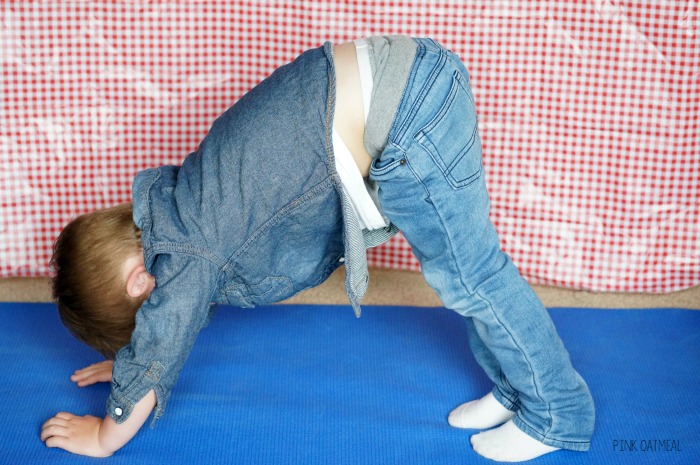 Rabbit
Chair Pose – Move to chair pose hold and back to stand and repeat. Move up and down like a hopping bunny at a controlled pace.
Horse
Gallop in all directions – forward, in circles, fast, and slow.
Sheep
Jumping Sheep – The perfect way to incorporate all kinds of jumping – single foot, big leaps, and side to side.
Donkey
Donkey Kicks – On your hands and knees do donkey kicks, take turns kicking legs on each side.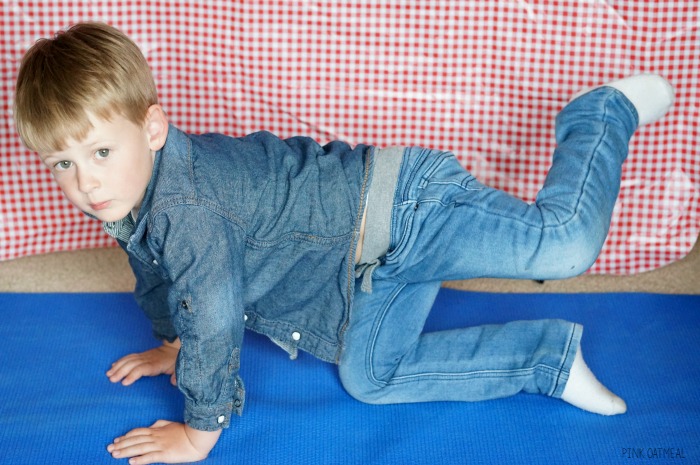 Duck
Duck Walk– Walk with your knees together or hold a ball between your knees and walk. You will find yourself waddling like a duck!
Chick
Chick Pose (Flapping Wings) – Place your hands up near your arm pits and flap your arms like wings. Make sure you squeeze your shoulder blades together with each flap.
Goat
Goat Climbing – Work on crossing the mid line as you climb by lifting your right leg at the same time as your left arm and the reverse. Climb fast and climb slow.
Farm Yoga and Moo-vement Cards
Think about how great it would feel to have everything you needed created for you to make farm yoga happen now! Not only will you have fun themed farm movement ideas, but you can also feel confident knowing that you and your kids will love these moves and be so engaged in learning. This is the perfect way to combine movement and learning! Pink Oatmeal has everything you need ready to go. Buy Farm Yoga Cards today!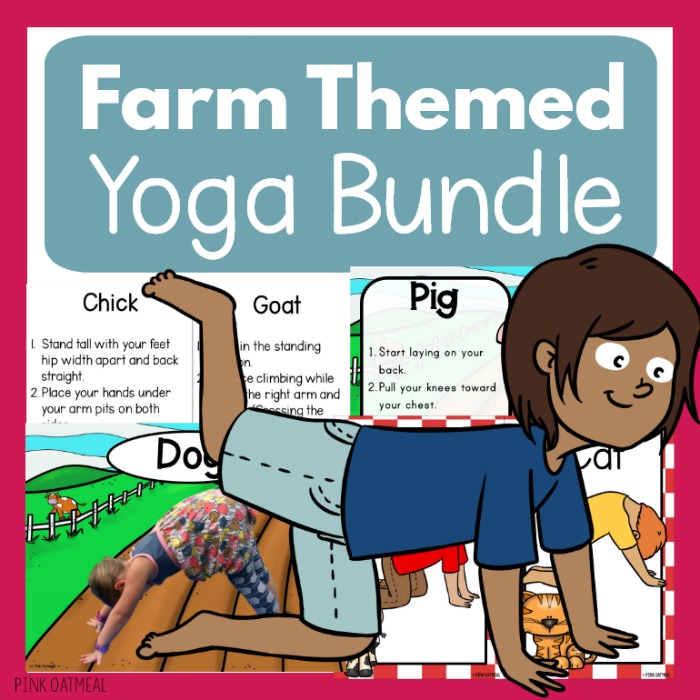 Get All Things Farm Movement – Farm Movement Pack
Even better, save big and get all things farm movement when you purchase the Farm Theme Movement Pack! This is by far your best deal when it comes to all things farm movement!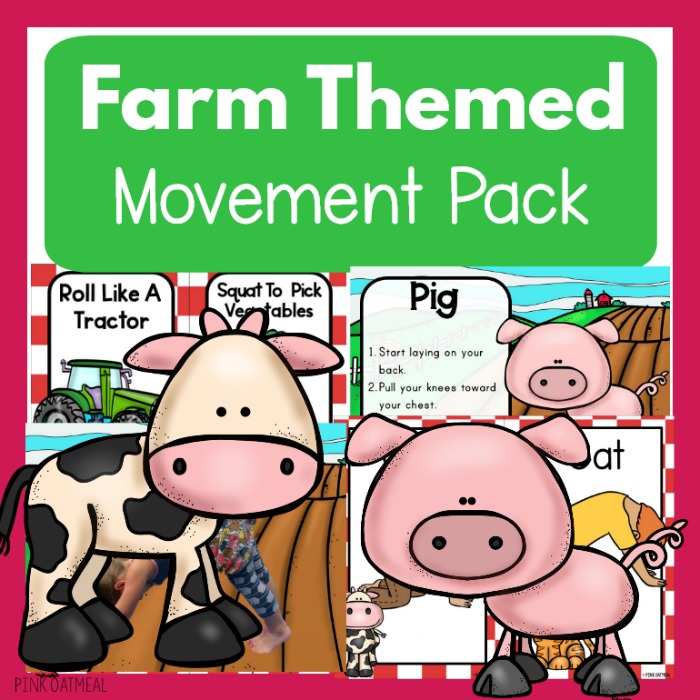 MORE YOGA
Looking for more yoga ideas? Check out my Desert Yoga, Sea Yoga, Zoo Yoga, Circus Yoga, Transportation Yoga, Rainforest Yoga, Woodland Yoga, and Camping Yoga!
More Gross Motor Favorites
Some of my favorite resources for gross motor play as a physical therapist and mom! Click on each photo for a full explanation of product. Affiliate links.
MORE MOVEMENT
Follow Pink Oatmeal's board Teachers Pay Teachers Store – Pink Oatmeal on Pinterest.