Do you have a great lesson set up for Earth Day?  Maybe you are missing just one extra thing to incorporate into an Earth Day theme or maybe your are looking for any kind of Earth Day activity out there!  Maybe you are ready to try something out of your comfort zone!  Earth Day yoga pose ideas may be just what you are looking for!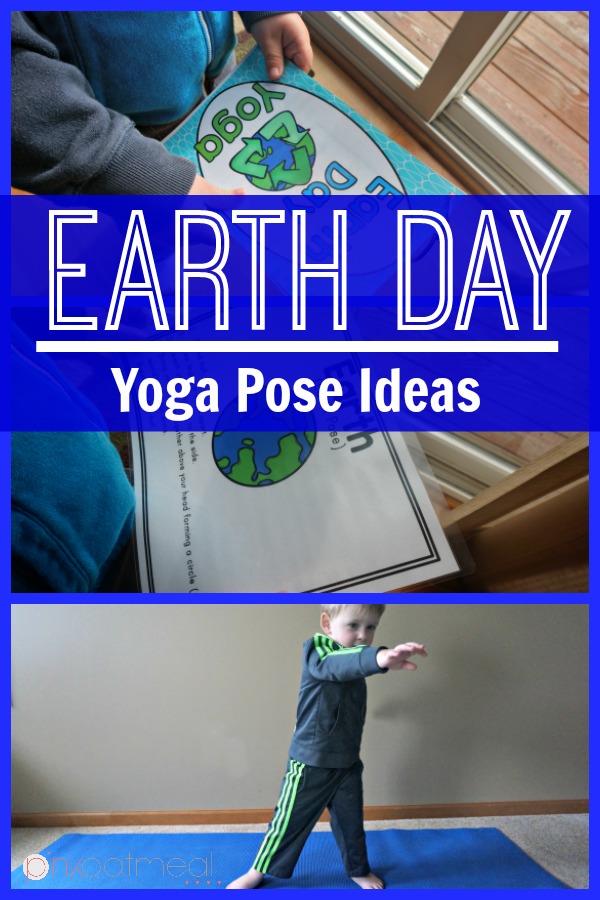 Earth Day Yoga Poses
Earth Pose
Mountain Pose – Bring your fingers together above your head forming a circle (the world) with your arms.
Tree Pose
Tree Pose 
Butterfly Pose
Butterfly Pose – Move your legs up and down like a butterfly fluttering it's wings.
Water Pose
Sit with a tall spine with your legs straight out in front of you. Gently rock back and forth like you are floating on water.
Bird Pose
Dancer's Pose – Flap your arms like a bird if you'd like!
Rock Pose
Child's Pose
Hill Pose
Mountain Pose 
Flower Pose
Flower Pose
Fish Pose
Fish Pose – Make fish faces if you'd like!
Reduce, Reuse, Recycle Pose
Bicycle Pose – Pedal your legs in a circle symbolize reduce, reuse, recycle.
Sprout Pose
Chair Pose – From this pose move to standing and spread your arms open wide above your head. 
Star Gazing Pose
Corpse Pose – Look at the stars and breathe in and out relaxing. 
Earth Day Yoga Cards and Printables
Do you love the idea of Earth Day yoga, but want it accessible and easy to use at all times? I don't blame you!  Pink Oatmeal has 2 versions of Earth Day Yoga Cards and Printables available for you to use.  They are the same poses with a different presentation.  This gives you the option to choose what set works best for you or grab both!
This set of yoga cards uses fun clip art with descriptions of the Earth Day Themed Yoga Cards and Printables.  The cards and printables give full descriptions and fun clip art pictures. These cards are available for you in my Teachers Pay Teachers store or in the shop on the blog.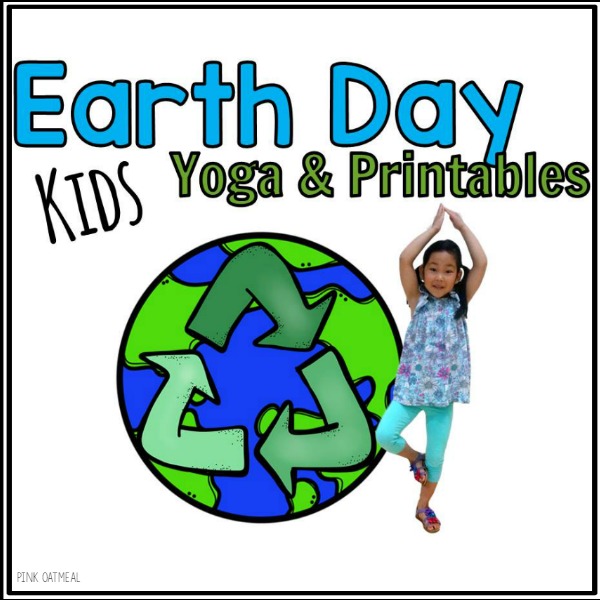 The Earth Day Yoga Kids set consists of the same poses but have real kids in the poses! The cards have descriptions and pictures and the printables are full sheet pictures of the kids in the poses.  Grab these cards in Earth Day Yoga Cards or at TpT!


MORE YOGA
Get more yoga ideas with more themes on Pink Oatmeal!
I WANT TO HEAR FROM YOU
Let's connect!  Pink Oatmeal is on Facebook, Pinterest, Twitter, and Instagram!  Come follow me!
YOU MAY BE INTERESTED IN
My store at Pink Oatmeal is full of ideas to get the kids moving at home, in the classroom, and in therapy!  If you prefer Teachers Pay Teachers you can find me there too!