When I was pregnant and  we found out we were expecting a boy, the first words out of my husband's mouth were in regards to how much money we were going to save.  He was referring to my shopping habits.  In the months prior, I had ooowed and ahhed  over pink frilly cute girls clothes.  He may be right, having a boy may have saved us some money in the clothes department, however boy clothes have come a long way and I must say are really starting to get cute.  I'm not one who likes to spend lots of money on clothes.  I like to shop and I like clothes, but I have to get them for a deal.  I feel like in the past 16 months I've narrowed down my favorite places to get cute and stylish boys clothes without breaking the bank.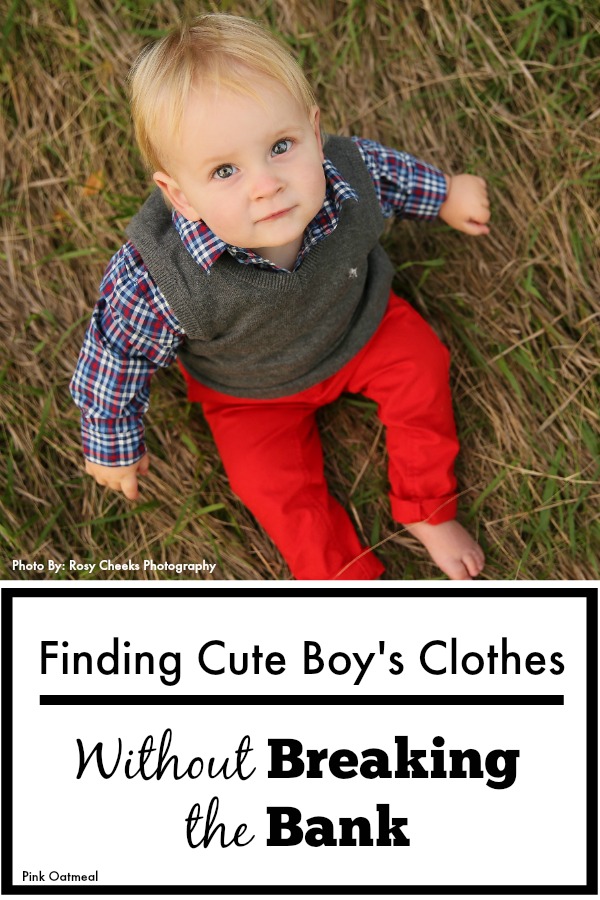 Initially, I thought that I would cash in on some good second hand sales or even garage sales.  What I quickly found was they weren't as cheap as I was expecting in my area.  I was finding the same clothes at second hand stores and garage sales that were priced higher than they were on the clearance racks at the store.  This may not be true everywhere but it was in my area.  My hopes of cashing in at second hand shops faded quickly.  However, being someone who likes to shop, I hadn't given up on still finding great deals and yet having cute and stylish little boys clothes.  I've come up with a list of my 5 favorite places to find great clothes at bargain prices.
Cute Boys Clothes – Where to Shop
1. Target (affiliate) – I shop in a combination of ways while at Target.  I always use my Red Card for the extra 5% off.  On top of that I browse Cartwheel.  I've found up to 30% off different brands of clothes or all infant/toddler clothes all together.  Of course, I check Cartwheel for most anything I buy there.  It's easy to do with a smart phone, but if you don't have a smart phone you can always check on your computer and print coupons before going.  Then of course, there are the clearance racks.  My absolute favorite spot to shop, the clearance rack!  My favorite brands at Target are Cherokee and Genuine Kids by Oshkosh.
2.  JCPenney – I've literally found my best deals at JCPenney.  I've had to be there at the right time, which is mostly when they start switching over the seasons.  I outfitted a lot of my little man's winter wardrobe this year from JCPenney.  I literally got everything for $2.97!  I was a big fan of some of the brands that they carried there for little boys including Joe Fresh, Wendy Bellisimo, and Baker .  Lately, I haven't seen any Joe Fresh or Baker at store, and online it just looks like they have some old clearance.  I'm hoping it isn't the end of carrying those lines because they were my favorites (when on sale)! To sum it up, JCPenney is a great place to find great deals in between seasons.
3. H and M – I don't think most people think of cute little boys clothes when they think of H and M, but they're great!  I guess it could be a preference in what you like, but they carry my style of clothes.  The great part is that they aren't overly expensive.  My little man's entire 1 year old pictures where outfitted courtesy of H and M.  Checking their sales racks can make the deals even better!
4. Kohls – I don't think I've ever bought anything that hasn't been on sale at Kohls.  I am a credit card holder there which provides me with several different coupons and scratch offs throughout the year.  Kohls has a Jumping Bean line which is my favorite for my little man. It's a mix and match line of cute tops and bottoms.  The clothes are usually on some kind of sale and in combination with some kind of coupon a really good deal can be had!
5. TJ Maxx – I've found that this is the best place to get name brand clothes.  I'm not an overly big name brand person but I have found some cute track suits and little polo shirts here.  In my experience the prices on the name brand items at TJ Maxx are hard to beat pretty much anywhere.
Where have you had good luck finding cute boys clothes without having to spend a ton of money?  I'd love to know!  Leave your answer in the comments!
LET'S CONNECT!
You can find me at Facebook, Twitter, Instagram or Pinterest!
YOU MAY BE INTERESTED IN
My store at Pink Oatmeal is full of ideas to get the kids moving at home, in the classroom, and in therapy!  If you prefer Teachers Pay Teachers you can find me there too!