It was so much fun to take a look back at my statistics for 2014 to see what posts brought in the most traffic to Pink Oatmeal.  Pink Oatmeal started in February of 2014 but being such a novice blogger I didn't even have analytic tracking until March. It's been a lot of fun and addicting!  I actually never intended to have more than a family blog when I started my blog in February.   Thanks to social media, Pinterest and Facebook brought in the majority of my traffic, for not only for my top posts but they for my blog in general.  So to avoid babbling on too long here are my top 10 posts of 2014, well since March of 2014!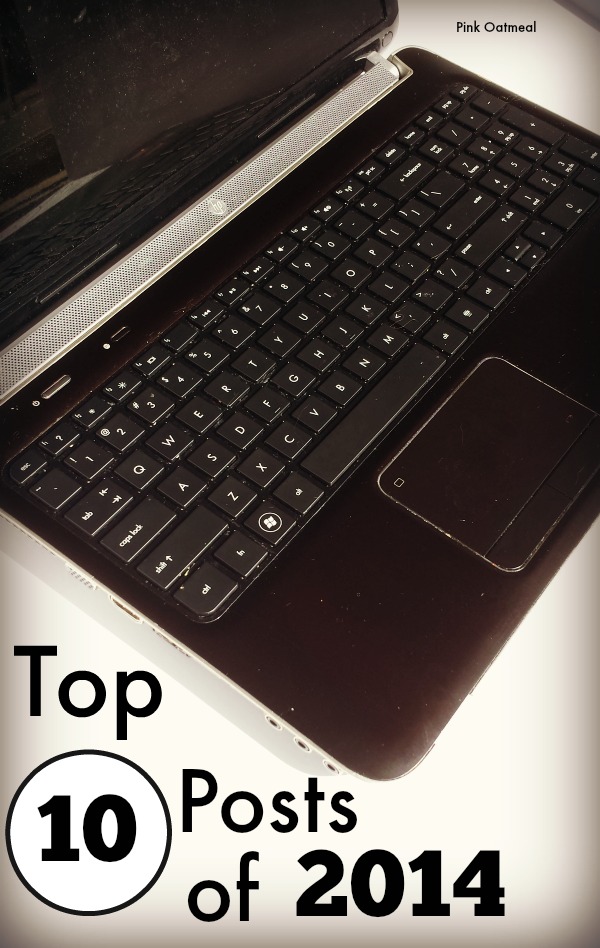 Top 10 Posts of 2014
1. Baby Items You Don't Need – This post actually combined many different posts that I had written or fellow therapists had written discussing baby equipment from a mom and therapist point of view.  Some of the items on my list were actual pieces of equipment that I had too.  I thought I needed them but quickly learned there were better alternatives for my baby and still to keep my sanity!
2. Post Baby Must Haves That Nobody Talks About – I wrote this after talking to a friend of mine who was going to have a baby and laughing about all the joys of the days after birth.  She asked me what you really needed for those first few days, and this was my response!  Thanks to Pinterest this post has stayed popular since writing it.
3.  Tips For Tummy Time – One of my very oldest posts!  Tummy time isn't always an easy thing for a mom or baby.  These were a few tips that I shared with my friends in my baby class and added to my blog.  Many of the tips were the ones that they found worked well for them and for myself.
4. Are Jumpers Bad For Babies? – This was another post I wrote after questions in my baby class.  I actually had a jumper, but never used it as I found my diaper box or laundry basket a much better play alternative with better positioning.  Many of the girls in my class didn't stop using their jumpers after reading it but were much more cognizant to not over use them which was the goal of the post.
5. DIY Sensory Table – This was probably my absolute favorite post because of how the table turned out.  I made this table on a whim just hoping it would work out and it's been nothing but great.  I love how I can change out sensory bins by just changing the bin and not having to empty a bin and start over.  What I loved about the table the most was the up cycling of an old piece of furniture and very little tools were involved.
6. Peanut Butter Oatmeal Balls – These are the absolute best snack in the whole world.  They are easy to make and you know what is in them.  I can see why they were in the top 10!
7. Diaper Box – This was the alternative I used instead of your typical baby equipment.  It gave me those few minutes I needed and put my baby in a position that was comfortable for him.
8. Baby Equipment – This is a round-up of all the posts on different baby equipment.  Some of it is great and some of it I don't recommend as the best option.
9. Baby Water Play – This was such a fun activity when my guy was little.  Of course, with any water play, you must be sure baby is strong enough and always supervised.
10. 15 Minute Exercises With Baby – This was my routine to get some quick strengthening exercises in after my baby was born.  I loved that I could do all these exercises with my baby.  I wish I would have been more religious about doing it because it was so simple!
What a fun 2014 it has been .  I've connected with great bloggers and readers.  I've learned so much from others and can't wait to see what 2015 brings.   What was your favorite post on Pink Oatmeal this year?
LET'S CONNECT!
You can find me at Facebook, Twitter, Instagram or Pinterest!
YOU MAY BE INTERESTED IN
My store at Pink Oatmeal is full of ideas to get the kids moving at home, in the classroom, and in therapy!  If you prefer Teachers Pay Teachers you can find me there too!