I'm delighted to be part of a group of great bloggers participating in a series, Happy New Year, Healthy Kids.  In this series we are focusing on how to help keep our kids happy and healthy this new year.  I'm excited to touch on the area of gross motor skills.  Gross motor development is exciting for both parents and kids.  It's fun to see our little ones changing, learning, and exploring their environments.  Today, I'm sharing tips on how to encourage gross motor development from the beginning!
7 Ways To Encourage Gross Motor Development
1.  Tummy Time.  Gross motor development starts from the beginning.  Tummy time is one of the first ways we can promote gross motor development in our children.  The great thing is that tummy time isn't just for babies.  Tummy time can also be beneficial for our older children too.  Your Therapy Source has an excellent post on how encourage tummy time for kids and adults.
2.  Limit time in devices that may contain your child.  Being mindful of avoiding the overuse of "containers" allows our babies opportunities to move and practice their gross motor skills.   CanDoKiddo has and excellent rule when it comes to limiting the amount of time in containers or baby holding devices.  Even as a physical therapist, by no means was I perfect and I too broke the rule from time to time; however when we were home, my little man was rarely in equipment.  Actually, I owned very little equipment making it a lot easier to avoid overuse of it!
3. Have a safe space for play and exploration.  Setting up a space that is designated for your child to move and play where you feel they are safe is key for letting them explore their environment and it encourages the development of their gross motor skills.  This can be done by setting up a play yard (affiliate) with toys, having a child proofed playroom or a corner in your family room that is designated just for your child to move and explore.  In my space, I had a blanket on the floor, mirrors, and toys.
4. Limit screen time.  Being cognizant about how much time your children spend in front of a television, gaming console, or computer is important. It can be easy to fall into the routine of sit at school, ride the bus home, sit at home and play video games/tablet, dinner, watch TV, bed and repeat.  By limiting screen time, we are encouraging and creating  the opportunity for outdoor and indoor play, therefore encouraging gross motor development.
5. Play outdoors.  The outdoors provide so many opportunities to encourage gross motor development.  Climbing, running, swimming, and swinging are just the beginning of what can be found outdoors. Unfortunately, outdoor play isn't as prevalent as it used to be. The girls at the Inspired Treehouse have an excellent post on Why Today's Kids Aren't as Strong as They Used To Be and what you can do about it.
6. Play indoors.  I'm a huge fan of outdoor play and all that it has to offer.  I think it's so important that kids get outdoors, however indoor play can encourage gross motor development as well.  Being from Minnesota, there are times when outdoor play just isn't realistic or safe (say this past week!).  Self-directed active free indoor play can still be fun and still encourage balance, strength, and spatial skills.  Examples of this may be creating obstacle courses, playing indoor basketball (I did this with my brothers a ton as a kid!), and building forts with cushions or tents.
7. Lead by example.  Our children learn so much from us!  If we just sit around all day and make no effort to move our bodies our children see this.  Something as simple as a family bike ride, walk, or trip to the park encourages our children to move and develop their motor skills.
Here's to encouraging gross motor development and here's to a healthy and happy start to 2015 for your family!  Be sure to stop by Happy New Year, Healthy Kids throughout the month to read practical, real life ideas for improving your child's health and well-being.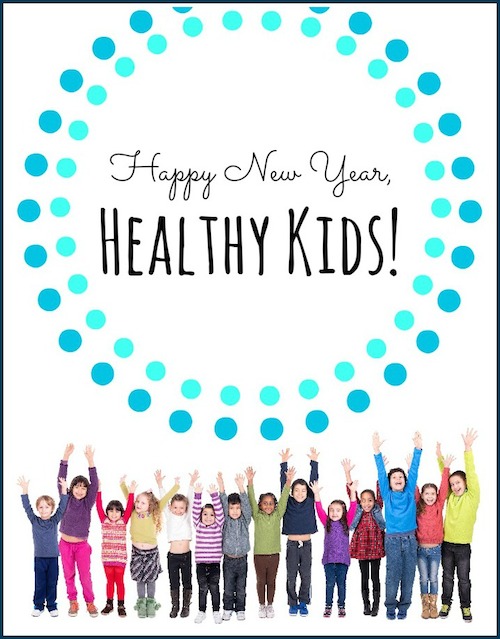 I WANT TO HEAR FROM YOU
Let's connect!  Pink Oatmeal is on Facebook, Pinterest, Twitter, and Instagram!
YOU MAY BE INTERESTED IN
My store at Pink Oatmeal is full of ideas to get the kids moving at home, in the classroom, and in therapy!  If you prefer Teachers Pay Teachers you can find me there too!
photo credit: chefranden via photopin cc with added overlay and text