It's so hard to believe that my baby isn't a baby anymore, he's a toddler!  This past weekend I was putting away the last of the baby stuff.  It  got me thinking about all the baby stuff out there.  It would be easy to drop a few grand on baby stuff. My list contains items from my experience as a mom and my knowledge as a pediatric physical therapist.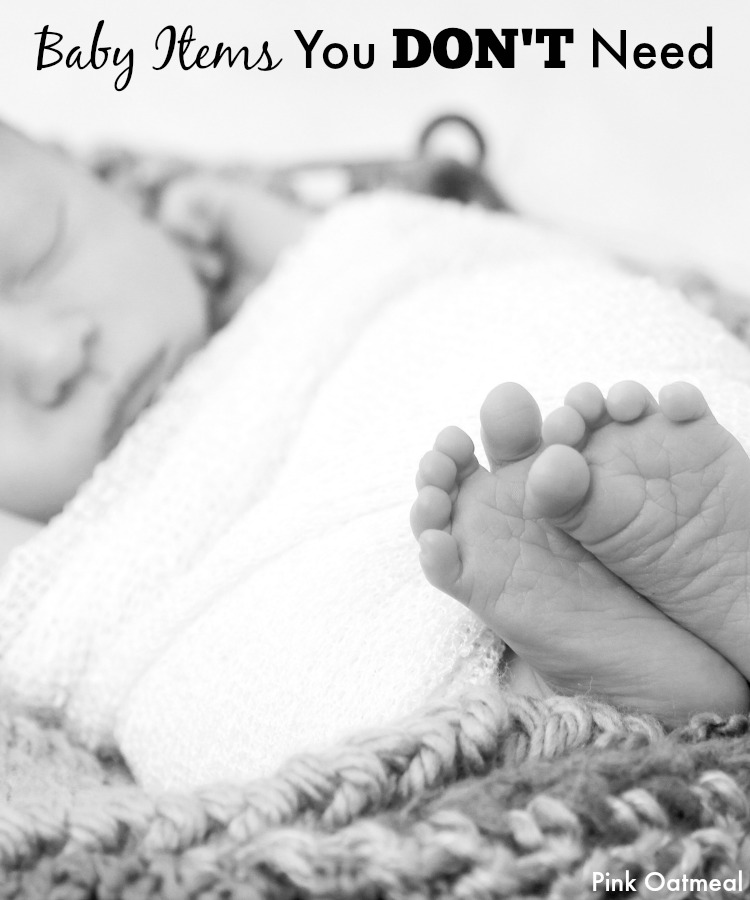 This post contains affiliate links.  Products I recommend are only those that I love or personally use.
My list was developed from a lot of questions from friends and family.  Many of them thought that you had to buy some of these items  or weren't sure if they should even be using them and had a lot of questions about them.  Most people have some of these items.  I totally get it, we need to put down our baby every once in a while!  I had a few of them too, baby equipment isn't necessarily a bad thing it's the overuse of equipment that we want to stay away from. I actually used a laundry basket, diaper box, or my favorite, the play yard, when I needed a few minutes.  I'm hoping that moms will find some of the information useful when selecting or deciding how they want to use their products or limiting the amount they decide to use. I've added links to all the posts that go into detail about the different items and give great alternatives or other ways to utilize the product.
Baby Items You Don't Need
Baby Walkers –  When I refer to a baby walker I'm meaning the type that a baby sits in, not the type that is pushed while the baby walks.  I really like those.  I think the terminology gets super confusing, for me at least! The walkers baby sit in are dangerous and studies have actually shown that they can delay motor development.  Canada has actually made them illegal because of the dangers. You can read more in my post about the dangers of baby walkers.
Baby Jumpers – We had one from a friend.  I'll admit when I put my son in it he thought it was pretty fun.  Unfortunately, the positioning wasn't optimal especially if used for long periods of time.  Moderation is key.  I have a more detailed post on this in my post about baby jumpers and get some good alternatives for when you need a minute.
Baby Shoes – I'll admit I was guilty of wanting to buy baby shoes.  I quickly learned they are cute for a picture or two but that's about it. Plus, in my case he was always pulling them off. In reality, barefoot is actually best for your baby, even when they are learning to walk.  I always try to compare it to walking on a balance beam.  I'd much rather be barefoot than with my shoes on. If you want to learn more about what you really need to know about baby shoes here.
The Bumbo Seat – I was torn on this and ended up putting one on my registry.  In my experience it was only usable for a few weeks in short bouts. For some it works better and in moderation and at the right time.  The cost versus time used wasn't worth it for me. Read more about my Bumbo seat experience and when they are appropriate for a baby.
The Exersaucer – I found my laundry basket or diaper box were better options and far less money. In moderation, people have used these without issue when their baby's were strong enough to maintain good positioning.  It is no doubt a safe way to contain your baby when you are busy. There is always the danger of too much time spent in these. Mama OT has an excellent post on Exersaucers: The good, the bad, and the better with great suggestions on different ways to use one and alternatives.
Baby Carriers With Improper Support – These baby carriers are often referred to as "crotch danglers" by avid baby wearers.  Baby carriers are fabulous for your baby when you select a carrier that provides appropriate positioning for your baby.  You can read about positioning considerations in this post.
In summary, moderation is key when it comes to baby equipment.  If there is a product that works for you just be careful not to overuse it or pass baby from product to product with little floor time or time to explore their environment.  You may find that you don't need much of this baby equipment you thought you needed!
What baby products worked for you and what baby product(s) would have been better off left on the shelf?  Did any of these items surprise you?
 I WANT TO HEAR FROM YOU
Let's connect!  Pink Oatmeal is on Facebook, Pinterest, Twitter, and Instagram!
YOU MAY BE INTERESTED IN
My store at Pink Oatmeal is full of ideas to get the kids moving at home, in the classroom, and in therapy!  If you prefer Teachers Pay Teachers you can find me there too!