Social media is where it's at!  Like it or not, social media's not showing any signs of going away.  I'm personally a big fan of social media.  It's a great resource for staying up-to-date with not only friends, but for keeping up on what is going on in your profession.  As therapists, a quick search of social media sites will likely provide you with the most recent research or treatment interventions in a matter of seconds.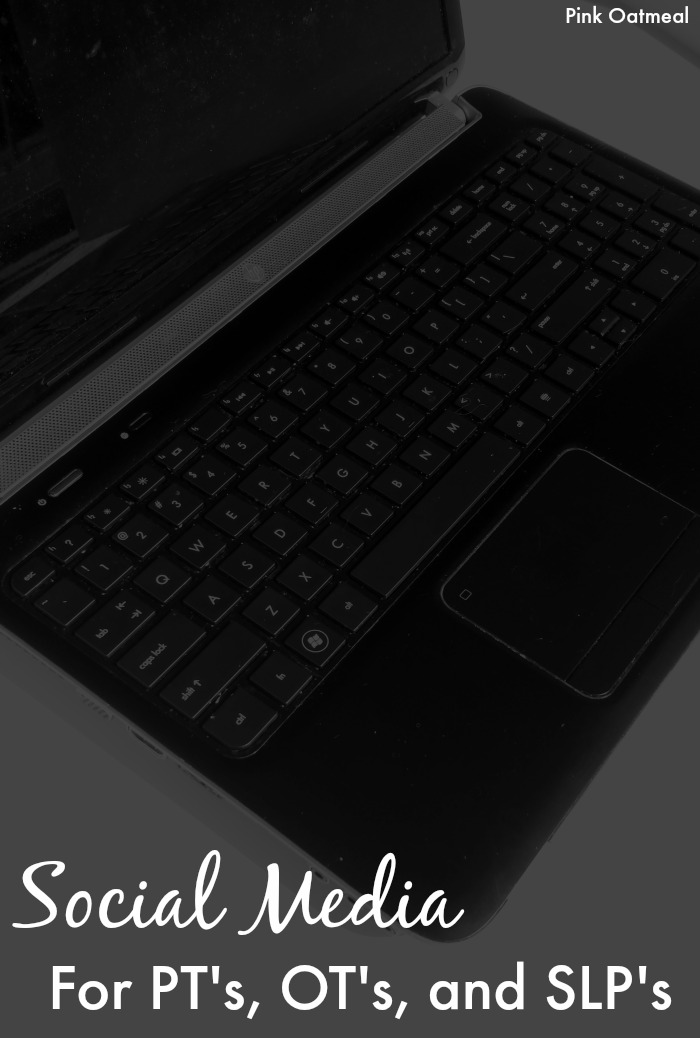 There are TONS of social media sites out there with more popping up all the time.  Not really sure where to start?  Here are my recommendations on a few places to dive into and get started.
Facebook – Probably the most famous social network out there.  Even my grandparents are checking out Facebook.  Here are some great ways to utilize Facebook as a therapist.
Twitter– I'll admit I was skeptical at first, but it's one of my favorites when it comes to keeping up with what's happening in my area of physical therapy.  Not sure where to begin with Twitter?  Check out my post on Twitter in your professional practice and find out how you can use it in your profession!
Pinterest – Probably my favorite.  There are so many  fabulous ideas from therapists and creative individuals.  In my pediatric practice, Pinterest is  a wealth of ideas that can be used and modified for treatments.   Here are some great ways to get started using Pinterest to improve your practice!  Some of my favorite PT, OT, and SLP boards can be found here.
Blogging – Are you a business and do you have a website?  Is there a blog?  If not you are missing out.  Blogging is a great way to educate parents and other therapists.  If you are a business owner blogging is excellent free advertising. Not sure why you should blog?  Check out my post for all the reasons why!
Have you tried social media?  Which social media avenue is your favorite and why?
I WANT TO HEAR FROM YOU
Let's connect!  Pink Oatmeal is on Facebook, Pinterest, Twitter, and Instagram!
YOU MAY BE INTERESTED IN
My store at Pink Oatmeal is full of ideas to get the kids moving at home, in the classroom, and in therapy!  If you prefer Teachers Pay Teachers you can find me there too!