My little man's birthday is this week!  I successfully kept him alive for a year! I can hardly believe that one year has passed by.  Being a first time mom, everything seemed to be a  new learning experience.  Now that I've made it through my first year,  there are several things that I've learned!   I wouldn't take anything back, but I've learned some lessons that will likely make a second baby a little less stressful!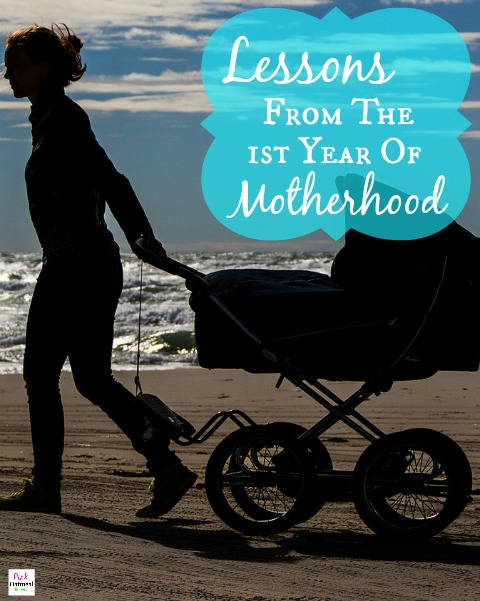 I realize not everyone will agree with everything I have to say, and that's just fine.  Every mom does things differently! 
Lessons From The First Year Of Motherhood
It's okay to give my baby a pacifier.  When C came home from the hospital I felt like I couldn't give him a pacifier because he would have "nipple confusion."  He was one who liked to suck to soothe himself.  After a few weeks, and my mom letting me know that it would be okay, I caved and gave him a pacifier.  Such a great decision!  I plan to give my next baby a pacifier when my baby needs it.  Fingers crossed he/she will take it!
Good clothes will not be saved for special occasions.  I will never let another super cute outfit be saved for a special occasion.  They grow out of their clothes so fast.  There were so many great outfits that were barely worn.   Good clothes will be worn for all occasions, and they can get dirty.
A little bit of formula will not poison my baby.  I was so concerned about always having a stash.  I always felt the need to be pumping for my "stash" to be plentiful. When I got mastitis, and my supply took a huge dive for a few weeks I was so stressed out about my stash. Never again ,will I worry so much about this.  A little bit of formula, if needed, will not poison my baby.
I will never cook a ton of pureed baby food in advance.  I wanted to be ahead of the game.  Pinterest had great ideas for preparing baby food.  So of course I had to go out and make a ton of pureed baby food. My baby barely ate any of it.  He was not a pureed man.  I will wait to see what my next baby likes to eat before I ever spend the time making purees again!
Six months does not mean my baby must start eating baby food.  I was stressed out when my baby had no interest in food until close to 8 months!  Not every baby is on a perfect eating schedule and I will not be stressed out about such a silly detail.  He is an excellent eater now.
I will not be concerned with how clean my house is. Plenty of people told me not to stress about this, but I still did.  I wish I hadn't, I could have had a lot more sleep.
High chair covers are just a decoration meant to be taken off immediately.  After taking off and washing my high chair cover several times, I got smart.  I finally permanently put the thing away.  I just don't get them.
I will have many different movies and/or shows on my I-pad.  The countless hours spent nursing the first few months was shocking to me.  It wasn't until I had several episodes of Downton Abbey downloaded to my I-pad that I truly appreciated all the time spent in the nursing rocker.
The weight isn't just going to melt off…even with breastfeeding.  I was under the impression that I was going to be right back to my normal weight 3 months after the baby was born.  Wrong, it took me a good 6-7 months for my clothes to comfortably fit.  I'm still at the high end of my normal weight right now.  Hoping to lose those last 2-3 pounds soon!
I will go out as much as possible in months 3-5.  This was the perfect age for going to restaurants and stores.  I actually loved this age all together!  Babies aren't in the newborn stage and they also aren't in the moving all over the place stage.  In my case, C was just an easy happy baby at this point!
I'd Love To Hear From You
What would you do or did you do differently with your next child?  Stop by one of my social media avenues so we can connect.  I can be found at Facebook, on Pinterest, Instagram, and Twitter!
photo credit: Nelson Lourenço via photopin cc