I received an iHide Car Seat Organizer in exchange for a review of the item on my blog.  All opinions are my own.  
We have been on the go this summer!  Whether it be around town or traveling we have been busy.  This is our first official summer traveling with an infant.  We've learned that he doesn't necessarily travel light!  In fact, my car is usually a mess with stuff floating all over it.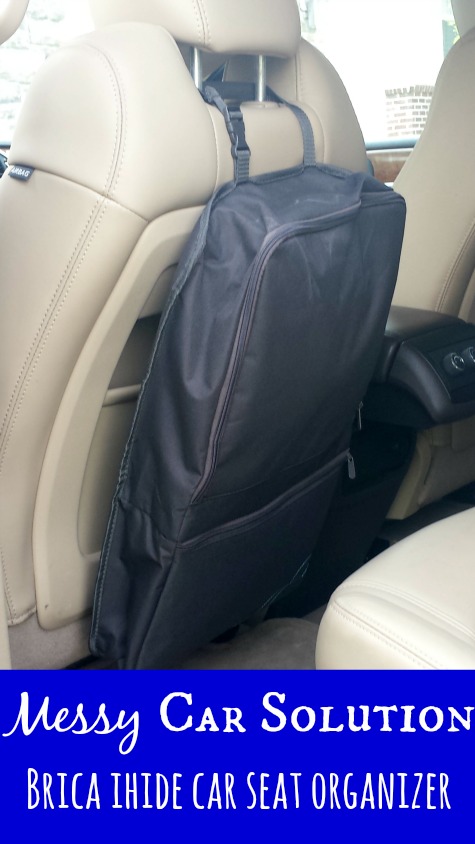 Fortunately, Brica sent me the iHide Car Seat Organizer to try out.  I was excited to get this product and get it in my car.  I was hopeful it would help organize my travel!
Brica iHide Car Seat Organizer
The product arrived in a cardboard packing.  There was nothing to put together, which is a plus in my book.  Installation is very simple, you don't need to have a Masters in Engineering to accomplish this task.  I can't say the same for other baby products.  There is a wipe holder, a bottom storage compartment, and a main storage compartment that has several little compartments for organizing items.  The car seat organizer also has a place to put an iPad.
Pros
I LOVE that I can hide all the typical items that float around my car in a nice contained space.  My car is so much cleaner.  I carry a diaper bag, however there are times when I am in a rush and neglect to bring it.  I have been saved more than once by the car seat organizer!  I am able to keep spare diapers, wipes, toys, and change of clothes in my car without the mess!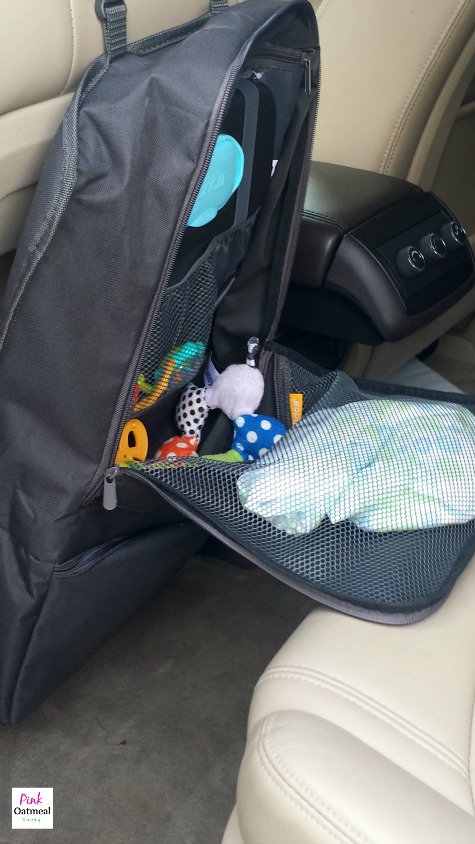 I love the fact that it was easy to install in my Buick Enclave.  I've been able to move it to my husbands car if we are traveling for longer distances without any hassle.  I like that it seems secure to the back of the seat and I never have to readjust it.  My iPad fits nicely into the iPad carrier, however we have not used this feature yet as my son is too young and rides in reverse!
Considerations
Since my son rides in reverse in his car seat, the back of the car seat is up against the back of the passengers seat.  This means that I was not able to install the organizer  directly behind him.  I had to install it behind the drivers seat on the opposite side.  When the car seat gets turned to forward facing it shouldn't be any problem to install it in front of him, if I choose to do so in my large SUV.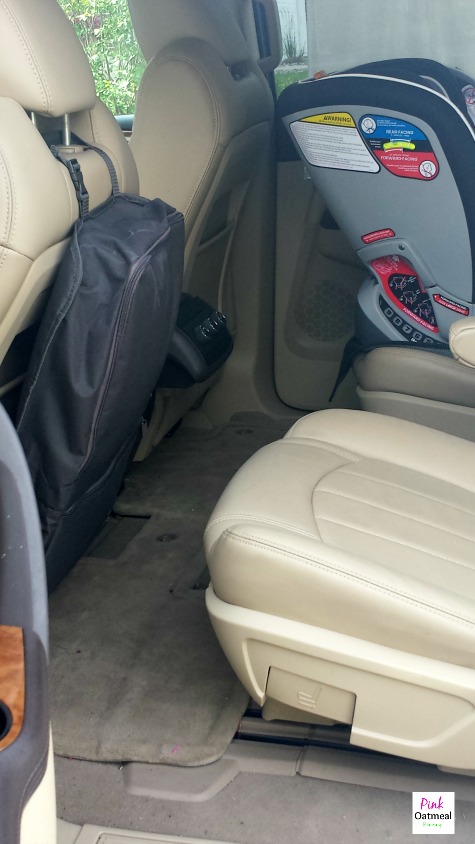 I like that the iPad holder fits the iPad nicely,  however, the set up of my particular car does not put the iPad at eye level for a child.  It would be placed lower than a child sitting in a car seat.  I believe that this just depends on the make of your particular car.  Overall, this isn't a big deal to me as I prefer the product for the organizational factor far more than watching anything on an iPad.
Overall
I'm thrilled to have received this product from Brica.  It has made my car more organized and far more presentable!  I love that if I forget the diaper bag again I have a back-up! The other great news is that Brica is giving you the opportunity to win your own iHide Car Seat Organizer.  You simply have to enter below!
I Would Love To Hear From You
Stop by one of my social media avenues so we can connect.  I can be found at Facebook, on Pinterest, Instagram, and Twitter!