This is a sponsored post written by me on behalf of Stearns Puddle Jumpers® for IZEA. All opinions are 100% mine.
I love summer. Nothing is better than long days, bonfires, picnics and time on the water.  In Minnesota, our summer season is rather short, so we cherish every minute of it.  We spend the summer by the pool or on the lake trying to take in every single moment of summer we can.  I love involving my toddler in our time by the water, and as a physical therapist, I love the strengthening and sensory benefits of swimming.  As a mom, I'm very safety conscious when it comes to being by the water with a toddler. Thanks to a recommendation from a friend, we discovered  Stearns® Puddle Jumpers®.
 
Stearns Puddle Jumpers
Puddle Jumpers® are made by StearnsFlotation.com.  We opted for a  Puddle Jumper® as we no longer have an infant.  The Puddle Jumpers® are designed to give children between 30-50 pounds increased mobility when swimming while ensuring safety.  They are a coast guard approved personal flotation device.  As a mom and physical therapist that was the combination I was looking for.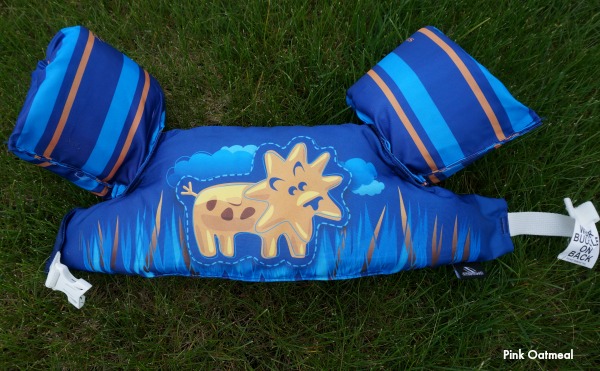 The Look
I had a really hard time deciding which Puddle Jumper® to order due to all the cute colors and choices.  In the end, I went with the blue lion.  My son LOVES it!  When I first showed it to him he wanted to wear it around the house.  They are so easy to put on too.  The arms simply  slide on and they are fastened in the back. It's even easy to get on a very wiggly toddler.  We've never had any objections to putting it on.  We usually get a loud ROAR when he sees it.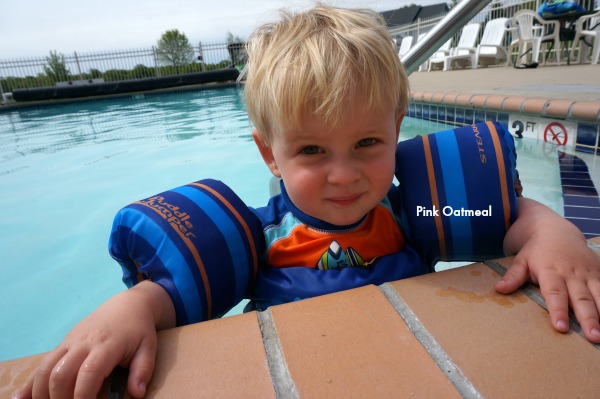 At The Pool
When we are in the swimming pool, my toddler loves to get in with us and adult supervision is a must at his age.  When he is in the pool he really loves to kick and move his arms.  I love that we can still hold him in the water without the ride up; which was an issue with the PFD we used in the past.  The Puddle Jumper® gives me that piece of mind while in the water with him, and gives him the ability to still be mobile and move his arms and legs comfortably, working on his strength and range of motion.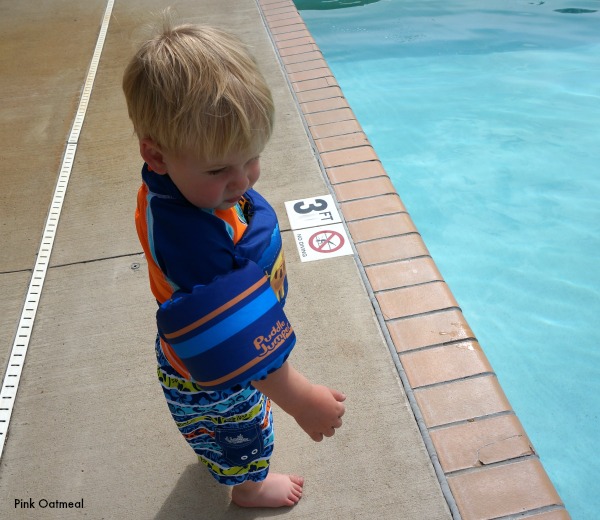 At The Lake
When we are at the lake my toddler absolutely loves to play near the sand and wade into the water.  I am always right there, but I love having him wear his  Puddle Jumper® for the added safety.  He is still able to squat, bend, throw, and play working on his strengthening. The beach provides him with different sensory mediums including sand, small rocks, and water that he is able to explore.  He can still move and shake like toddlers love to do, and mom has a piece of mind!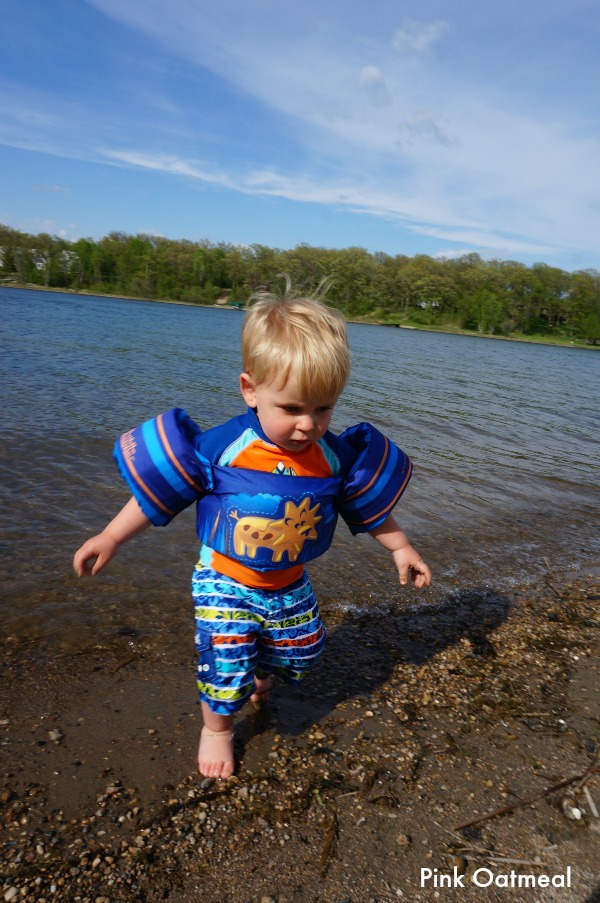 More Toddler Play Ideas
Follow Pink Oatmeal's board Toddler Play on Pinterest.


I WANT TO HEAR FROM YOU
Let's connect!  Pink Oatmeal is on Facebook, Pinterest, Twitter, and Instagram!
YOU MAY BE INTERESTED IN
My store at Pink Oatmeal has ideas to get the kids moving at home, in the classroom, and in therapy!  If you prefer Teachers Pay Teachers you can find me there too with even more ideas to get the kids moving!