Who doesn't love the zoo?  We spend a lot of time at our local zoo.  It's a favorite in both the summer and the winter.  It helps that we live close and have a season pass!  Zoo animals can play a  part in child development as well.  Think of how a child learns animal sounds, then names, and my favorite, how to move like a zoo animal.  Zoo animals can easily be incorporated into yoga for children.  Zoo yoga is fun from toddlers on up through the elementary years.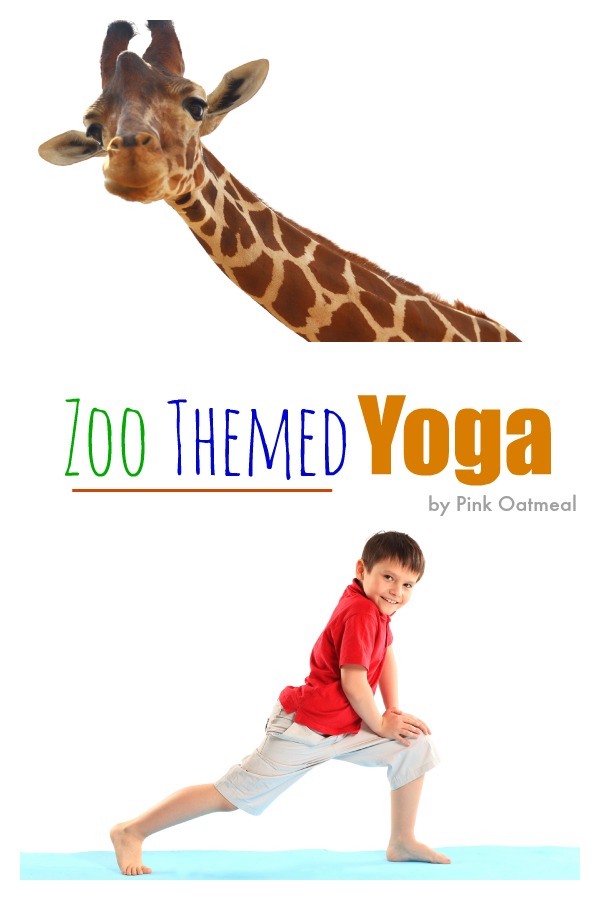 ©yurolaitsalbert/©viperagp/Dollar Photo Club
Zoo Yoga Poses
The kids go crazy over moving like animals at the zoo.  These poses are simple and can be modified to meet the needs of your kids.  We also have cards available for you to use to make zoo yoga easy and accessible.  There are even two different sets so you can grab both or get the set that best meets your needs.  These are at the shop or at TpT!  See full card descriptions below.
Bear
Downward Dog Pose – Get this pose in motion by walking like a bear on all fours if you'd like!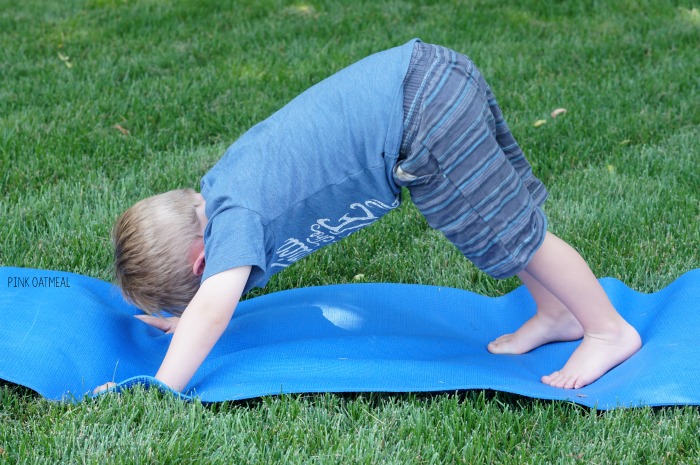 Flamingo
Tree Pose – This pose requires working on single leg balance skills like a flamingo.
Lion
Lion's Breath – Encourage a BIG roar with this pose!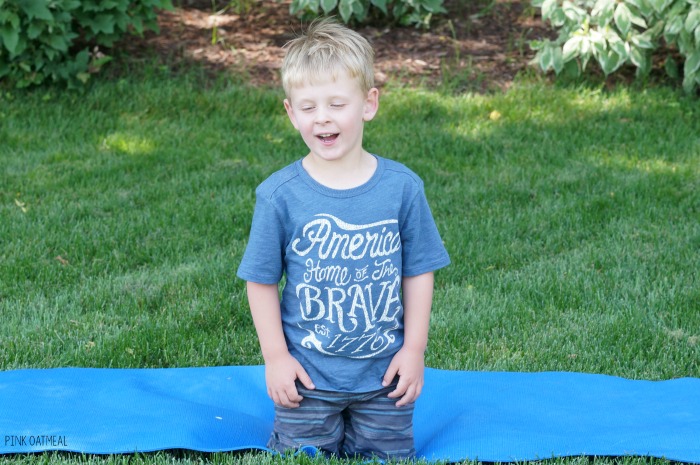 Zebra
Cow pose – A great pose to use on it's own and with a cat pose.
Monkey
Chair pose – shift your weight side to side like a monkey and make monkey sounds.
Penguin
Walk with your knees together.  A great way to make this work is to stick a ball between your legs and walk like a penguin.
Elephant
Make an elephant trunk and swing side to side.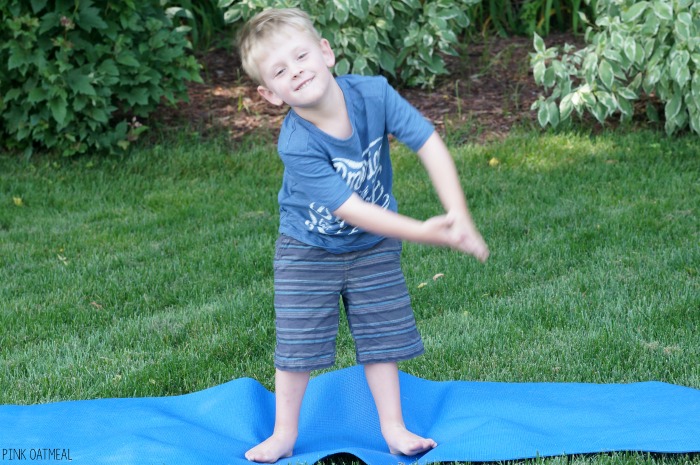 Giraffe
Get on your hands and knees and reach for the sky alternating arms making them as long as you can like a giraffes neck.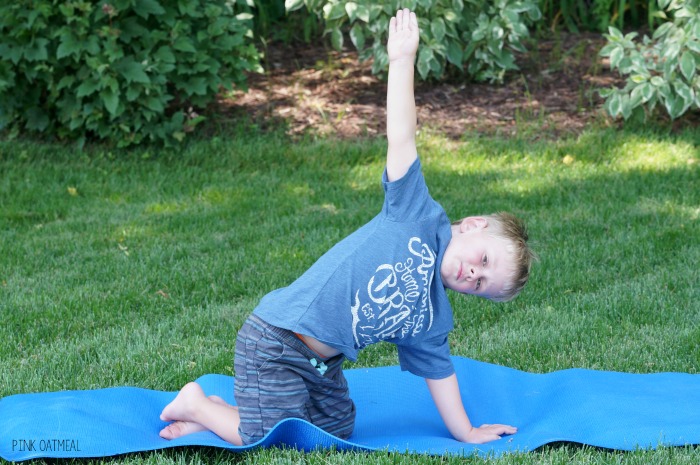 Snake
Cobra Pose – Be sure to hiss like a snake!
Crocodile
Plank or Modified Plank Pose – Getting low to the ground like a crocodile!
Polar Bear
Walk on hands and feet with knees off the ground like a bear!
Sea Lion
Upward Facing Dog – Adding the seal noises is a fun bonus in this pose!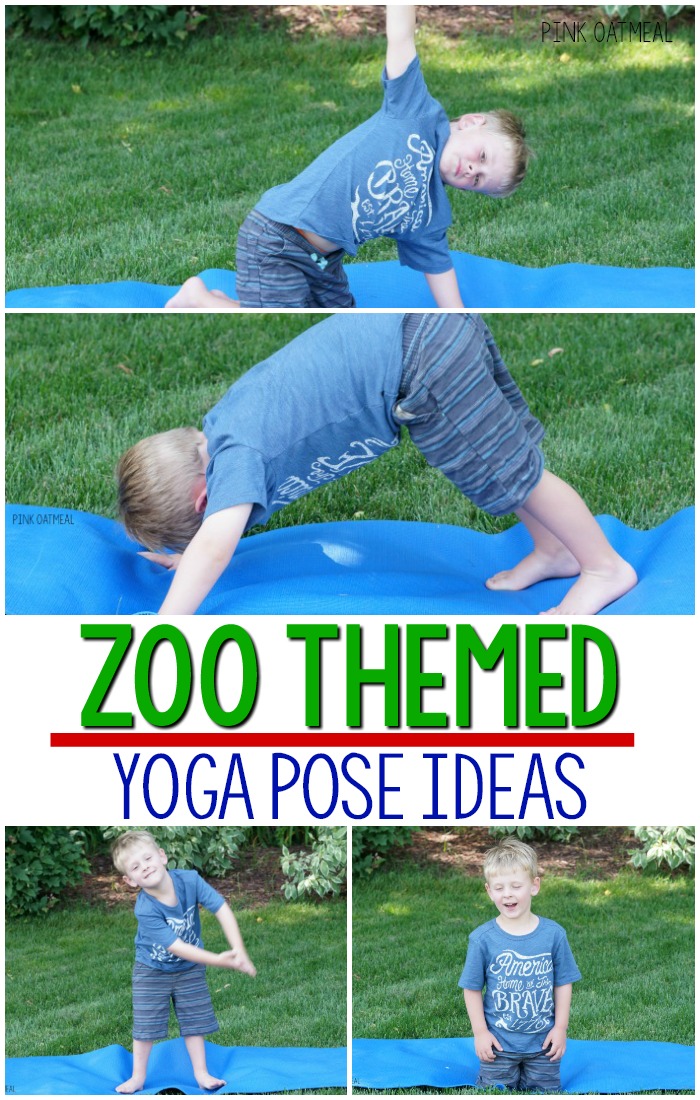 See It In Action
Get Your Own Set Of Cards
I love doing yoga with kids so I put together two different sets of zoo yoga cards to use with the kids at school.  It's a fun twist on yoga and a great way to engage the kids while building strength in their bodies.  I encourage the kids to imagine they are animals as they do the poses.  When appropriate, I encourage them to make the sounds! I've slowly started to try some yoga with my own toddler!  Both sets include the same poses, just with a different presentation. 






If you like to save money like I do you should go for the bundle!  You get three sets of yoga including Ocean Yoga, Farm Yoga, and Zoo Yoga!  The bundle comes with a 20% DISCOUNT.  Now you have several fun yoga themes and options to work with!




All of these cards and printables give you easy access to zoo yoga anytime of the day.  They are perfect to carry with you if you travel, to have as a free play option, or for brain breaks.  They are an excellent resource for therapists and special education teachers as well.
MORE YOGA
Looking for more yoga ideas?  Check out my Desert Yoga, Sea Yoga,  Farm Yoga, Circus Yoga, Transportation Yoga, Rainforest Yoga, Woodland Yoga, and Camping Yoga!
MORE MOVEMENT
Follow Pink Oatmeal's board Teachers Pay Teachers Store – Pink Oatmeal on Pinterest.
I WANT TO HEAR FROM YOU
Let's connect!  Pink Oatmeal is on Facebook, Pinterest, Twitter, and Instagram!
YOU MAY BE INTERESTED IN
My store at Pink Oatmeal has ideas to get the kids moving at home, in the classroom, and in therapy!  If you prefer Teachers Pay Teachers you can find me there too with even more ideas to get the kids moving!