C is pulling to stand on everything lately!   His  favorite place to pull to stand seems to be on our sliding glass door .  Then he proceeds to pound on it! I'm sure he loves the feedback from the sound and all the things he can see  outside.  It made me think of one of my favorite ways to help a child stand, walk, cruise,  and strengthen.  We use shaving cream! It's still one of my favorite ways to play as a physical therapist as it incorporates sensory input and exploration. However, not what I want to be cleaning up right before dinner.  Instead, I came up with a "cleaner" way to play at the window for when I don't have the time to be cleaning up.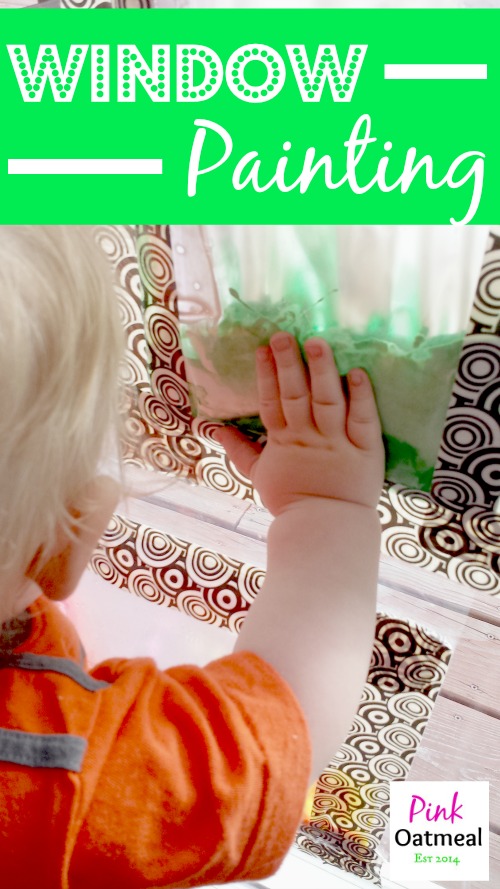 This post may contain affiliate links.  I only recommend products that I love or personally use.
What's Needed
Tape ( I use the pretty stuff)
Pour the paint into the bag and seal up the bag.  Tape it up to the window.  It's a great motivational tool as well.  Let your baby or toddler "paint" away.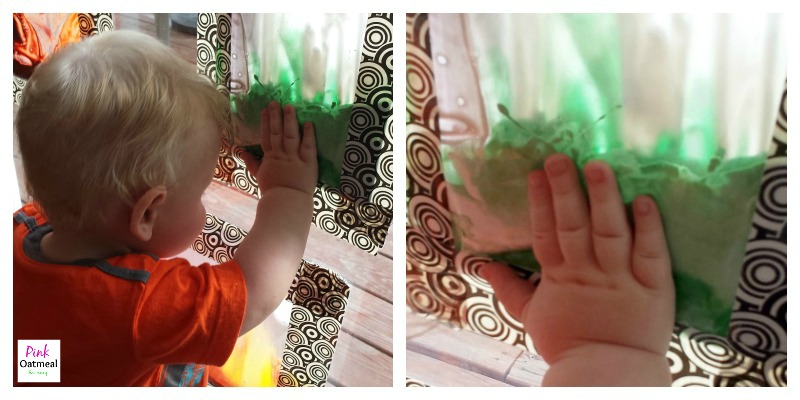 Benefits
Motor Work – Pulling to stand, weight shifting and cruising.
Vertical Plane – Working in the vertical plane promotes wrist extension (pre handwriting skill), eye-hand coordination with the hands near the eyes, strengthening for shoulders arms and hands  due to working against gravity.
 Sensory Input – Different textures and inputs from the painting bag and window.
I love this activity because it's clean.  Don't get me wrong messy activities are GREAT and awesome for sensory and exploration, however there are times when I need to keep C busy without having to clean up a significant mess. I love the fact that I don't have to take it down and put it back up.  Little ones tend to come and go and I can't expect him to keep his attention at something for long periods of time.  This activity fits perfect for that. It's just on the window and ready to go anytime.  This is also an activity that C can do for a long time.  It's great for an older infant and toddler.  Another plus is that I don't notice quite as many spots on the windows since the bags are in the way!

I Want To Hear From You
Let's connect!  Pink Oatmeal is on Facebook, Pinterest, Twitter, and Instagram!
You May Be Interested In
My store at Pink Oatmeal is full of ideas to get the kids moving at home, in the classroom, and in therapy!  If you prefer Teachers Pay Teachers you can find me there too!