When I'd hear people talking about Twitter I used to roll my eyes.  I just didn't get what any hype was about "tweeting"  hashtags, and Twitter handles.   It all seemed silly to me.  When I started my blog I thought I'd better get Twitter since everyone else seemed to have it.  What I quickly learned was that all my skepticism about Twitter quickly went out the door.  I LOVE Twitter.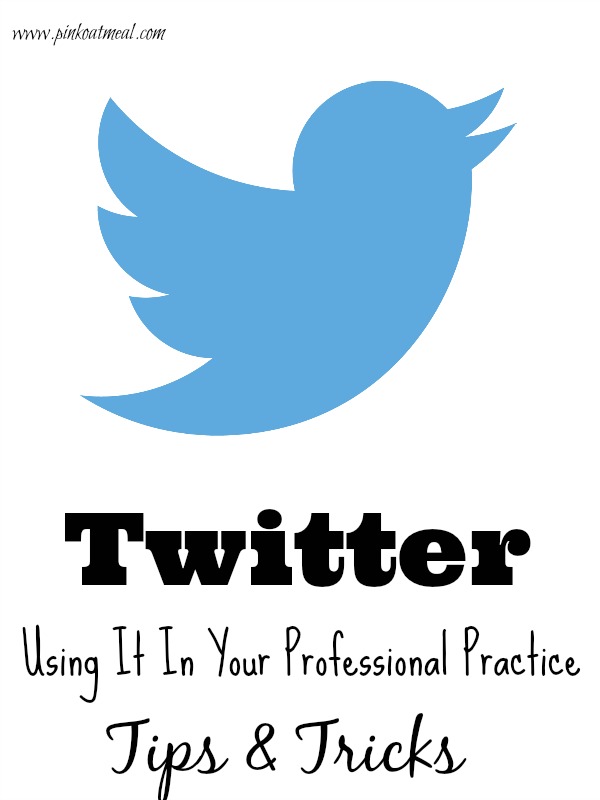 I honestly don't use it as much for my blog promotion as I do for my own good in my professional practice as a physical therapist.  I love to search the different popular hashtags in the physical therapy world to keep up on the latest research, blog posts, and information that is beneficial to me as a physical therapist.
How Does Twitter Work?
I honestly knew the basics of Twitter, but didn't really get how it worked.  It was when I came across a fabulous informational Youtube video from the American Physical Therapy Association(APTA) that I started to really "get" Twitter.
https://www.youtube.com/watch?v=GCqBeZLnmNM
Hashtags
My current favorite hashtags are those in the world of physical therapy.  The main hashtags that I tend to follow in the physical therapy world are #brandpt, #bizpt  #socialpt, and #pedipt.  These are my personal favorites but depending on your interests there are so many different hashtags to follow.  Just type it into the search bar and follow along.  Be sure to notice that there is an option between popular tweets and all tweets associated with the hashtag.
Twitter On The Go
Like many other forms of social media Twitter has the app that you can download to your smartphone.  My smart phone is my main mode of seeing "tweets" during the day.   Twitter can also be accessed through your desktop or tablet.
Twitter Chats
Something I recently have participated in is Twitter chats.  This is a way of communicating with others that have the same interests.  Someone will organize a time that they are "hosting" a chat.  Those people interested in the topic of the chat will then have the option to participate.  There is generally a hashtag associated with the chat that I follow when participating.  For example, if someone was chatting about pediatric physical therapy and they used the hashtag #pediptchat I would follow along with that hashtag.  Often times the chat leader asks questions and others answer.  It's a great way to connect with others with the same interests.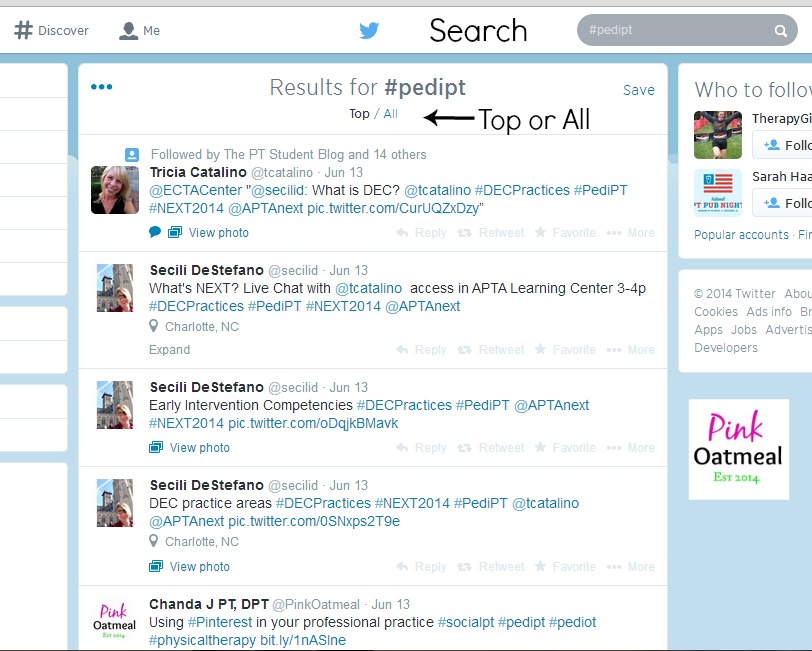 Twitter In My Professional Practice
I tend to search my favorite hashtags every 2-3 days.  When I find a link that interests me I will often follow the link to the source and "pin it" to my Pinterest boards.  Make sure you check out my post about Using Pinterest to Promote Your Practice. If it's not a link but just something I want to remember or go back to I will often "favorite" that tweet. That way I can go back through my list of favorites to find what I am looking for.  If I post something on my blog that I think would be beneficial to physical therapists I will "tweet" it with the appropriate hashtag such as #pedipt if I am talking about Are Jumpers Bad For Baby?
How Do You Use Twitter?
Is Twitter something that you use on a regular basis?  Do you use it for your professional or personal use or both?  Be sure to stop by my Facebook page and let me know!