My little man has started pulling up and cruising along on EVERYTHING and I mean everything (the poor dog)!  In an attempt to hold his attention and stimulate him at the same time, I came up with the sensory cruise!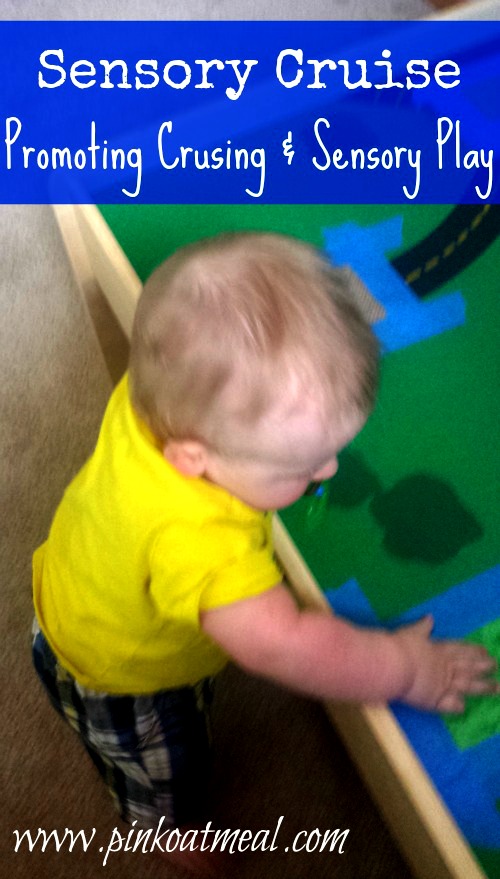 Set-Up
We have a train table (it's about 18 inches off the ground)that he pulls up on. Finding a good toy that doesn't roll away from him has been challenging. I wanted to find something that stayed in place.  I looked around my house for different fabrics or textures that I could tape down to the table.   I used velcro, burlap, fleece, and corkboard.  I simply took tape and taped them all down on all sides so he didn't pull them up.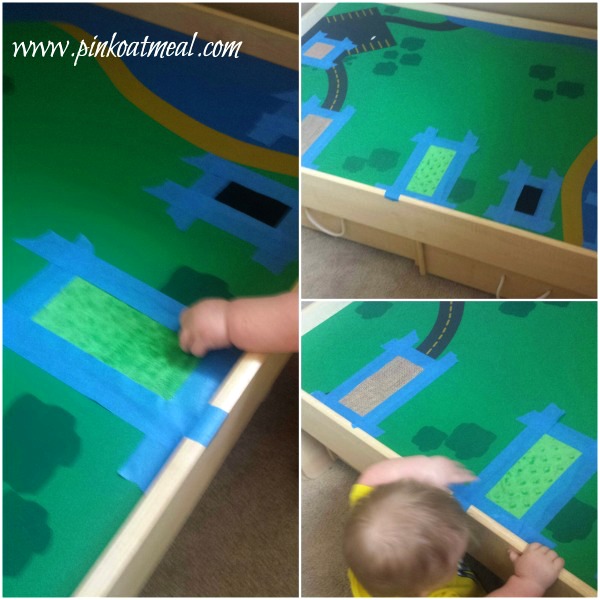 It Worked
I loved that it actually worked exactly as I had imagined in my head!  He pulled up to the table like he does all the time but this time he started cruising right along touching each different sensory piece.  It was fun to see him explore the different senses.  Honestly, my favorite part was it kept him engaged and there is no set-up or takedown.  I'm going to leave it on the table until he can just walk away from it (hopefully not too soon)!
Other Options
If you don't have a table of that height around your home you could always try placing different sensory objects on the couch or coffee table (if you don't mind). What have you done to engage your busy baby?  Can't wait to hear your ideas! Visit me at Facebook, Twitter, or Pinterest.  I'd love to stay in touch!