Most of the stores now have Christmas out!  Isn't that crazy?  I'm just going to put the brakes on and talk a little more Thanksgiving.  Just like Thanksgiving gross motor and brain break ideas, Thanksgiving Yoga is another fun way to incorporate movement and exercise as part of your Thanksgiving lesson.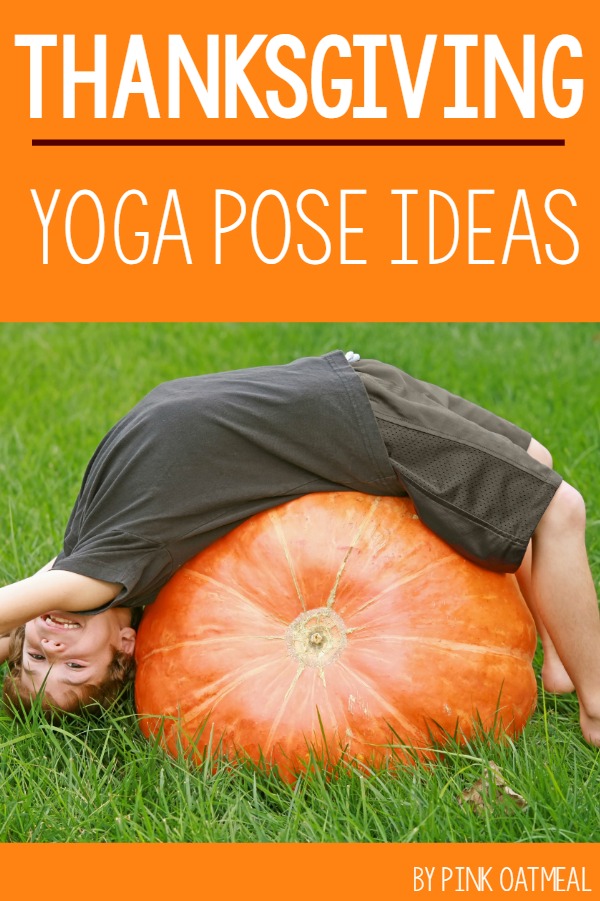 Thanksgiving Yoga Pose Ideas
Thanksgiving yoga is the perfect way to incorporate all the benefits of yoga with a fun Thanksgiving Theme.  Some of these benefits may include decreased stress, increased concentration, and improved self image.  Not bad for a few minutes of fun! Short on time and want your own set of Thanksgiving Yoga Cards and Printables that are ready made for you? I've got them available in the shop !
Mayflower Pose
Boat Pose – Rock Back and Forth Like You Are On The Mayflower
Turkey Pose
Stand tall on your knees. Reach your arms over your head reaching towards the sky. Push your chest out, look up and spread your arms open. Hold the pose and breathe.
Pumpkin Pose
Happy Baby Pose – Rock back and forth like pumpkin rolling.
Pilgrim Pose
Chair Pose
Pumpkin Pie
Sit on your bottom with your legs out in front of you and back straight. Spread your legs apart. Bend forward at your hips trying to keep your back straight. Eat your pumpkin pie!
Horn of Plenty
Bow Pose
Thankful Pose
Lotus Pose – Go around and say what you are thankful for.
Corn Pose
Mountain Pose – Reach Your Arms Overhead!
After Dinner Exercise Pose
Bicycle Pose
Thanksgiving Yoga Cards and Printables
Do you love the idea of Thanksgiving Yoga, but want it ready made and easy to use at all times? I don't blame you!  I have 2 Versions of Thanksgiving Yoga Cards and Printables available for you in the shop or  Teachers Pay Teachers store  Both of these sets consist of the same poses, but have a different presentation!
Thanksgiving Kids Yoga Cards and Printables
This set of yoga cards consists of  9 Thanksgiving Themed Yoga Poses.  There are card sized (half sheets) and full sheet printables.  This gives you the option to utilize the set however you like best!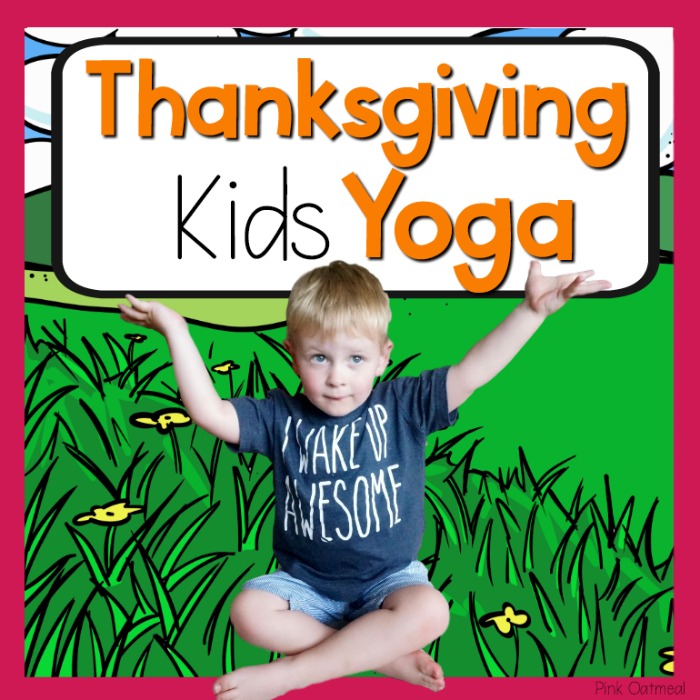 Thanksgiving Yoga Cards and Printables
This set consists of the same 9 poses as the kids set.  The difference in this set is the presentation of pictures of objects instead of kids in the poses.  I've found that some of my kids relate better to seeing a picture of a turkey or pumpkin instead of a picture of a yoga pose!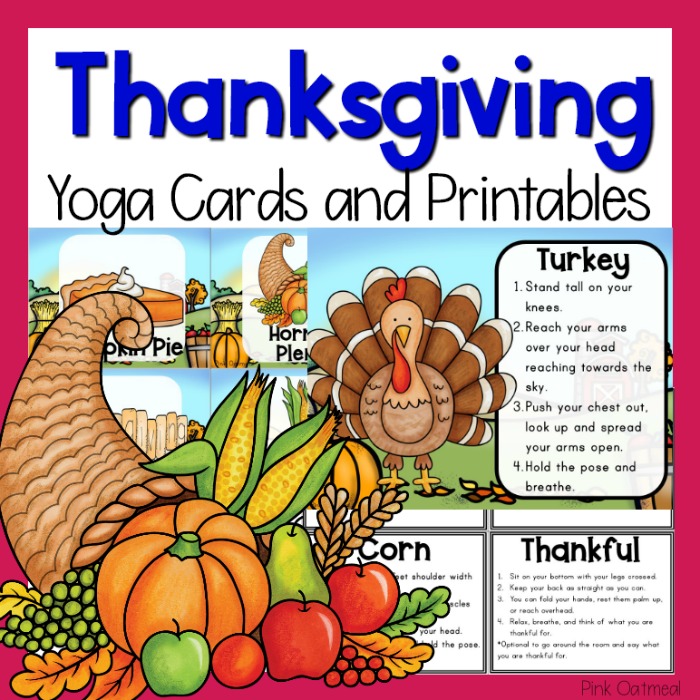 I WANT TO HEAR FROM YOU
Let's connect!  Pink Oatmeal is on Facebook, Pinterest, Twitter, and Instagram!