It's hard to believe that Christmas is almost here.  I'll admit, I'm pretty excited that the Hallmark Channel has started playing their Christmas movies.  Even though it's not even Thanksgiving people have been asking what to get my little man for Christmas.  I'm sure I'm not alone.  I've come up with a simple list of stocking stuffers that promote motor development!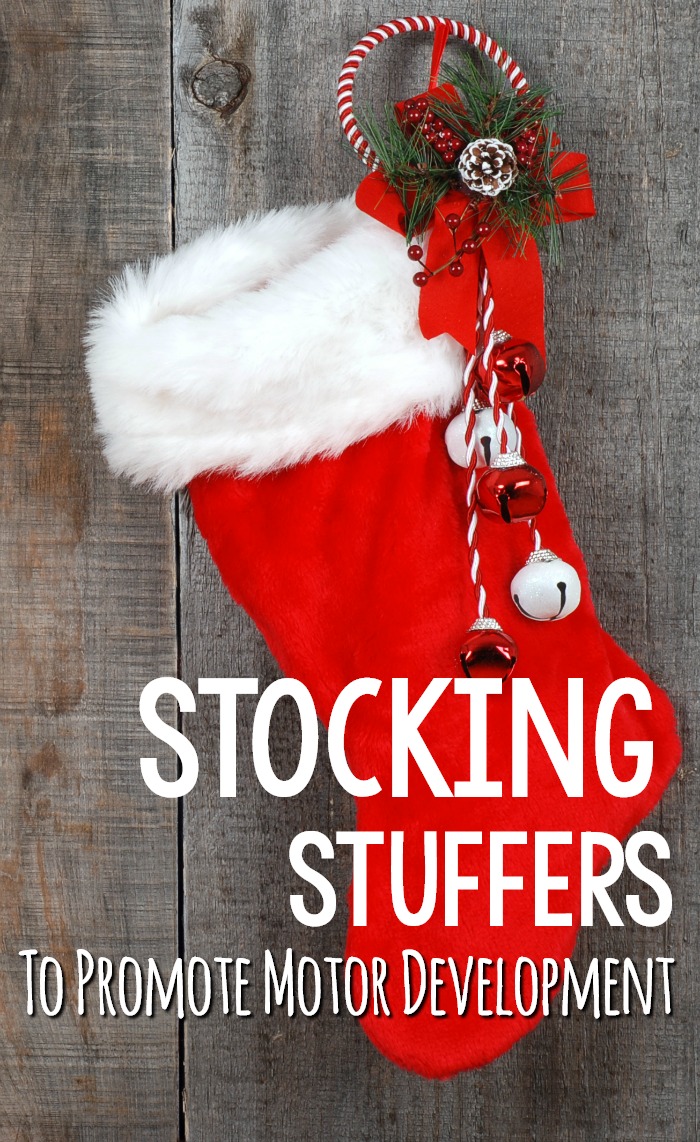 This post contains affiliate links.  I only recommend products that I use or love.
Stocking Stuffers
1. Knobby Balls – I love the bumpy texture to add a sensory aspect to the ball.  They are great from baby to big kid.  Kicking, catching, and rolling are just a few of the benefits of ball play.
2. Blocks – Blocks are the best.  Not only are they great for stacking and building for fine motor skills but they can be used in gross motor play.  The ladies at the Inspired Treehouse have a fun post on how blocks can be used for gross motor play!
3. Playdough (Play-Doh)– Playdough is great for fine motor skills.  It's perfect to manipulate, roll, squeeze and even cut!  If you don't enjoy the store bought version there are plenty of great homemade recipes all over the Internet.
4.  Bath Toys – Not just for baths.  They can be used with any kind of water play.  They are great for hand strengthening and fine motor play!  More ideas on incorporating them into water play can be found in my post on water play for 6-18 months and baby.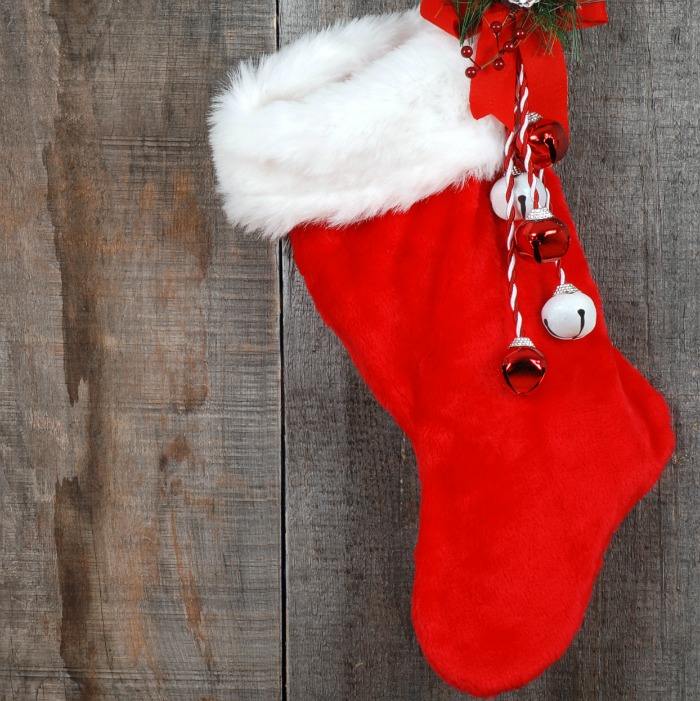 5. Jump Rope – A simple and versatile toy.  Jump ropes are fun for jumping, skipping, and running.  A larger size jump rope can work for group play.
6. Bean Bags– The games are endless with bean bags. Bean bag relays, bean bag toss, and balancing with bean bags on the head are just the start with the fun activities that bean bags provide.  Colored bean bags are fun for sorting and matching as well!
7. Push Cars – Cars are great for developing skills like squatting, standing, scooting, and knee walking.  Cars don't only have to be played with on a flat surface.  Make a track on your wall or window and have the kids play with them on a parallel surface.
8. Stacking Cups – Stacking cups are perfect for eye-hand coordination and fine motor skills.  Gross motor comes into play with standing and balance as the tower is built.  Knocking them down adds to the fun!
9. Sidewalk Chalk – It's the perfect tool for creating your own motor courses.  Draw balance beams, hopscotch, or spots to jump on.  Expand on this to make obstacle courses.
10. Kinetic Sand – This stuff is cool.  I want some for myself.  It's an excellent option to build fine motor skills and for sensory play.  Mama OT has a post on the benefits kinetic sand.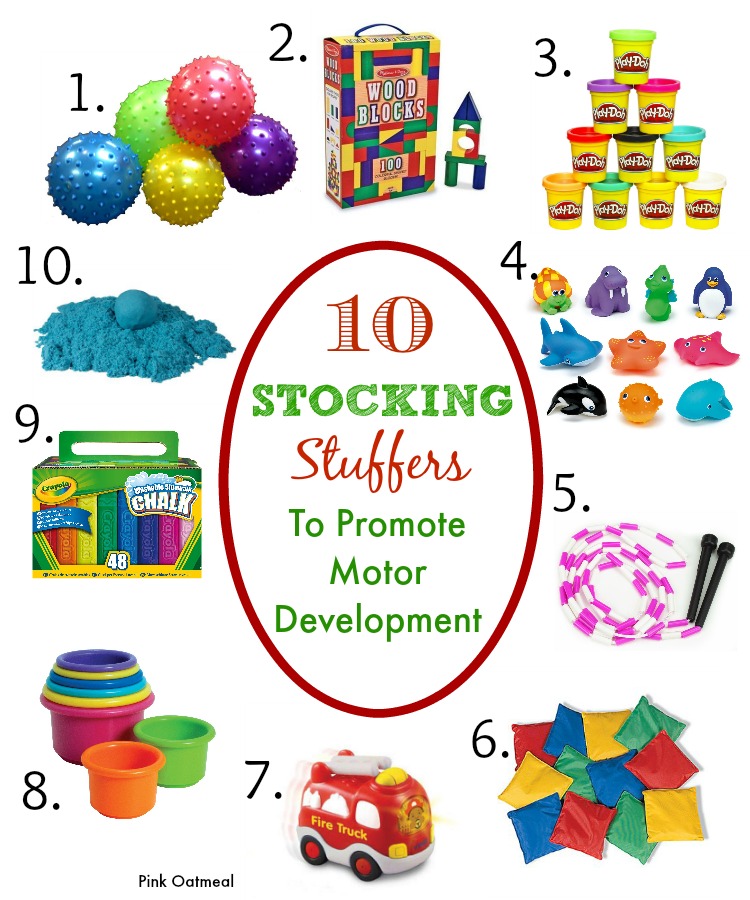 This year our little man is also going to have a soft toy from Ikea in his stocking.  Ikea is donating $1.00 for each soft toy and children's book sold to children's education through UNICEF and Save the Children.  Read more about it in my post and consider giving back with your soft toy purchase!
 I WANT TO HEAR FROM YOU
Let's connect!  Pink Oatmeal is on Facebook, Pinterest, Twitter, and Instagram!
YOU MAY BE INTERESTED IN
My store at Pink Oatmeal is full of ideas to get the kids moving at home, in the classroom, and in therapy!  If you prefer Teachers Pay Teachers you can find me there too!