Want a fun and engaging theme for gross motor and fine motor skills work that your kids will love? Try the pirate, princess and mermaid theme (maybe mermaid princess?)!
This theme can be used any time of the year, but I prefer it as a summer or end of the school year theme. It can easily piggy back with ocean themed gross motor and fine motor skills week or it can combined with that theme.
Pirate Gross Motor Ideas
Let's get started by talking about some different gross motor ideas for this theme. Pirate yoga is really fun! You can pose like a parrot or walk the plank. Pink Oatmeal even has pirate themed yoga cards that you can use.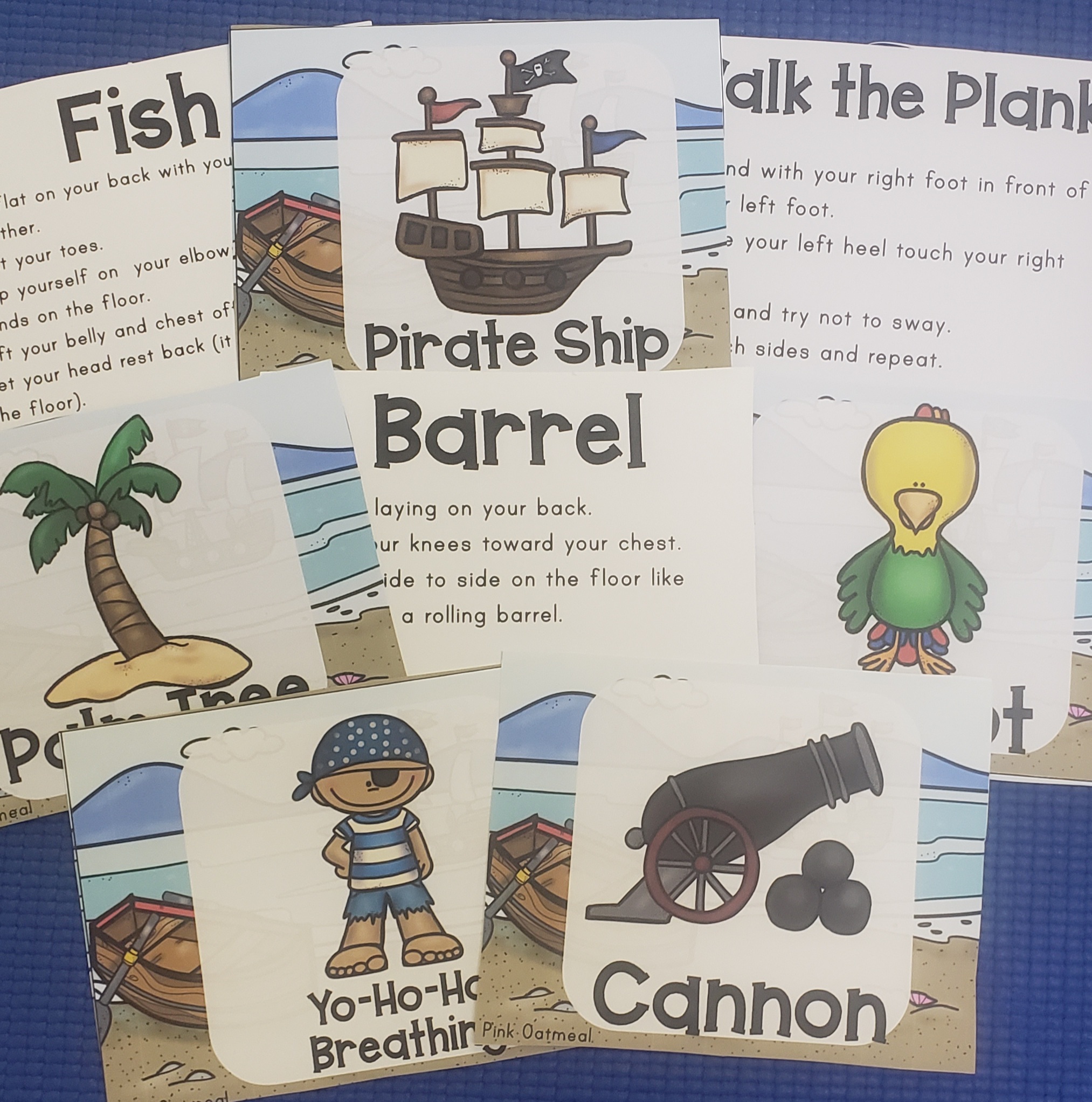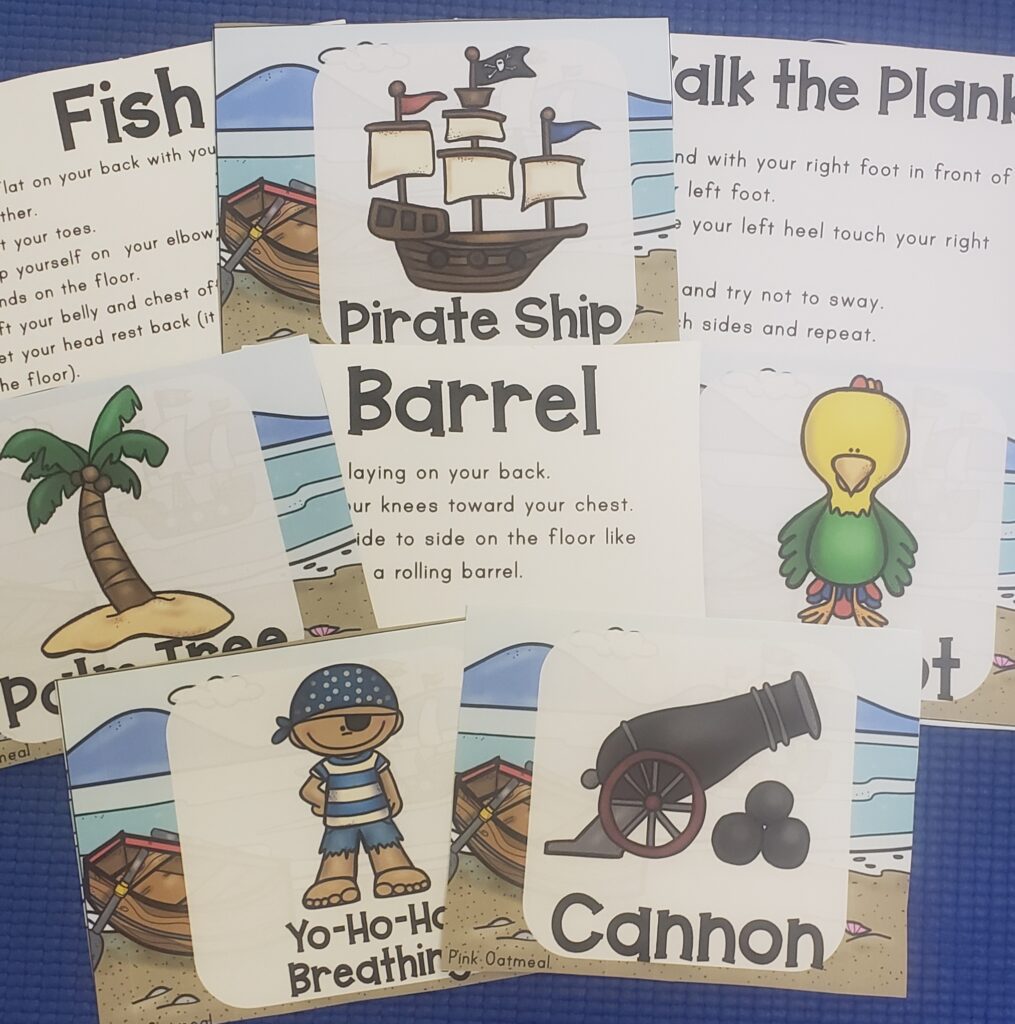 If yoga isn't your thing, no worries. Check out these fast, fun, and effective pirate themed brain break ideas that can be done most anywhere. Pink Oatmeal has cute ready to go pirate themed brain break cards to make these happen for you!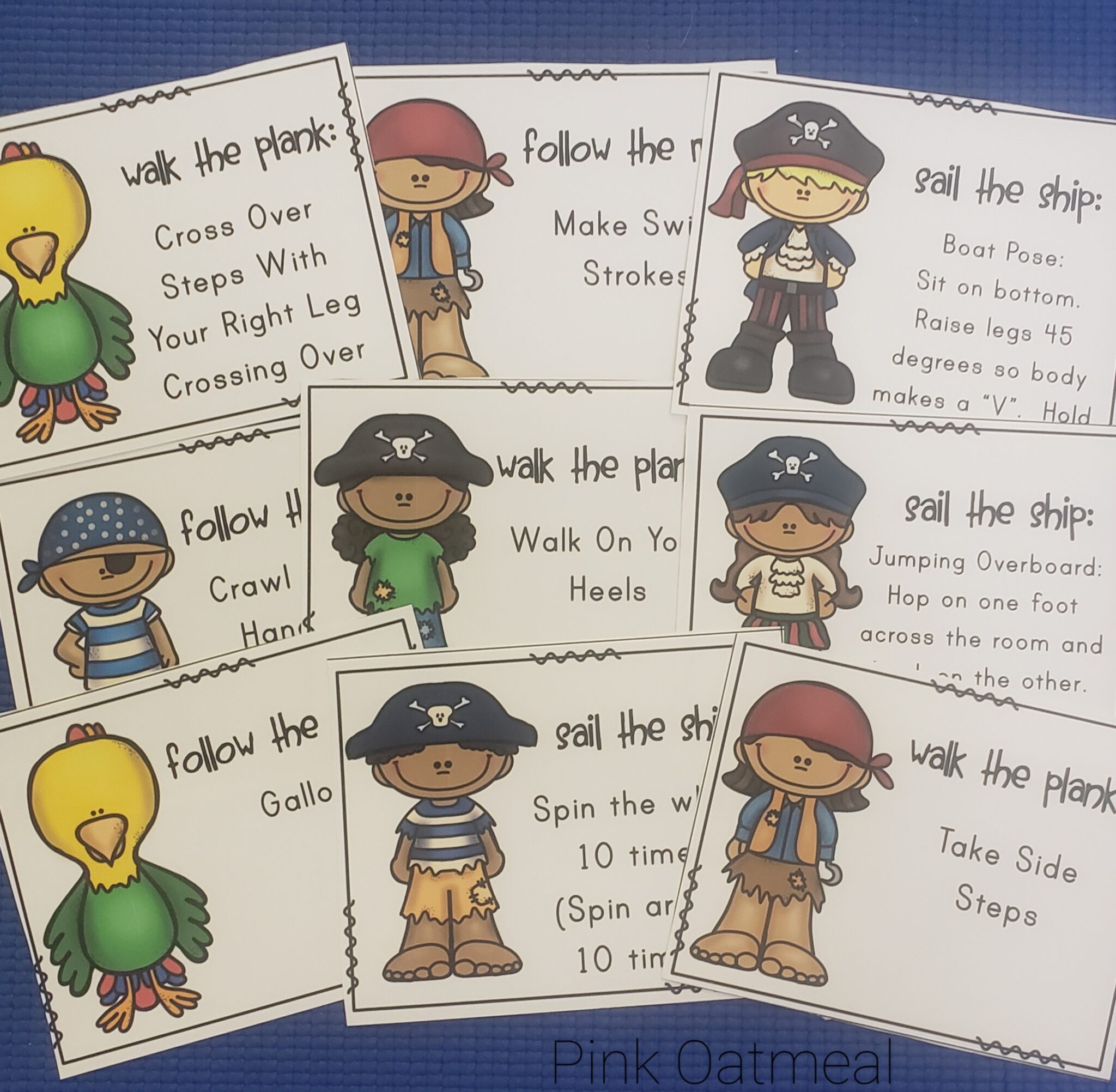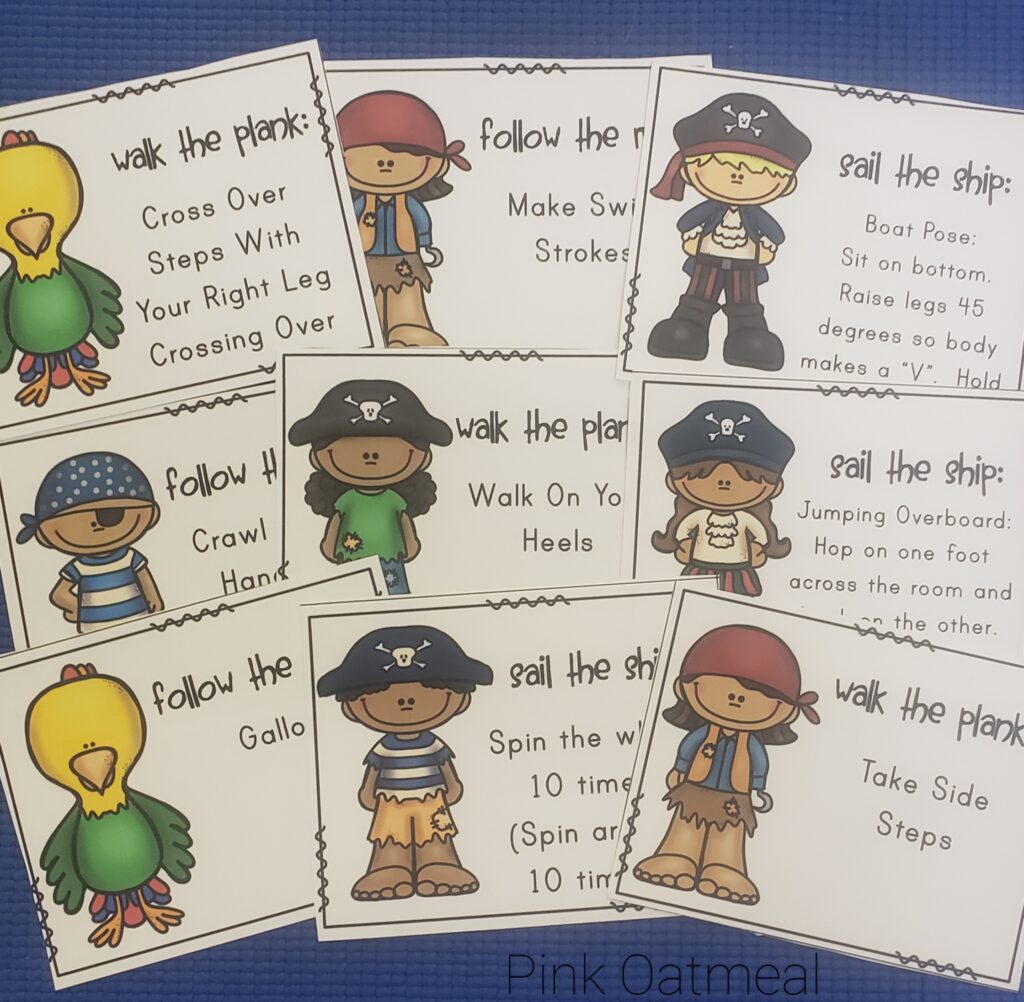 Maybe you are looking for an interactive or digital game for your pirates? The pirate themed gross motor digital game is your answer. This game can be played on a computer, tablet, interactive whiteboard or screen cast onto your television. If you want, you can print the game off as well. Combine this game with "walking the plank" (balance beam) to make the selection on the big screen.
GET THE PIRATE GROSS MOTOR MOVEMENT GAME
Walk the Plank
Walk the plank with a variety of different balance beam ideas. You can simply walk on a balance beam in all directions, or you can add different challenges to the beam. Check out some of the "walk the plank" ideas below.
Peg Leg Pete
Play the Peg Leg Pete game. Don't leg Peg Leg Pete fall into the ocean as he is on this treasure hunt. Peg Leg Pete needs to jump between treasure spots across the room. This can be accomplished by jumping with two feet, leaping, single leg hops, or whatever skill you are trying to accomplish. Just make sure your spots are safely adhere to the floor. The Peg Leg Pete spots in the picture below are available to Pink Oatmeal All-Access Pass Members.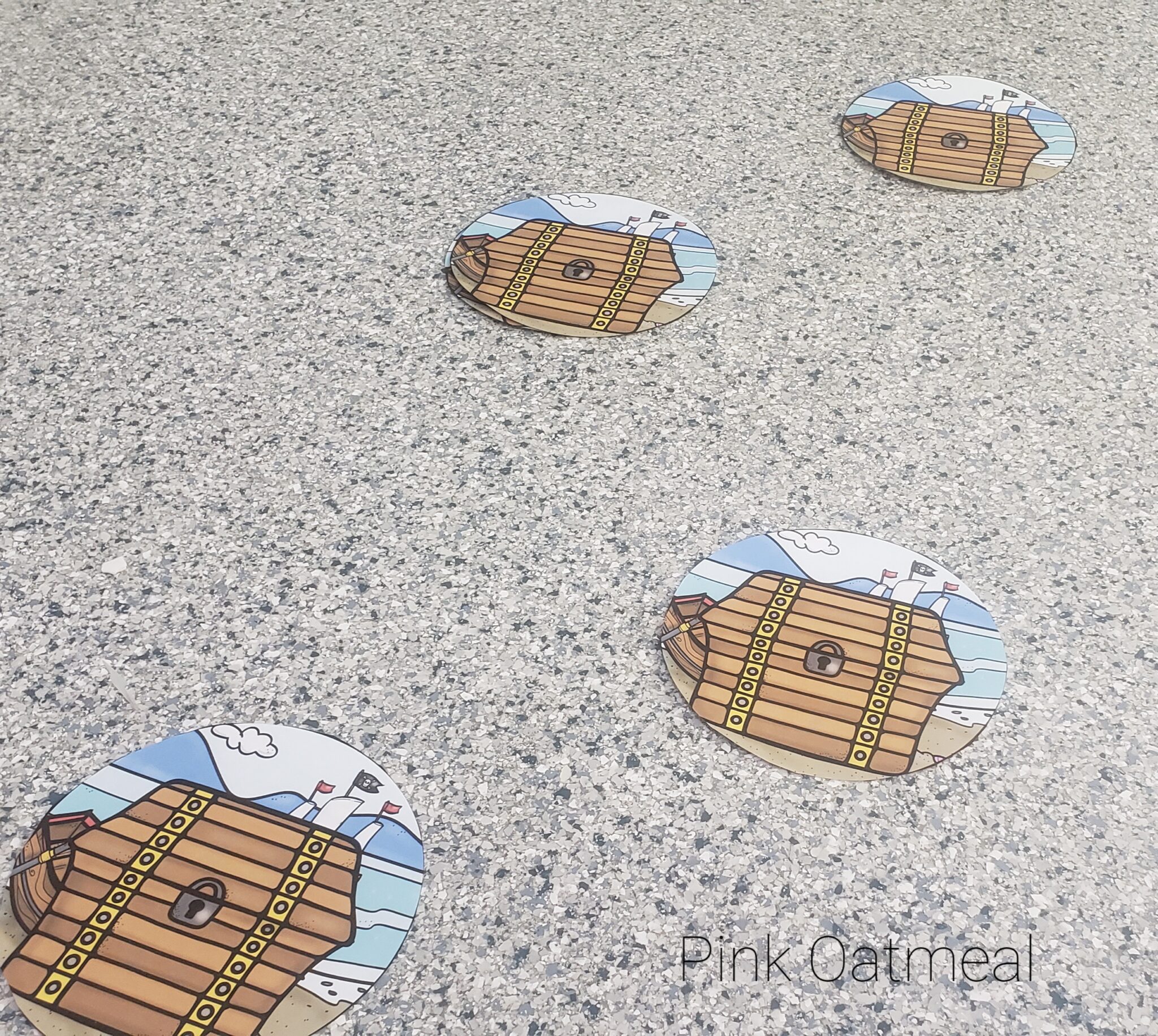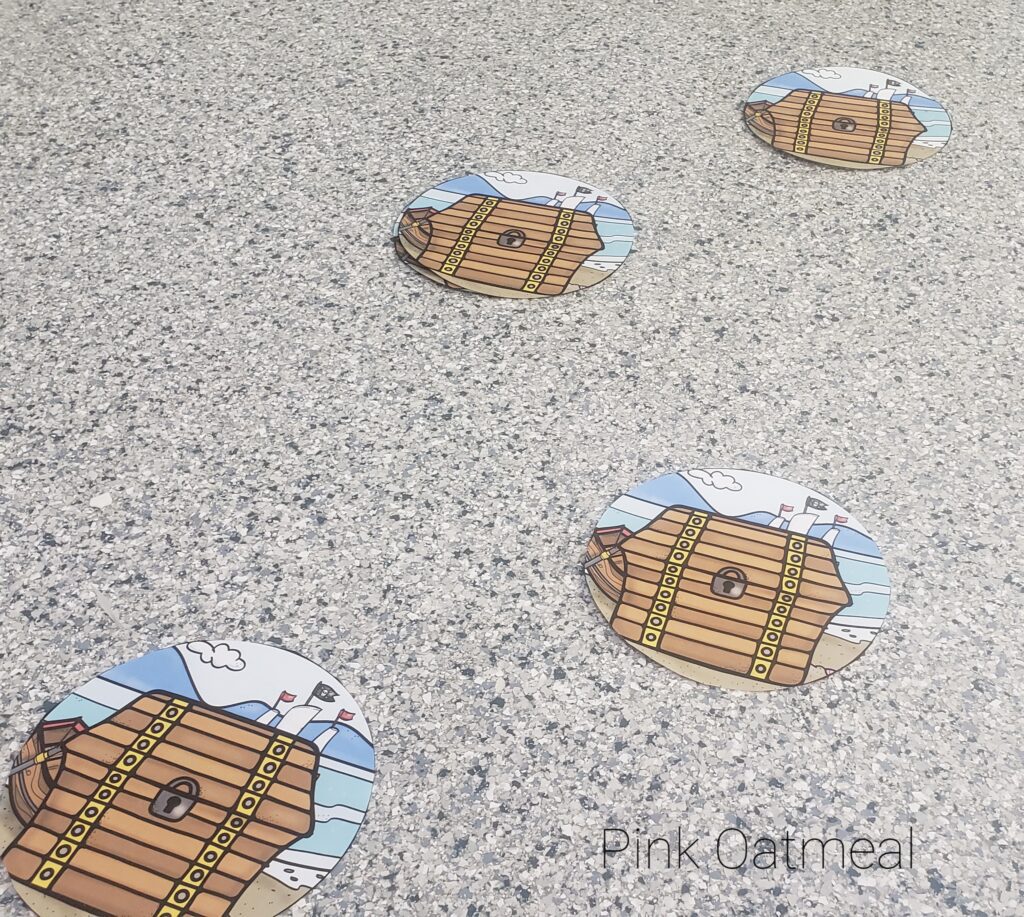 Mermaid Princess Gross Motor Activities
We can't forget about our mermaids, princesses, or mermaid princesses. These gross motor activities are sure to be a hit.
Tea Party Obstacle Course
Set up an obstacle course to get to the tea party (you could name it something different.) See the video below for the obstacle course idea. The printables used in the video are the Sensory Path Printables.
Add this to the beginning of the obstacle course to make it feel like a real tea party. You can also have a tea party set up at the end if you wish!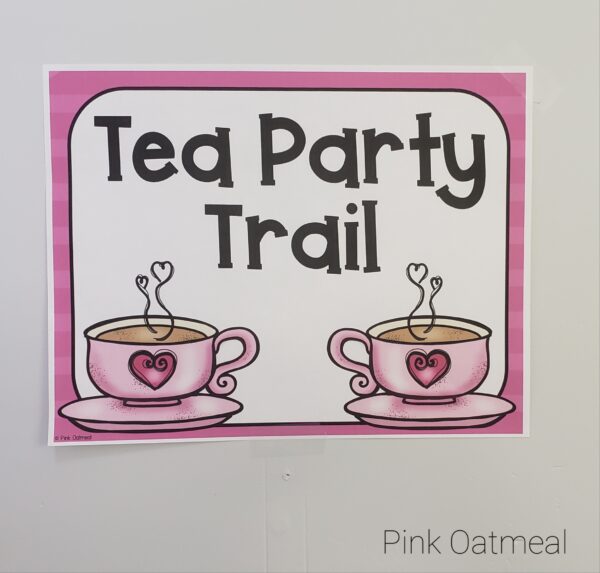 Add even more with the beam when trying to walk like a princess. Place a bean bag on your head and walk across the beam. Don't let the bean bag fall!
Do you have kiddos that engage better with interactive or digital games (I know I do!). Try adding the Mermaid Movement Game to the collection. Pick a mermaid, meet your mermaid and get to know their name, now do the move they ask of you!
This game can be played on a computer, tablet, interactive whiteboard or screen cast onto your television. If you want, you can print the game off as well. Use the balance beam activity above and have them walk up to their selection on the big screen!
If fast, fun and efficient are perfect for your princess, you need to try the princess themed brain break ideas. These are great for quick movement and can be used in a variety of spaces with a variety of moves to keep the kiddos engaged! Pink Oatmeal has princess themed brain break cards for you that are ready to be used right now!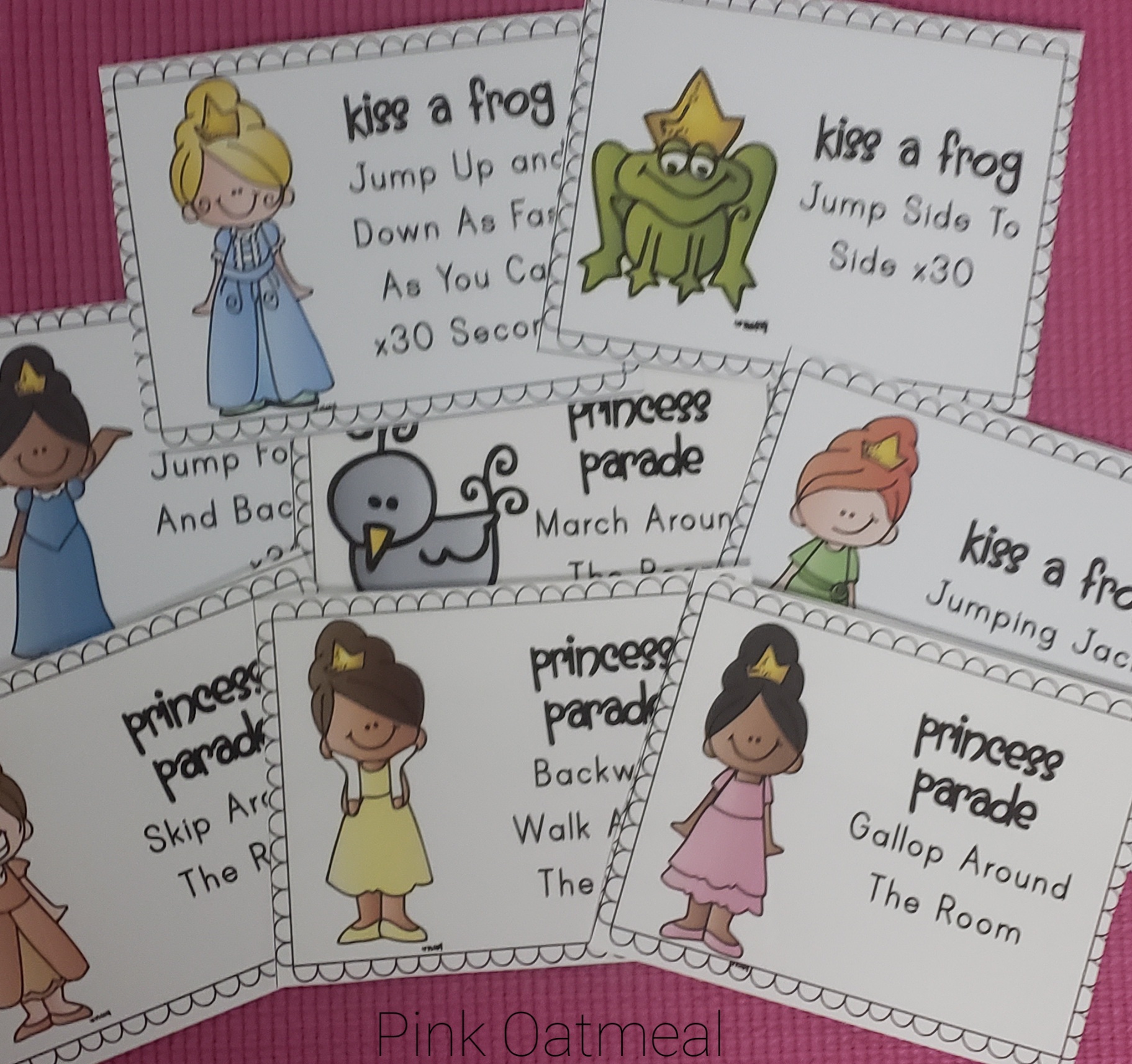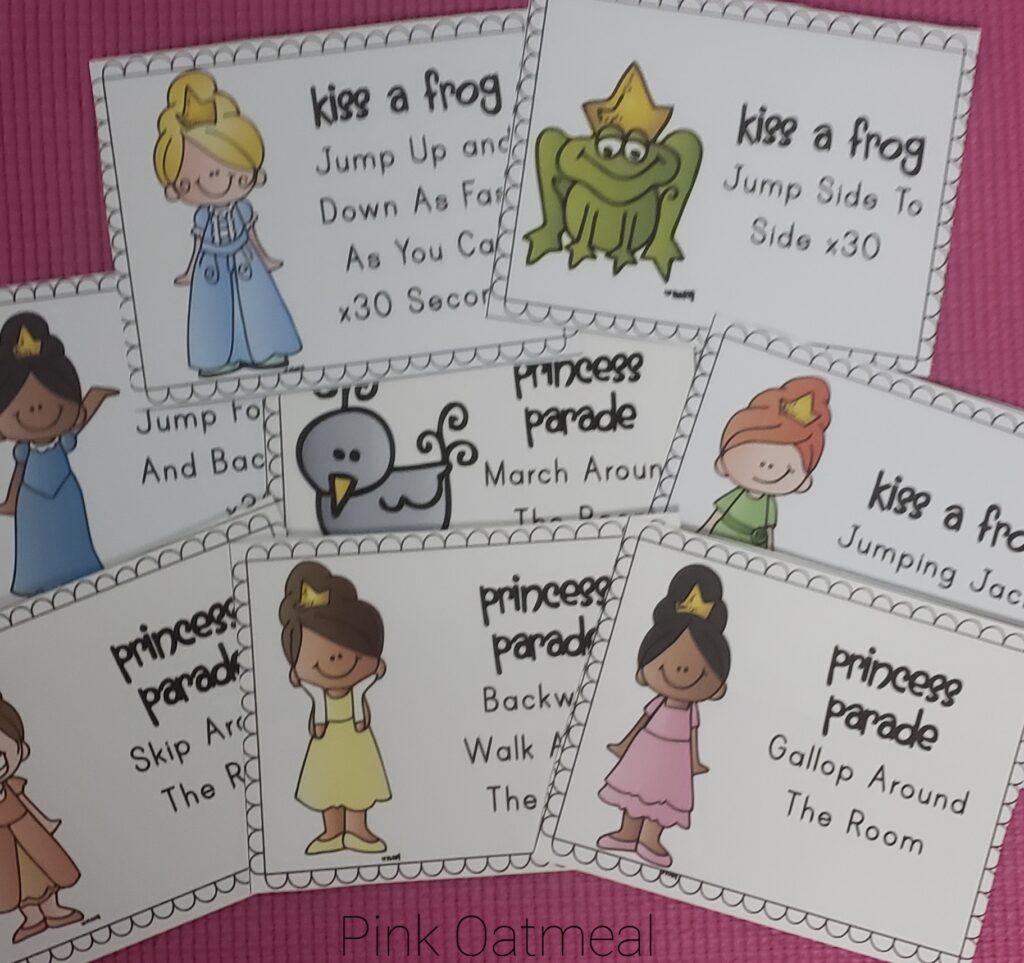 Pirate, Princess, and Mermaid Gross Motor
A few more ideas to add to this theme include a treasure hunt! You can do this by a traditional hide and find game or create an obstacle course. You could even add a treasure map or a list of clues if you wish.
Water waiter is another fun activity for your pirates, princesses and mermaids. Fill up a plastic cup with a little bit of water. Place that cup on a tray or kickboard meant for the water. Now walk across the room (or pool if you have water) and don't let the water in the cup spill.
Pirate Fine Motor Activities
Pink Oatmeal has several different pirate themed fine motor activity ideas that are perfect for this theme!
Pirate Pre-Writing
Pirate Treasure Maps
Pirate Tracing
Pirate Flag Beading
Roll and Cover The Treasure
Pirate Color By Code
Cannon Ball Dough Counting
Pirate Themed Scissors Work
GET THE PIRATE THEMED FINE MOTOR ACTIVITIES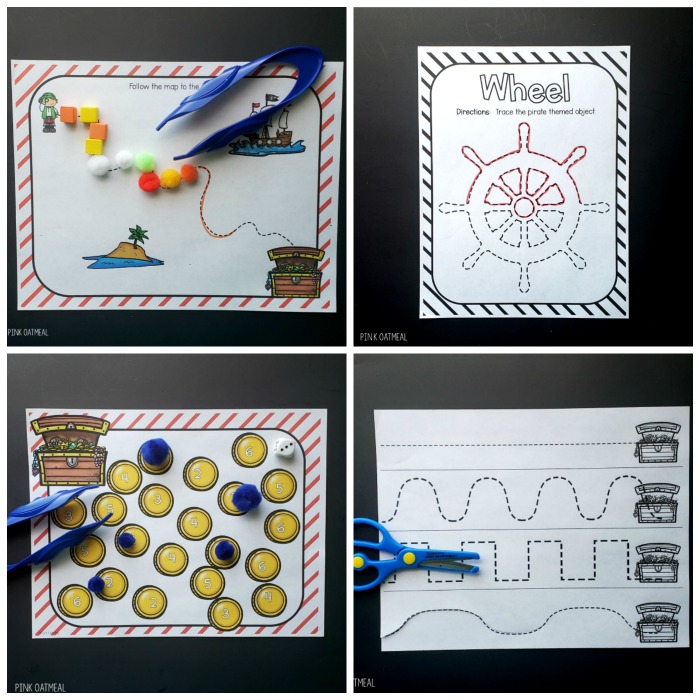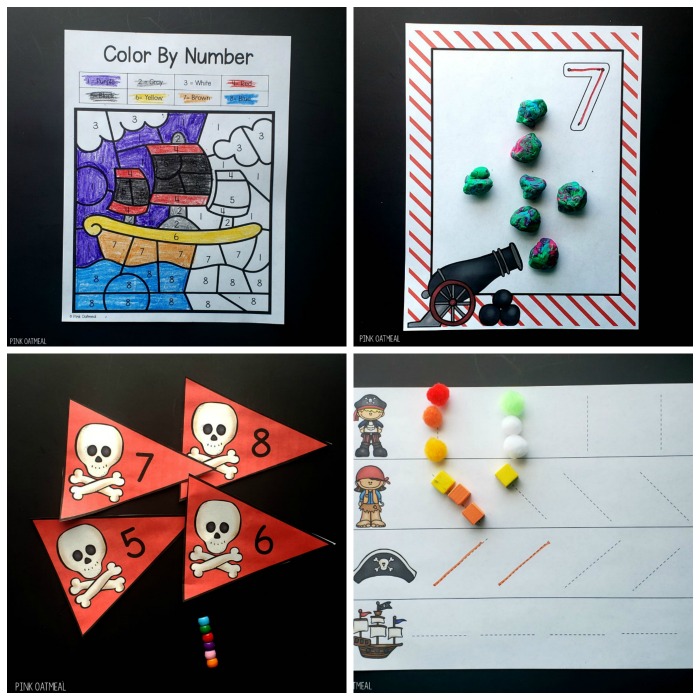 Mermaid Princess Themed Fine Motor Activities
Pink Oatmeal has lots of ocean themed fine motor activities that are perfect for the mermaid princesses and this theme!
GET THE OCEAN THEMED FINE MOTOR ACTIVITIES
Ocean Pre-Writing
Shark Pre-Writing Strokes
Ocean Tracing
Ocean Color By Number
Sea Life Pom Transfer
Roll and Color Ocean Theme
Ocean Themed Cut/Tear Activity
Seashell Roll and Cover
Ocean Dough Counting Frames
Alphabet Formation Ocean Theme
Roll and Dot/Dab Ocean Theme