I was on a mission this year to make my documentation easier. Special Education requires a lot of documentation, so efficient is what I was looking for. I had paper documentation, plus online documentation, plus working folders, and many many copies all the time. If I forgot one of my copies for a meeting I had to look on with someone else. Everything just seemed so unorganized and time consuming! Thanks to Eleanor Crawley and her lovely blog, I found OneNote by Microsoft! Thank goodness!
©
OneNote was my favorite way to document when I worked in the school system. Be sure to check out all of the information on school based physical therapy documentation resources.
How It Works
Like all technology there are changes to OneNote. Check out the course on OneNote to get everything you need to document effectively and efficiently!
ONENOTE COURSE FOR DOCUMENTATION FOR THE SCHOOL BASED THERAPIST
Options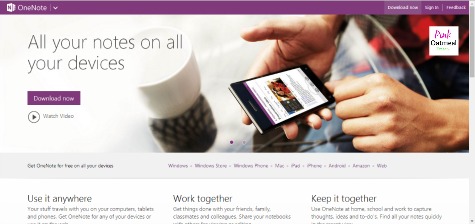 If you choose cloud based services, create your account you can get started. Simply go to OneNote and download the program. There is a free program (Office 2013) and a program that runs at a small cost (Office 365).
If you choose not to use the cloud then go ahead and make sure you have OneNote as an option in your Microsoft Office Suite.
Organized Special Education Documentation
OneNote allows you to have different notebooks, sections in the notebook, and pages. You are allowed to have your sections grouped together as well.
You can really organize your documentation how you would like. I ended up having one notebook that I put all my working folders in. I grouped my sections together by each school I worked in. Within each group I was able to have a different section for each student. Within each student's section I was able to have different pages associated with that student like their IEP, contact information, daily notes etc.
What Makes It So Awesome
It can be used on Macs or PC's.
There is an app for it on your iPad or Android service. Meaning, bring your iPad to a meeting or even your phone and you have everything at the palm of your hands. If you choose the cloud based service.
It can be used online. Don't have OneNote downloaded to your home computer? No problem, simply sign into your Microsoft account and go to OneNote online. When using the cloud based service.
If you don't want to use the Cloud opt for OneNote 2010 or 2007 (see below).
You can print directly to One Note. Yes, this means no more printing and copies. I love this! I simply select what I want printed and when I go to print it I choose OneNote instead of the printer. It asks me where in one note I want to print it and I select the students section.
It works when you are offline!
It automatically saves and syncs (if you choose this option).
I can quickly add pictures right to their file. As a therapist I often take pictures of ways I'd like students positioned, transferred etc. Such a time saver!
More than one notebook can be made. You can make notebooks for whatever your heart desires.
I still have more playing to do and I'm sure I can add more later!
So much less paper!
Overall, I feel much more organized as I don't feel like I'm keeping track of tons of paper!
Security
Microsoft OneNote run through certain versions Office 365 is HIPPA compliant. Office 365 comes at a small cost depending on how you or your co-workers choose to utilize the program. Be sure to research Office 365's security and privacy policies to insure it meets your organizations requirements.
OneNote Not In The Cloud
If you don't want to use the cloud services at all or you can't, that's fine! OneNote comes in Microsoft Office Suites. Microsoft Office 2007 and 2010 both have OneNote available. This provides a way One Note can be used just on your computer and still has many of the same features. If the cloud isn't for you this is a great way to get rid of the paper too. Just remember, in the case you choose not to sign up for One Drive and keep everything on your computer you can't sync between devices.
I No Longer Have a Binder!
I have a folder where I carry around some of my daily communication notes (get them free here) and any miscellaneous paper I may need that day (though it's very little). It's nice to lighten up the paper load and the therapy bag!
Let's Move
Sometimes special education can feel overwhelming with all of the paperwork. Remember, it's still important to move when learning. Not only is movement great for the students but participating in it as a teacher may help you to relax as well. Be sure to stop by my shop to grab some fun resources for your kids! They can also be found at my Teachers Pay Teachers store.
I WANT TO HEAR FROM YOU
Let's connect! Pink Oatmeal is on Facebook, Pinterest, Twitter, and Instagram!