Today we have a special guest on the blog.  Laurie Gombash is a fellow pediatric therapist and is here to share with you about her product that combines moving and learning.  She's also sharing some great ideas on how to incorporate it into the day!  At Pink Oatmeal, we are all about movement and combining learning with movement is even better.  I'll let her take it from here!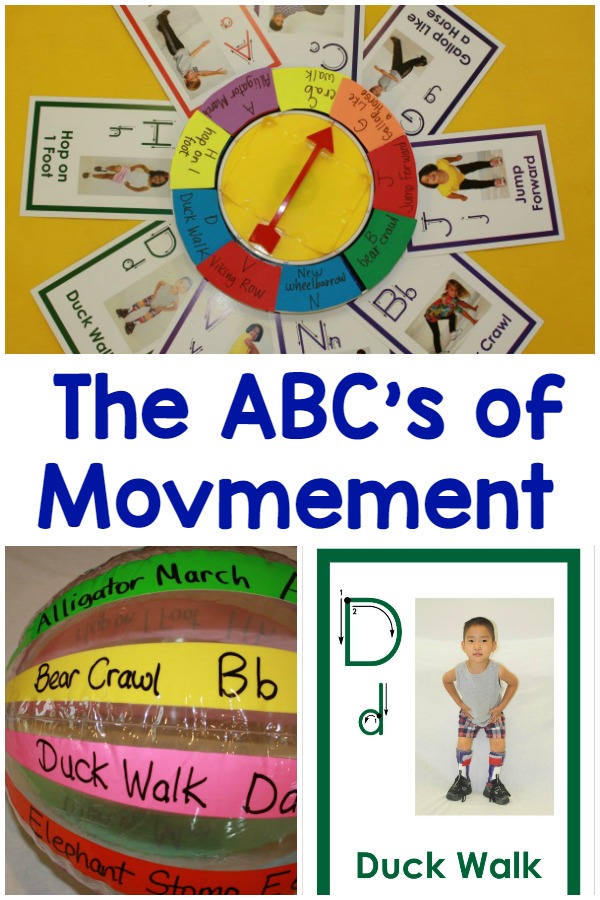 Hi, I am Laurie a pediatric physical therapist who has created a FUN, active way for young children to learn their alphabet. Because children are natural kinesthetic learners and learn BEST through movement experiences and activities, I created The ABC's of Movement® activity cards and music CD. Exploring educational concepts through movement and multiple senses gives children an opportunity to learn in ways they understand. I believe that the sensory and motor capacities of young children should be considered basic building blocks to learning. With The ABC's of Movement® activity cards, each alphabet letter has a corresponding movement. In addition to helping with the literacy connection, each movement also encourages developmental skills such as bilateral coordination, strength, and balance. The ABC's of Movement® activities can easily be incorporated throughout the day.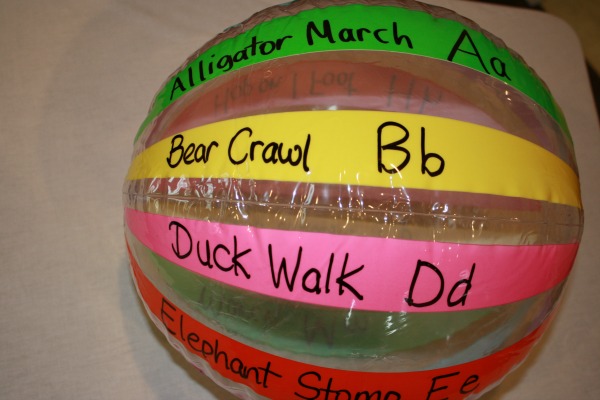 They can be used during preschool circle time, while children move from one activity to another or made into really fun learning games. For example, write a few of the alphabet letters and movements on a beach ball and invited children to join in playing catch. When each child catches the ball, ask him/her to identify the letter facing them on the beach ball. That child can then lead the group in performing that movement.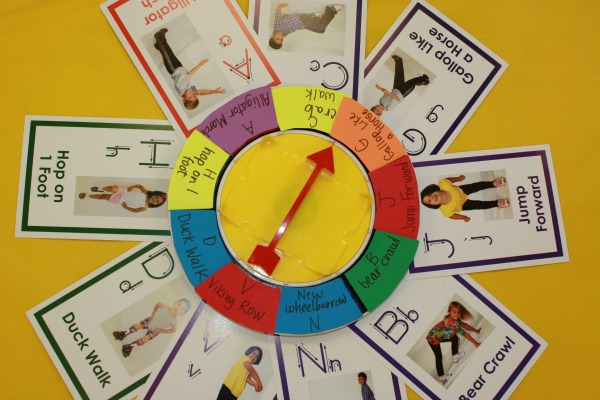 You can also modify a spinner from a board game to include The ABC's of Movement® activities. As children take turn spinning the spinner, they identifying the alphabet letters and then all complete the movement. Or, you can add music! The ABC's of Movement® music CD was recently released and is a perfect addition to the activity cards. Each letter is given its own fun, catchy song with words that rhyme, or words that start with the same first sound (alliteration). Kids naturally love music. Not only does the music help them learn their letters and letter sounds, it also encourages them to move their bodies to the rhythm of the music! You can watch a video demonstration of The ABC's of Movement® cards on my website www.ABCsofMovement.com.
Laurie Gombash is a physical therapist (PT) who holds a Master's degree in Education.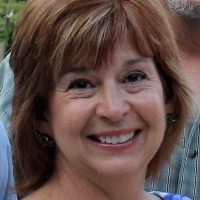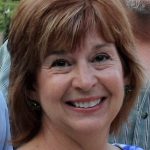 She has worked in the public school setting for the last twenty three years searching for a product that could help her students connect literacy to motor skills by using multisensory learning. Realizing that there was no such system on the market, and after extensive research, Laurie created The ABC's of Movement®, a high quality movement program that could accelerate a child's ability to learn. Laurie is committed to educating other in movement enhanced learning and has a knack for turning ordinary items into FUN, therapeutic tools. When not creating movement products, Laurie enjoys relaxing by her pond on her dairy farm with her dogs, cats, and pot-belly pig, Petunia.