We truly don't need any more flashing or loud toys at our house.  I don't know how many times I've walk by our toy basket and had some random toy go off.  I believe that some of the best options for playrooms or gifts for little ones are missed since they aren't always on the shelves at your typical stores. As a pediatric physical therapist, my aim has been to build more of a "motor room" instead of  a room loaded with random toys.  Many of these suggestions have come from different pieces of equipment that I currently use in our home or that I use in the motor rooms at school.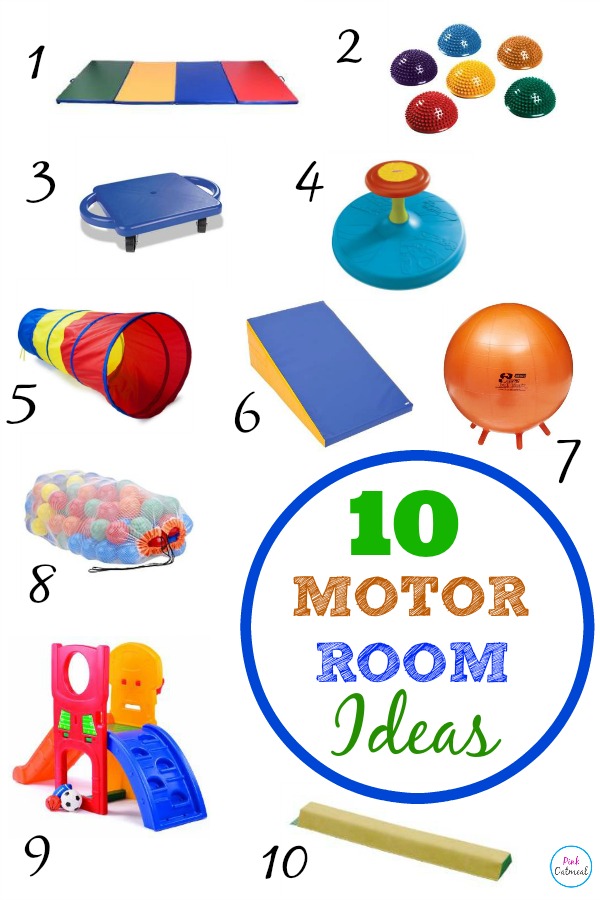 This post contains affiliate links.  I only recommend products that I love or personally use.
1. Tumbling Mat
: This is a nice option to have under a balance beam or to get the kids moving on the floor.  Possibly an area to practice some yoga?
2. Balance Pods
: The pods are great for working on balance and body awareness.  They work well when they are part of an obstacle course.
3. Scooter Boards
: Another favorite amongst the kids.  Scooter boards are great for strengthening and can be used in sitting or on your stomach.
4. Sit 'n Spin
: Perfect for strengthening and stimulation for the vestibular system.
5. Tunnel
: Tunnels are perfect for an obstacle course.  Tunnels work well for the youngest movers at your home!
6. Tumbling Wedge
:  This is a favorite at school!  It's fun to walk up and down the wedge, roll down the wedge and walk on high knees up and down the wedge.
7. Plastic Balls
:  These are the best!  I love our balls.  If you are looking for ideas on easy ball pits be sure to check out my post about ball pit and play ideas.
8. Ball Chair
:  A great option for when the kids are concentrating on a project.  The ball allows the kiddos the option to "move" while sitting.
9. Slide
:  I love how many of the slides can be versatile and used both inside and outside.  Remember, going up the slide in reverse is good for the little ones!
10. Balance Beam
:  I tend to prefer the sturdy balance beams.  I've used the foam beams in the past, and they are okay. They aren't as sturdy and always seemed lopsided. A balance beam could be a pretty easy DIY project.
I've started on our motor space.  You can take a peek at it in my post.  I'm hoping to put the finishing touches on it over the next year so that we have a great space to burn some energy and move at our home!

I Want To Hear From You
Let's connect!  Pink Oatmeal is on Facebook, Pinterest, Twitter, and Instagram!
You May Be Interested In
My store at Pink Oatmeal is full of ideas to get the kids moving at home, in the classroom, and in therapy!  If you prefer Teachers Pay Teachers you can find me there too!