I have to post about my Mexican style quinoa since I basically eat it every week.  It is also so easy!  I am not the type to make any kind of complex meal.  I tend to eat this for lunch.  I make up a batch and pop it in the microwave for the next few days. It would be a great meal to bring to work as well.   I should admit I am a lover of Chipolte.  I pretty much could eat it every week.  I generally prefer it to any 5 star restaurant.  This is a meal that I can make at home that reminds me of my beloved Chipolte!  Here is what you need.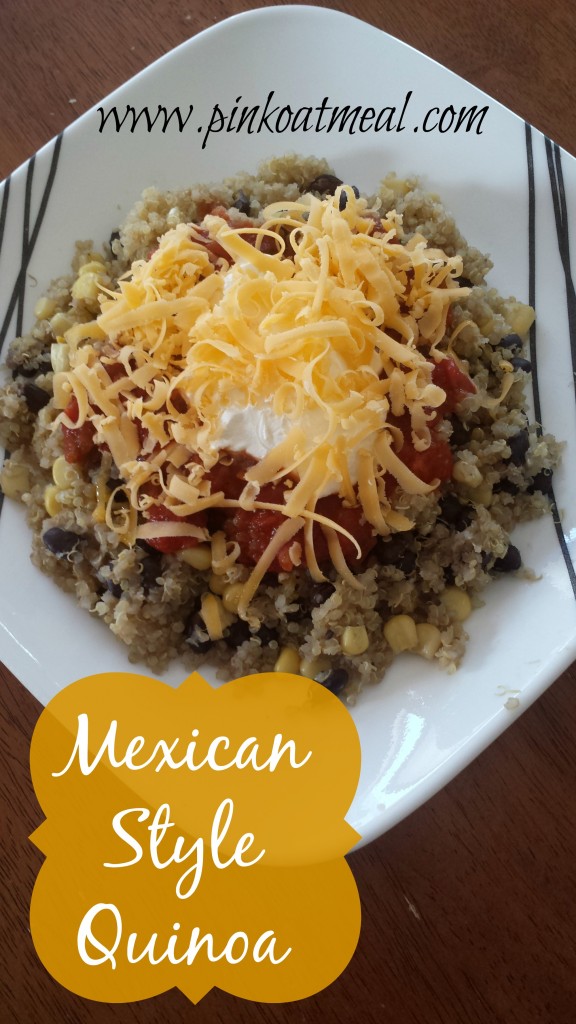 For The Base
Quinoa
Vegetable or Chicken Broth
Frozen Corn
Black beans
For The Accessories
Sour Cream
Salsa
Cheese (Shredded)
Anything else you would like to add!
Instructions:
Make 1 cup of dry quinoa according to the package directions.  I use vegetable bouillon instead of water for added flavor.  Just before all the water is done simmering add a can of drained and rinsed black beans and 1 cup of frozen corn.  They should warm through by the time all of the bouillon is gone.  You now have your base done! I love that all of these ingredients are easy to get organically!
Next all you have to do is accessorize as you would like.  I love the sour cream, cheese, and salsa added to mine.  If I have guacamole I will add this too.  If you are a meat lover it would be easy to pop some in as well.
I keep the base separate and add my accessories with each meal.  That way all I have to do is warm up the base and accessorize as I please with each meal.  Try this you will LOVE it!
More Nummy Ideas