I've been lucky enough to visit New Orleans a few years ago. It's an amazing city! I would love to someday get to visit New Orleans during Mardi Gras. I can't even imagine! When I think of Mardi Gras I think of things like dancing, signing, parades, and movement. This kind of activity is perfect for Mardi Gras theme for brain breaks and gross motor activities. All the fun decorations and costumes, make for fun play dough mats to work on fine motor skills.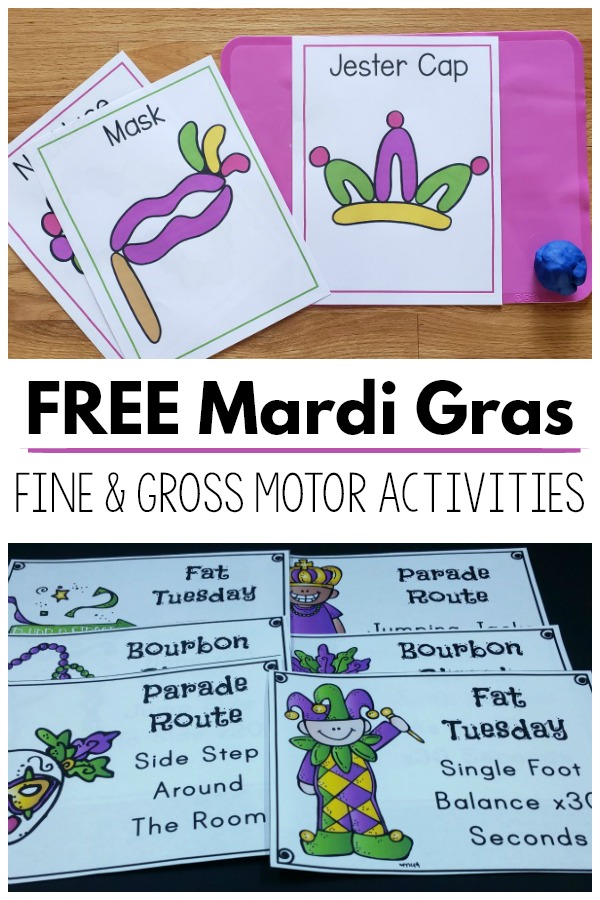 If you are someone who does a Mardi Gras theme or is planning one, Pink Oatmeal has FREE Mardi Gras activities that you can use to work on both gross motor and fine motor skills!
Mardi Gras Gross Motor and Brain Breaks
Use these brain breaks to get up and moving. There are suggested reps and duration on the cards but you can easily adapt to make them work for your setting!
Parade Route
March Around The Room, Skip Around The Room, Side Step Around The Room, Backward Walk Around The Room – Any active movement where the kids are moving around the room!
Fat Tuesday
Balance Exercises – Right Foot Hop, Left Foot Hop, Single Leg Standing, Tandem Standing
Bourbon Street
Jumping Activities – Side To Side, Back and Forth, Fast Jumps, Jumping Jacks
King Cakes
Strengthening Activities – Sit To Stands, Squats, Lunges, High Marches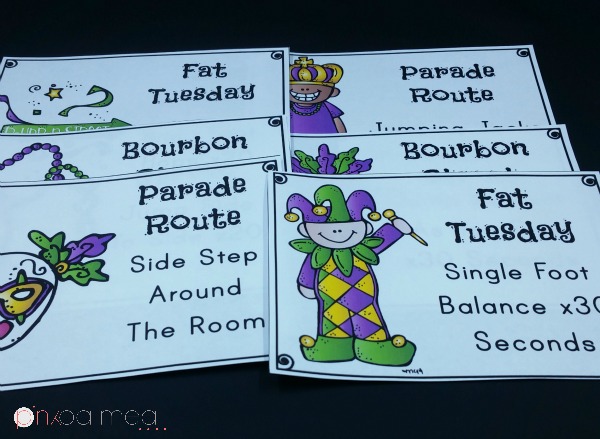 GET YOUR FREE MARDI GRAS BRAIN BREAK CARDS IN THE FREEBIE LIBRARY
Mardi Gras Fine Motor
When it comes to working on fine motor skills, working with play dough is such a fun way to strengthen little hands. Making play dough work even more fun is Mardi Gras themed play dough mats! There are eight different mats to choose from and these are all FREE to you in the Pink Oatmeal freebie library!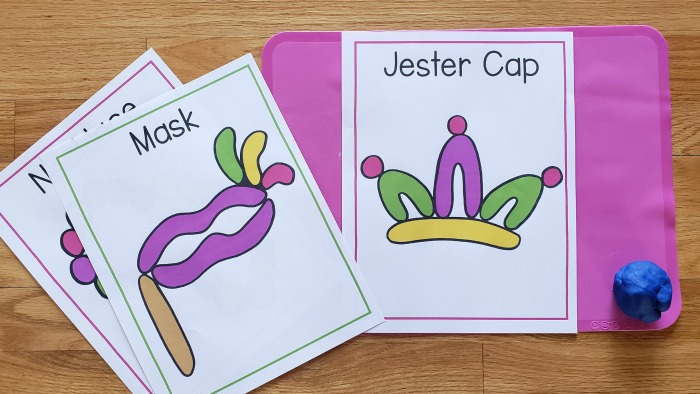 GET THESE FREE IN THE PINK OATMEAL FREEBIE LIBRARY