Now that all of the Easter candy is out at the stores one of my weaknesses is shining through when it comes to the Reese's eggs.  I love them!  I try my best to avoid them at the stores but every once in a while end up with them in my cart.  Now that I have the habit of reading what is in the ingredients I did the same with the Reese's eggs and wished I hadn't.  After reading them I was on a mission to find out how to make homemade Reese's eggs with the great taste and without some of the icky stuff.  I came across a recipe on Raining Coupons blog.  I followed her base recipe but changed the kind of chocolate I used.  These turned out fabulous!  Almost too good to have laying around the house.  My husband thinks they are better than the store bought kind.  I've had to put them up high and out of my reach or it would have been trouble!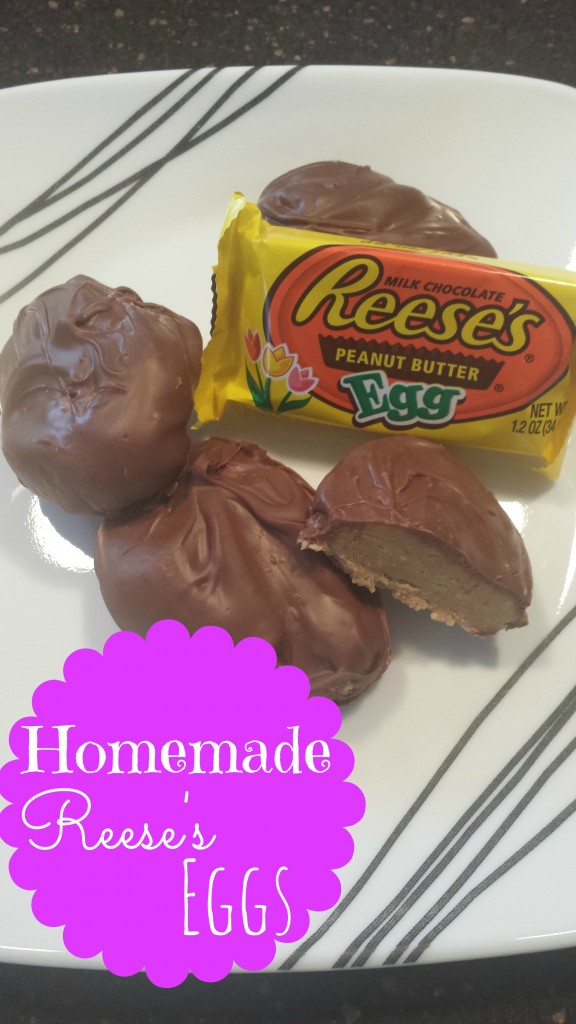 1 cup of peanut butter
1/4 cup of butter
1 tsp of vanilla
1 1/2 cups of powder sugar
Chocolate Chips (I chose Ghirardelli)
1. Melt the peanut butter and butter together in the microwave and stir.
2.  Add vanilla and powdered sugar to peanut butter mixture and mix together.
3. Shape into mixture eggs on a cookie sheet on parchment paper.  Place in freezer to set.  I had them in the freezer about 30 minutes and they were perfect.
4. Melt chocolate chips.  I used about half a bag.
5.  Immediately dip peanut butter eggs into chocolate until covered to your desired amount.
6.  Let eggs sit until chocolate has hardened.
They are so delicious!  Free from all the extra preservatives.  You may have to hide them from yourself they are so good!