Easter will be here in just a week! Are you looking for ideas to keep the kids busy during the family gathering? How about different ideas to fill the time in the classroom that is beneficial to the kids? What about fast, effective, and most importantly fun ideas for brain breaks? A great solution to this problem is Easter themed brain breaks!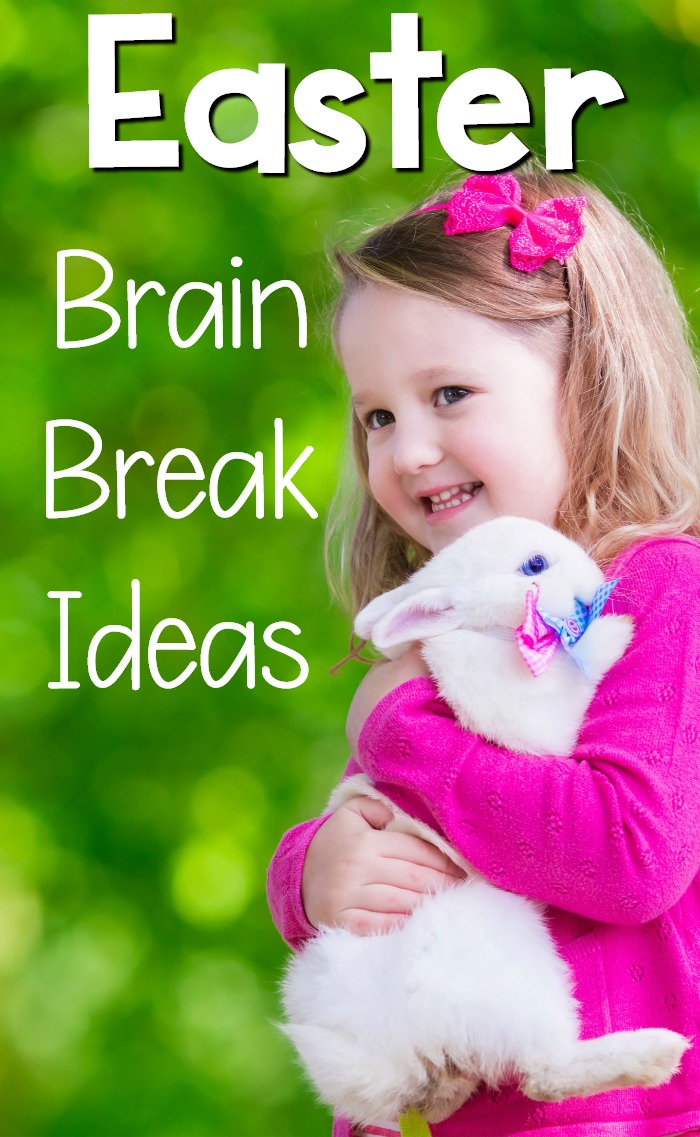 Easter Themed Brain Breaks
The great thing about these ideas are that the number of repetitions and duration of time can easily be adjusted based on your needs! I like to make sure the kids are working hard and getting re-energized!
Bunny Hop Jump In Place, Jump Side To Side, Jump Back and Forth, Jumping Jacks, Right Foot Hops, Left Foot Hops, Right to Left Foot Hops, Jump and Turn
Egg Hunt Tiptoe Walk, Heel Walk, Heel to Toe Walking, Side Stepping, Walk Backward, March, Skip, Knee Walk
Carrot Toss Shoulder Blade Squeezes, Forward Arm Circles, Backward Arm Circles, Wall-Push Ups, Arm Criss Crosses, Shoulder Shrugs, Shoulder Presses (Start With Arms At Shoulder Level And Reach To The Ceiling And Repeat)
Don't Break The Egg Right Leg Balance, Left Leg Balance, Tandem Standing Right Lead, Tandem Standing Left Lead
Easter Party Body Wiggles, Free Dance, Hula Hips, Spin In Each Direction
Easter Games Bunny, Bunny, Chick (Duck, Duck, Goose), Bunny Says (Simon Says), Bunny Hop (Line Up With Hands On Shoulders Of Person In Front Of You And Hop), Line Up Tallest To Shortest (Must Hop To Do This)
Jelly Bean Pick Up Squat, Lunge, Heel Raises, Toe Raises
Digital Easter Game
Not only does Pink Oatmeal have all of these great Easter brain break ideas, but an Easter digital game is also available for you to use! Pick your Easter friend, get to know their name, and try the move they ask of you! This is such a fun game for BOTH in-person and distance learning.
CLICK HERE TO GET THE EASTER DIGITAL GAME
More Easter Movement Ideas
Pink Oatmeal has even more Easter gross motor ideas that you need to check out today. Get out your plastic eggs and get ready to move! Along with that, be sure to check out all of the Easter Yoga Pose ideas from Pink Oatmeal and get your hand on the Easter Yoga Cards.
Easter Gross Motor Resources
Pink Oatmeal has a huge selection of resources available for you to make your Easter gross motor planning easy and simple.
CLICK HERE TO SEE THE EASTER RESORUCES
Click below on the NAME of the resource to get a full detailed view of that particular resource.