I must admit my DIY chalkboard has been one of my favorite projects that I have done lately!   I really wanted a chalkboard to write monthly milestones on for each monthly picture of C.  I wanted a large enough chalkboard that it would show nice in pictures and I wanted it framed.  What I was finding was the cost was running far higher than I anticipated, like over $100.  I didn't  want to be in it for that much so I moved to DIY.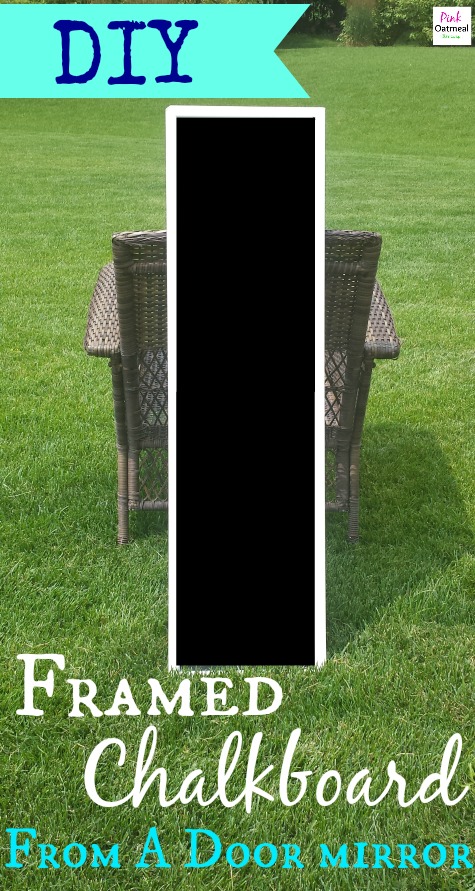 I searched different tutorials where there were some very basic ones like spray a piece of board and wallah you have a chalkboard, however I really wanted the frame looked.  To get the framed looked it involved wood or molding and sawing, gluing etc.  Anytime I can avoid any type of tool, it's a good thing.  It wasn't  until I was cleaning out my closet and came across an old door mirror that I had in college it clicked.  The mirror had a white frame.  It was cheap so it wasn't real glass.  I thought why the heck not try make this thing into a DIY framed chalkboard. I have nothing to lose.
What You Need
Spray Paint Primer
Spray Paint Chalkboard Paint
Painters tape (to cover the frame)
DIY Framed Chalkboard Instructions
1. I used the painters to tape to cover the entire frame of the mirror.
2. I then spray painted one layer of primer and let it dry.
3. I then spray painted two coats of chalkboard paint according to the directions on the can
Cost
I had all the materials at my house so it was no cost to me.  If you have none of them this chalkboard mirror will still cost you less than $20 dollars.
Spray Primer – Runs Around $3.50
Chalkboard Spray Paint – Runs around $3.50
Painters Paint – Around $5.00
Mirror – Price from Target: $6.00-$15.00 depending on which one you choose
How We Use It
Here is a picture of how we are utilizing it right now!  Each month I write different milestones so I can remember.  Plus, I'm awful at keeping the baby book!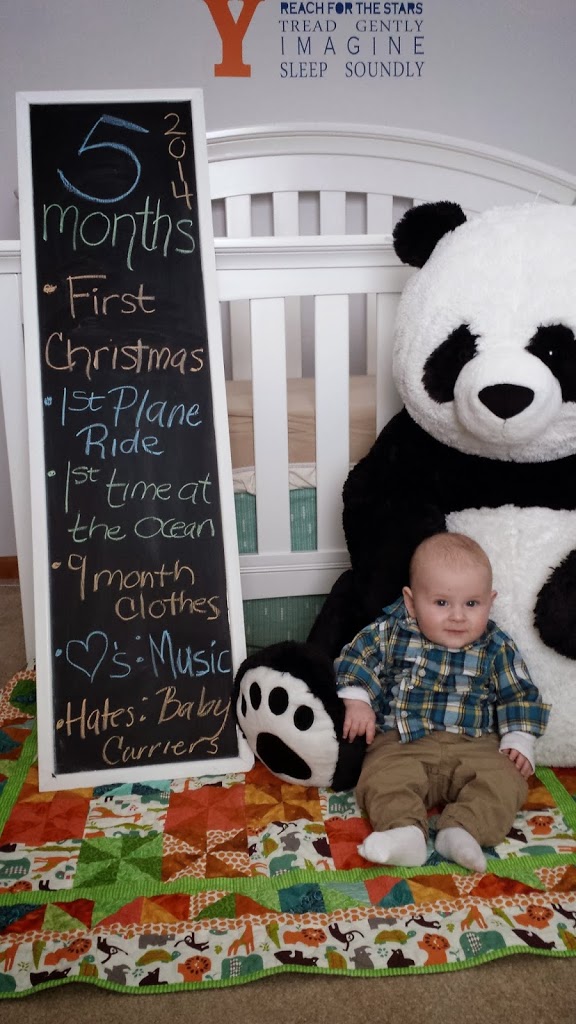 I Would Love To Hear From You!
Have you ever made a framed chalkboard?  I'd love to hear if you have!  Connect with me on one of my social media avenues!  I am at
Facebook,
pinning on
Pinterest
, taking pictures on
Instagram
and tweeting on
Twitter
!