As a physical therapy student, I had the opportunity to do one of my long rotations down in Arizona.  I loved the weather, my rotation, and to my surprise the desert.  Being from the Midwest, I thought of the desert as brown.  It turned out the desert was a beautiful place!  The desert life and landscape provides for many different desert yoga poses!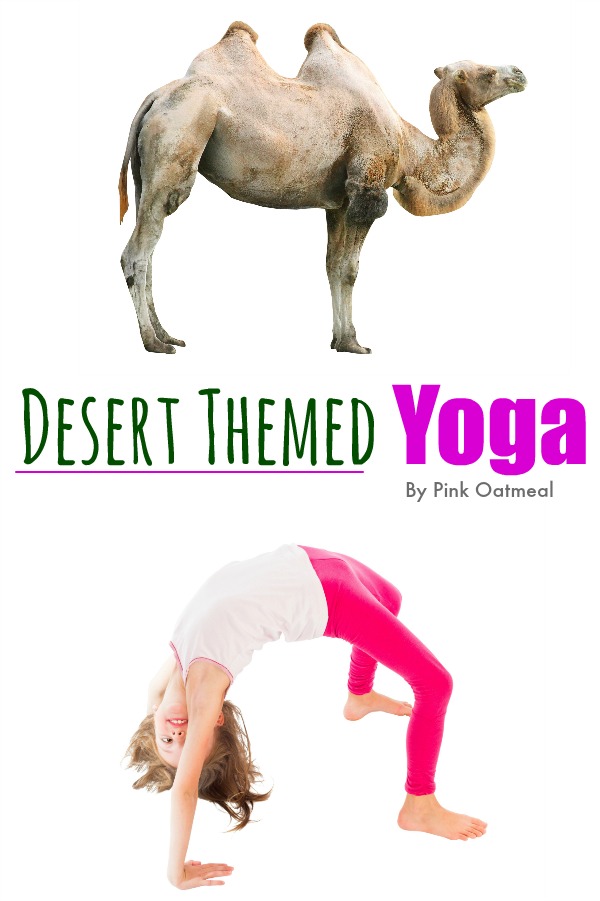 DESERT POSES
Desert themed yoga poses are a fun and engaging way to incorporate a desert theme and physical activity at the same time.  Your kids will love how the movement goes with the theme and you will love how easy it is to use these poses as a brain break, during a therapy session or seamlessly into instruction time without missing a beat.  Get desert yoga cards already made for you in the shop and start using them today!
Camel
Cat pose. Arch your back to make a hump like a camel!
Cactus Flower
Flower Pose.
Tortoise
Turtle Pose.
Scorpion
Stand with your legs spread apart. Turn your feet so they are slightly facing outward. Slightly bend your knees and hold.  Move your hands in front of you like a scorpion, opening and closing your fingers.
Sunshine
Mountain Pose.  Raise your arms above your head and look up towards the sun.
Jack Rabbit
Squat on the floor with your weight on your toes.  Spread your knees as far apart as you can. Make sure your hands are in between your knees on the floor.Hop up into the air and repeat.
Gecko
Bow Pose.
Black Widow
Reverse Table Top.  Move your arms and legs to walk like a spider.
Rattlesnake
Cobra Pose.  Add a hiss like a snake if you'd like!
Cactus
Tree Pose.
Ostrich
Dancer Pose.
Meerkat
Start out kneeling making sure you are sitting back on your heels.  Place your hands on your knees. Spread your fingers out wide.Take a deep breath in and raise up into tall kneeling. Hold and repeat.
GET DESERT YOGA
Think about how great it would feel to have all of your desert yoga and movement ideas created and ready to go for you!  Not only will you have everything created for you, but you will feel confident knowing that your kids have fun physical activity that is easy to go with a desert theme.  Your kids will love this and beg to do more.  Get your desert yoga now!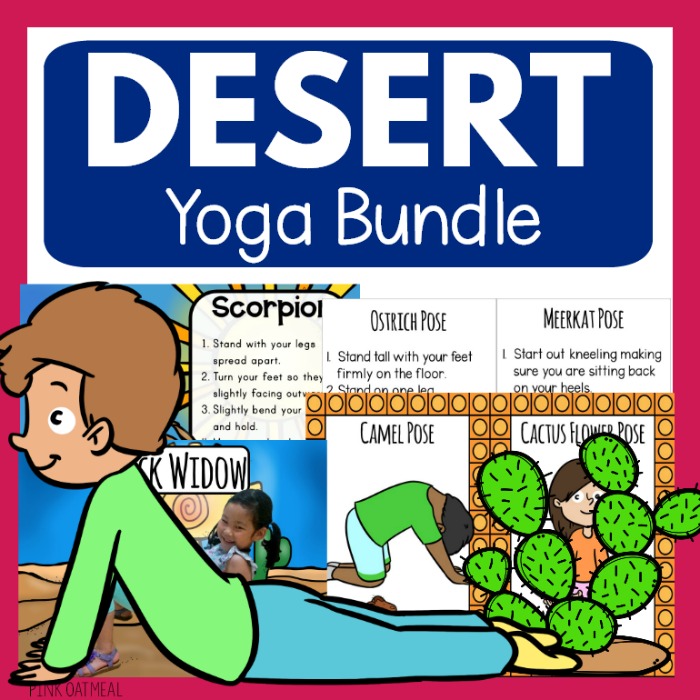 Desert Theme Movement Pack
Get even more! Get all sets of desert yoga and Desert Movement Cards and Save when you purchase the Desert Movement Pack!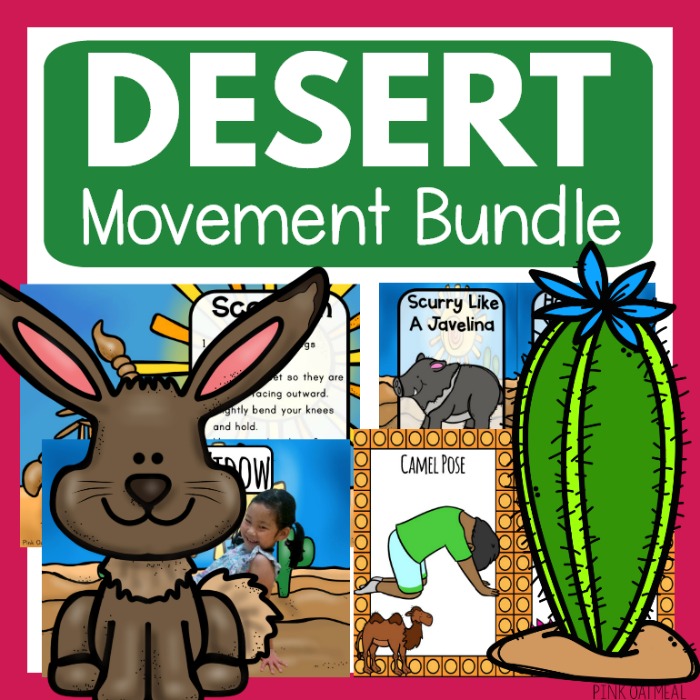 MORE YOGA
Looking for more yoga ideas?  Check out my Zoo Yoga, Sea Yoga, Farm Yoga, Circus Yoga,Transportation Yoga, Rainforest Yoga, Woodland Yoga, and Camping Yoga!
I WANT TO HEAR FROM YOU
Let's connect!  Pink Oatmeal is on Facebook, Pinterest, Twitter, and Instagram!
YOU MAY BE INTERESTED IN
My store at Pink Oatmeal has ideas to get the kids moving at home, in the classroom, and in therapy!  If you prefer Teachers Pay Teachers you can find me there too with even more ideas to get the kids moving!