I love brain breaks.  I don't love when I hear others saying that their students earned a brain break. Students shouldn't earn brain breaks.  Hearing that kids didn't earn a brain break just seems backwards to me. In fact, that may be the time they needed it the most. Brain breaks are something that students need, and should not be skipped if the class didn't "earn" them.  I'm not saying that students shouldn't have the opportunity to do them after they've worked hard or a job well done.  I'm saying that they should be looked at as a need and not as a extra.  The good news is so many educators already realize this.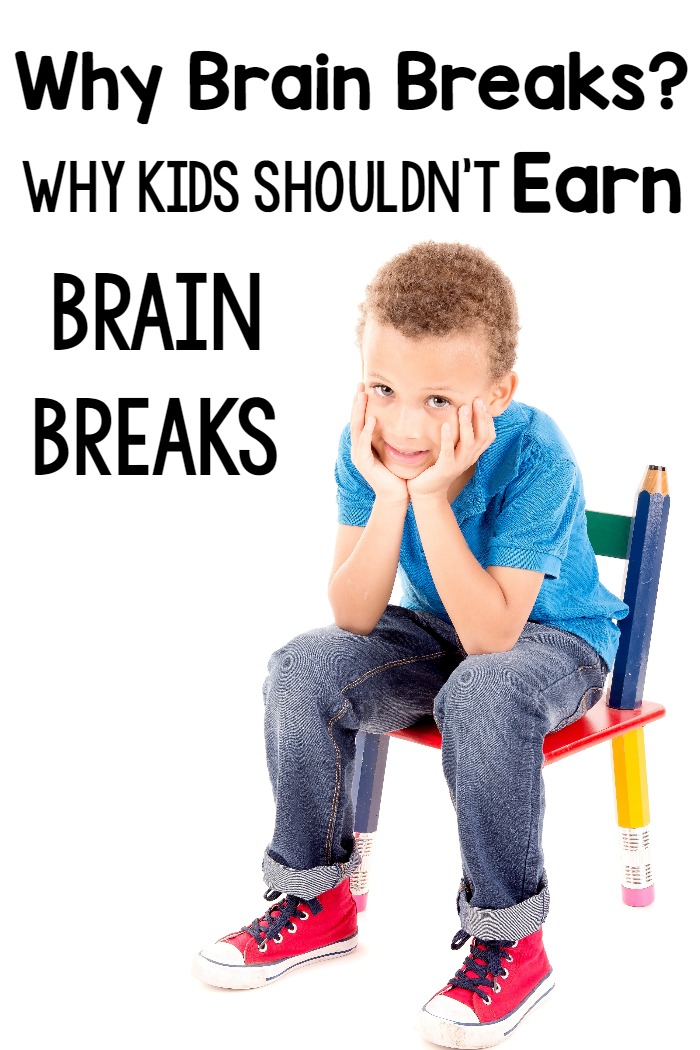 A brain break is a time in the day that students are allowed to move and get the wiggles out!  They are absolutely essential to learning.
Research
The research is pretty clear that students that have physical activity in their day do better in school.
A study in 2006 found that students who participated in energizers in their school day improved their on task behavior by up to 20% after energizer activities.  It also showed a statistically significant difference in on task behavior between those kids that participated in the energizers versus those students that did not.
A recent study released in the Journal of Pediatrics in September found that students that participated in a physical activity program enhanced cognitive performance and brain function during tasks requiring greater executive control.
Recess is another form of a brain break.  Unfortunately not all students get recess.  Research has shown that students who have greater than or equal to one recess break during the day for greater than 15 minutes was associated with better behavior based off of teacher ratings
 Brain Break Resources
GoNoodle – This is a free resource available to teachers. You must sign up for an account to use GoNoodle.  GoNoodle provides educators with several different brain break ideas that they can pull up right on their computers and put on the smart boards.  There are a lot of different brain breaks to choose from. There is a paid version, which I haven't explored yet.  I think this is one nice way to incorporate brain breaks into the classroom.
Brain Break and Learning Cards– I love technology, but I'm also a huge believer in having something physical and modifiable.  I love having brain break or yoga cards that can be physically selected by my students, that could be used in stations, and that could be incorporated into learning during the day.  In my shop I have a wide variety of movement cards that incorporate learning with numbers, math, and letters. If you are a Teachers Pay Teachers buyer you can find them in my Teachers Pay Teachers shop as well.  There are FREE brain break cards too so go get them!
You Tube – There are tons of things out their on YouTube that can be used as brain breaks.   A simple search of the term brain break will pull up a huge selection of brain breaks to choose from.
Recess
– Get the kids outside and let them play.  The simplest form of a brain break out there!
Check out the entire section of Pink Oatmeal's blog dedicated to free brain break ideas! 
 Our Responsibility
As educators and parents it's important that we recognize that physical activity is a must for improved learning in our children. As academic demands continue to grow we need to be cognizant to include several different opportunities in our children's day to move.  Instead of thinking of movement breaks as something that needs to be earned we need to think of them as an absolute must.  So many wonderful educators are realizing this already!
I WANT TO HEAR FROM YOU
Let's connect!  Pink Oatmeal is on Facebook, Pinterest, Twitter, and Instagram!
YOU MAY BE INTERESTED IN
My store at Pink Oatmeal is full of ideas to get the kids moving at home, in the classroom, and in therapy!  If you prefer Teachers Pay Teachers you can find me there too!