You have this cute new little baby.  You love to hold your baby and play with your baby, but every once and a while you need to put that baby down!  What you need is something fun for your baby to use that doesn't take much set up and allows your baby to move and work on their development skills.  The solution to this problem just may be a baby gym! I absolutely LOVE the baby gym .  It has been the best toy for both of my sons.  With the amount of baby items out there, the baby gym stands out to me as one of my favorites!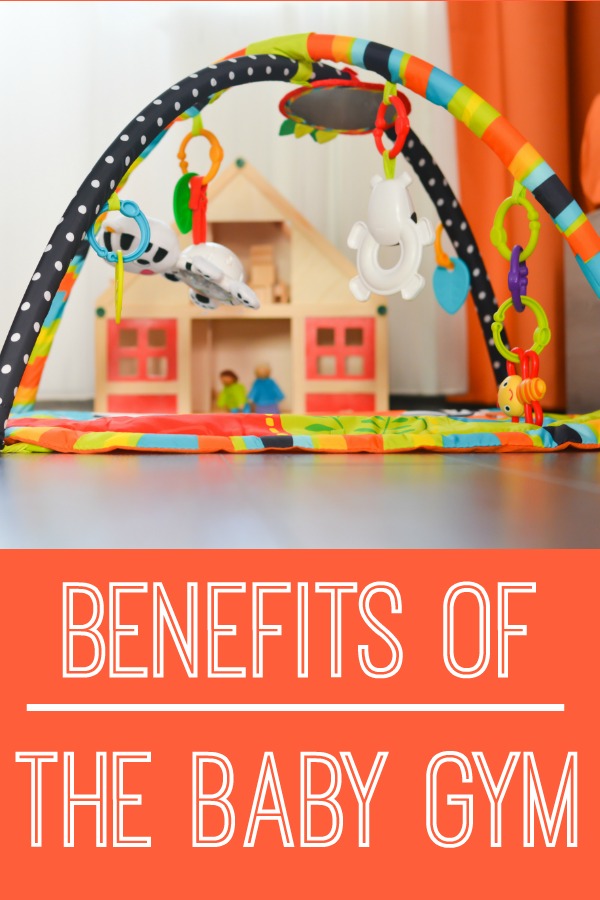 ©adrian_ilie825/Dollar Photo Club
Benefits
Core Strengthening – When your baby kicks and reaches for toys they are giving themselves a great core workout!
Midline and Crossing The Midline Play –  Your baby can work on playing in the midline and with strategic toy placement on crossing the midline.  Crossing midline is an important aspect in development in that it helps develop the ability for the left side of the brain to talk to the right side of the brain
Sensory Stimulation – Colors, textures, and some even come with sounds!
Eye-Hand Coordination – While in the baby gym your baby bats at toys working on his/her eye hand coordination.
Visual Tracking – This can begin early as baby watches the different objects suspended from the baby gym.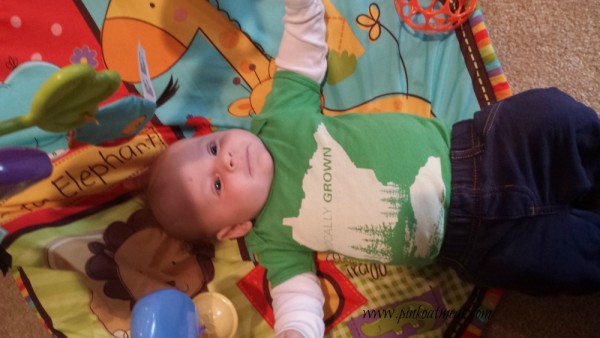 Timeline
The baby gym can be used from day one.  Use it for tummy time.  Separate the mat from the gym if you'd like and you have a tummy time mat.  We used the gym all the way until my first baby was 8.5 months and are using it again for my second baby.  It's the best when you can get so much use out of a baby item!  Mama OT has a great breakdown of the month to month benefits of the baby gym.
Play Considerations
Tummy Time – Tummy time can start right on the play mat.  If you have a mat that can detach from the gym it can serve as a tummy time mat.  It's also very convenient for cleaning purposes!   Another non-conventional way for tummy time is have baby watch the baby gym for visual stimulation while in tummy time! More tummy time ideas needed?  Check out my Tummy Time resource guide for all your tummy time needs in one place!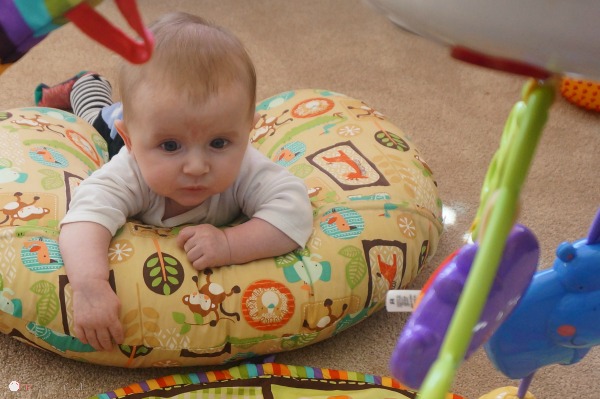 Toy Placement – Be sure that toys aren't always placed directly above your baby's head.  When looking for your baby gym you should consider a gym that gives you the ability to place toys in different slots.   Also note that your baby is getting opportunities to turn their head both ways while in the baby gym.
Side Lying Play –  I personally use our baby gym as a visual for side lying play with my baby!   More ideas for side lying play can be found here!
Back Play – We hear about tummy time play all the time.  It's very important but free play on the back is important too.  Your baby needs to know all directions of their body!
]
The play gym was one of my top baby items for the first 6 months.  Be sure to check out my post for our other favorites!

I WANT TO HEAR FROM YOU
Let's connect!  Pink Oatmeal is on Facebook, Pinterest, Twitter, and Instagram!
YOU MAY BE INTERESTED IN
My store at Pink Oatmeal is full of ideas to get the kids moving at home, in the classroom, and in therapy!  If you prefer Teachers Pay Teachers you can find me there too!