I always believe moving while learning is so important.  We expect a lot of our  children when it comes to learning, especially our young ones.  Kindergarten seems to be the new first grade and preschool is what kindergarten once was.  Kids don't have the opportunities  to move like they used too.  As requirements and standards go up, it seems that opportunities to move go down.  Therefore, it's important that we find ways to get the kids moving.  With younger kids, one of my favorite ways is incorporating alphabet movement cards.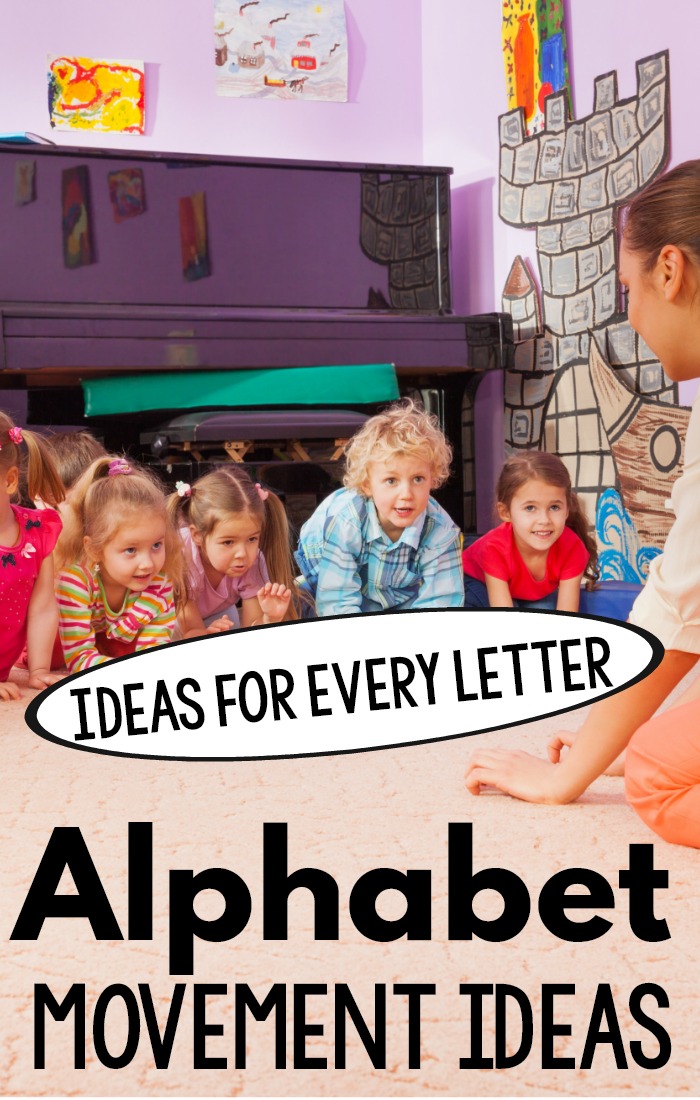 Moving With The Alphabet
Each letter is represented with an action below.  Moving and learning are the perfect combination. If you find you love his idea be sure to check out a ready made set of Alphabet Movement Cards and Printables in Pink Oatmeal's shop .
Airplane – Fly like an airplane or the airplane yoga pose.
Butterfly –  Butterfly pose in yoga.
Chair – Yoga chair pose.
Dog – Downward dog yoga pose!
Elephant– Make a trunk with your arms and swing it side to side
Frog – Hop like a frog!
Gallop – Gallop around like a horse.
Hop – Hop in all directions.
Ice Skate – Pretend to ice skate in all directions.
Jumping Jacks –  A classic exercise.
Kite – Kite pose in yoga.
Lion – Lion pose in yoga.
Moon – Moon pose in yoga.
Net – Move like you are catching objects in your net.
Octopus – Move your arms like octopus.  Walk in all directions moving like an octopus.
Picking Apples – Pick apples above your head and on the ground.  Reach high and low!
Quack – Make quacking sounds while walking around like a duck.
Run – Run in place or if you have room go fast!
Stretch – Stretch in all directions.
Tree – Yoga pose tree.
Unicycle – Stand on one leg.
Victory Dance – Move your body.
Waddle – Waddle around.
X – Make x's with your body- use your arms and legs.
Yo-yo – Move your body up and down.
Zipper – Zip a giant zipper by starting low and moving your arms over your head as high as you can.
Alphabet and Movement
Teachers have shared with me great ways that they are using the cards including adding sounds while performing the actions, in centers, in drama classes, as brain breaks, and in special education.  I personally love all the benefits that come with movement!
Get Your Own Set of Cards and Full Sheet Printables
Love the idea of movement with the alphabet?  I've got a set of cards and printables ready for you! I have my cards laminated (for long term use) and place them on a ring.  They can be utilized as you please.  There are also large pictures connecting the action with the letter for centers or to place around the classroom or use on the smart board.  I like to get outside as much as possible in the Spring months.  I love how the cards can be portable for use in any environment.  Most importantly, I love how every  student is moving and learning the alphabet at the same time.
What's Included
There are 26 cards (2 per page). – Each card has an uppercase and lowercase letter with an associated word with that letter. Several suggestions on how to incorporate movement with the word on listed on each card!
26 full sheet letters with corresponding pictures.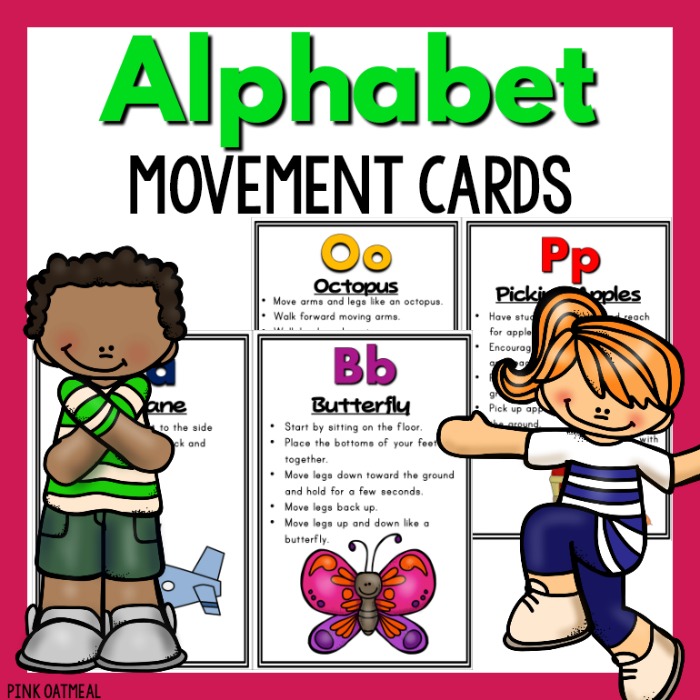 You Also Might Like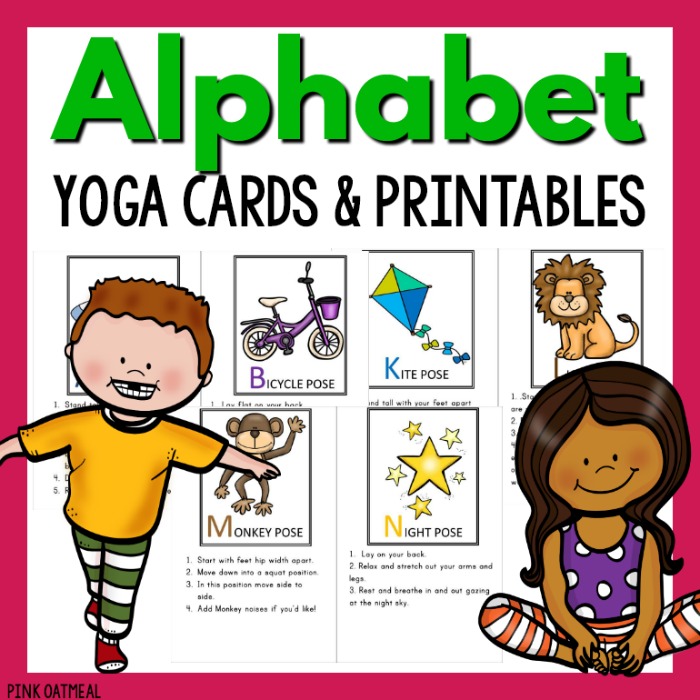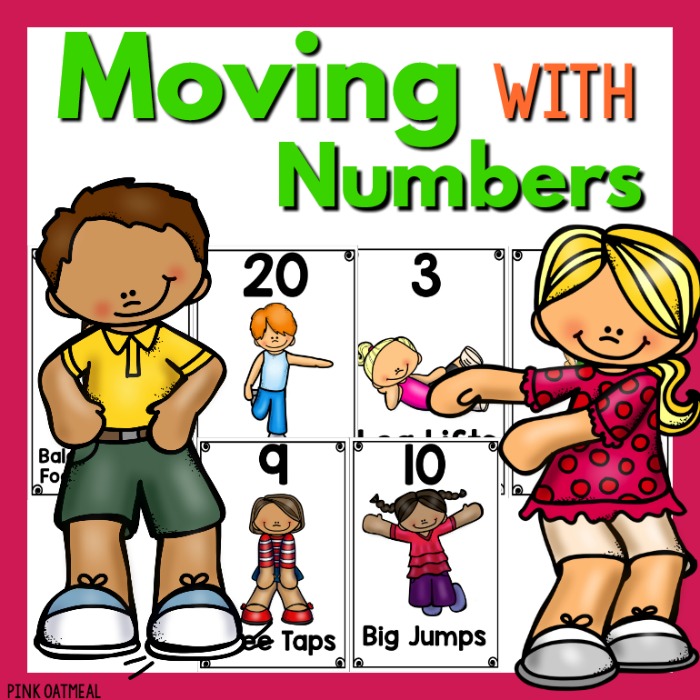 I WANT TO HEAR FROM YOU
Let's connect!  Pink Oatmeal is on Facebook, Pinterest, Twitter, and Instagram!
YOU MAY BE INTERESTED IN
My store at Pink Oatmeal has ideas to get the kids moving at home, in the classroom, and in therapy!  If you prefer Teachers Pay Teachers you can find me there too with even more ideas to get the kids moving!