I am a dollar store or dollar aisle frequenter when it comes to grabbing things for working in the school with kids.  I love a bargain!  The nice thing is there is usually something that a therapist can use (or figure out how to use) during all seasons!  It's pretty hard for me to go by the dollar aisle without looking whether it be for school or for my own use at home!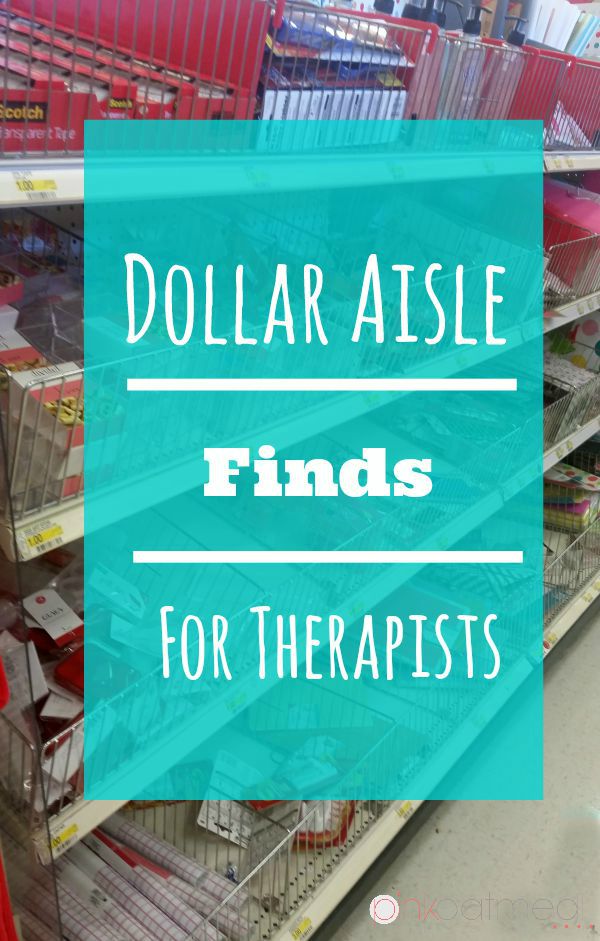 Dollar Store/Aisle Finds For Therapists
Bubbles
I love the fact that bubbles can be used with all different ability levels. I talked about how I use them with my baby at home in this post!
Pool Noodle
The uses of a pool noodle are pretty endless.  I've use them as a bat/striking tool for rotation.  They can be used as hurdles.  They are great for fine motor skills to work on dropping objects through the hole.  I've shared more ideas on uses of the pool noodle even outside of therapy!
Sensory Play
There are so many options for sensory play.  I discuss what to look for in the dollar aisle in regards to sensory play in my Dollar Aisle Sensory Play post.
Dog Toys 
I know this one sounds crazy, but so many of the dog toys squeak that it provides great auditory feedback and the squeakers tend to be flat when pulled out of the toy. I know this due to having a professional toy shredder at home (aka Lucy the golden retriever). This is something I'm going to attempt this year while working on biking (possibly stairs we will see).  I'll report back on how it all works out, probably in a post to come!
Sidewalk Chalk
As a traveling therapist I don't always get a space of my own.  I've used sidewalk chalk to create a therapy room outdoors!  I've made agility ladders, worked on squatting, created hurdles, etc.  Sidewalk chalk is a must have for my therapy bag.
What is your favorite dollar store find?  I'd love to hear!  I'm always looking for the next creative bargain! 
More Therapy Favorites
Click on each photo for a full explanation of product.  Affiliate links. 
More Information For Therapists
Check out the page of therapist resources from Pink Oatmeal! 
More Physical Therapy Ideas
Follow Pink Oatmeal's board Physical Therapy on Pinterest.


I WANT TO HEAR FROM YOU
Let's connect!  Pink Oatmeal is on Facebook, Pinterest, Twitter, and Instagram!