A huge resource for my practice as a physical therapist has turned out to be Pinterest.  Yes, social media at it's best!  Honestly, there's some really great ideas on how to incorporate fun into your therapy sessions, plus easy access to research and technology ideas.  I've compiled a list of my favorite boards to follow.  Not only are these boards great for therapists, but they are great for parents looking for developmental tips and play ideas!    These are just a few of my favorite therapy related boards to follow!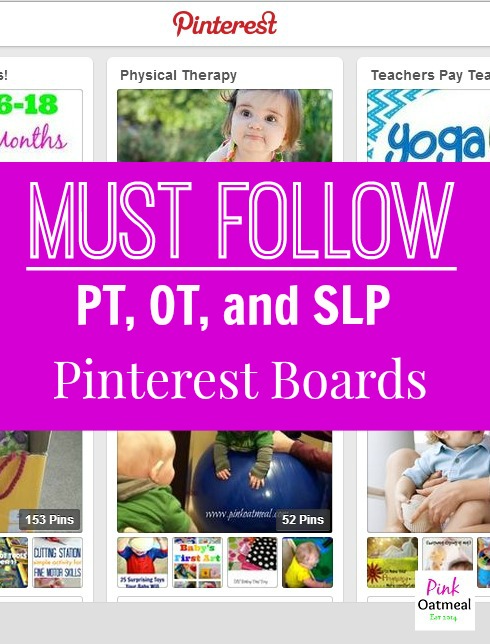 10 Must Follow OT, PT, and SLP Pinterest Boards
What are your favorite therapy boards that can be added to the list?
I WANT TO HEAR FROM YOU
Let's connect!  Pink Oatmeal is on Facebook, Pinterest, Twitter, and Instagram!  Come follow me!
YOU MAY BE INTERESTED IN
My store at Pink Oatmeal is full of ideas to get the kids moving at home, in the classroom, and in therapy!  If you prefer Teachers Pay Teachers you can find me there too!