It's hard to believe that my long maternity leave is starting to wrap up.  This means that the 2016-2017 school year isn't too far away.  Well far enough, but the thought of it has crept into my mind.  Last year I made an organization system that worked pretty well but you learn something new every year.  This year I plan on making a few tweaks to the system to even make it better!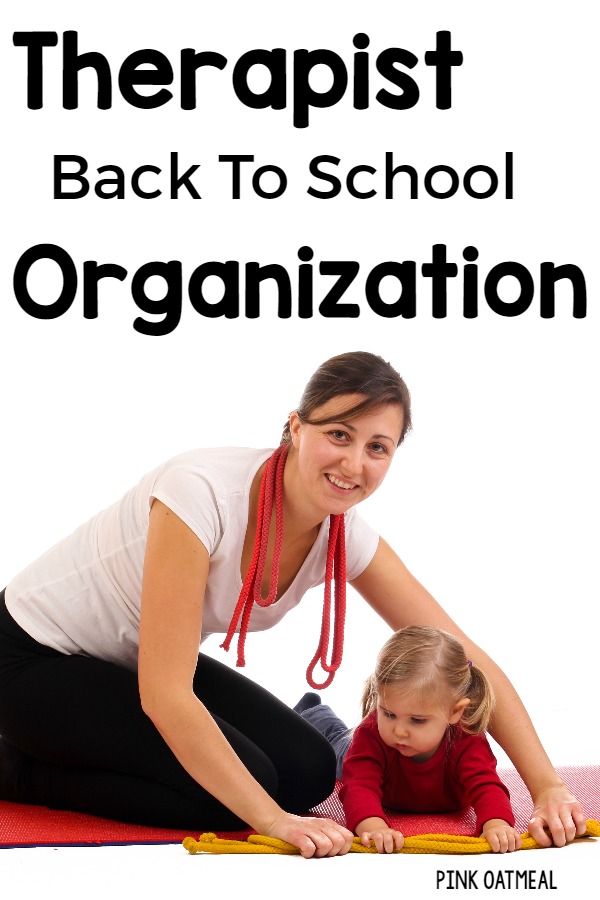 My Back To School Plan
I have a physical office, however I am rarely there.  My office is my car.  I can't fit everything in my car that a traditional office would allow, so I have to be organized. When I'm organized, the days flow smoothly without too much backtracking and running around!
Microsoft OneNote
I'm getting completely rid of my binder.  Yep, no more binder after several years of using one.  Last year I found that I rarely needed it.  A simple folder would have done to carry the few sheets of paper that I like to have.  My therapy bag will hopefully have a little extra room and be a little lighter (but let's be honest I'll probably fill it up with other stuff). The reason I can get rid of it is because I've gone almost completely electronic (there are a few things I keep paper, I'll get to that later).   I've been using Microsoft OneNote and it has been amazing.  I've posted about it before.  (Read this it is seriously the best!) I seem to love it more each year.  If you travel like me, you may have those couple extra minutes in between schools that you want to get notes done, but don't have time to find a computer and handwriting notes takes forever.  With OneNote I'm able to do it on my iPad.  I have a keyboard for my iPad  similar to (affiliate) this one.
Daily Communication Forms
So there are a few things that I like to keep paper.  I have a form that I try to send home with my students after each session.  There are times I forget, but for the most part I get them home.  I  believe it promotes a good relationship with the student's parents when I update them on what's going on in regards to their school based therapy.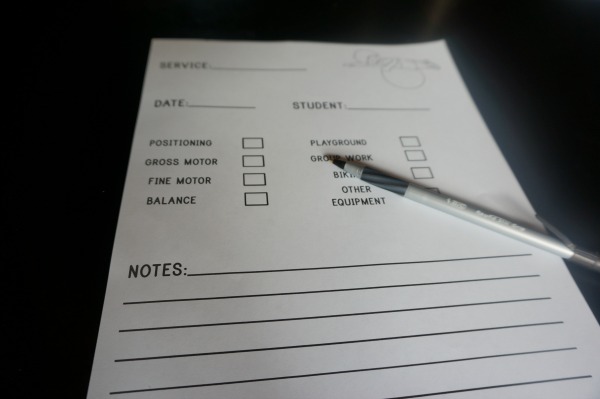 In My Car
A Storage Bin
My office (aka my car) has a lot of stuff in it during the school year.  I have a large storage bin that I put in the back of my car.  In this storage bin are several different pieces of equipment that I like to have on hand to use, especially if I am in a pinch.  Often times, I will have hurdles, Twister, a playground ball, stepping stones, and bubble wrap.  I love that if I have to change my plan for the day I have some great options to fall back on.
Therapy Bag
I get my therapy bag packed with things that I really can't go without.  This mostly includes tools.  I never knew how much I would have to use tools in my job!  I have an allen wrench, screwdriver, and needle nose on hand.  I also carry tape, velcro, and sidewalk chalk in my bag at all times!  Check out my post on my favorite back to school moving and learning resources – you can get your free back to school scavenger hunt too!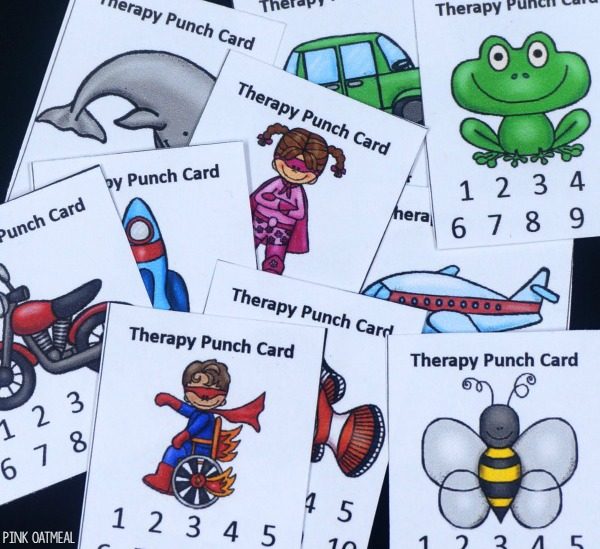 I also carry around a couple of sets of brain break/movement cards or yoga cards.  I like to interchange which ones I have in my bag throughout the year. I also have some basic "therapist stuff" in my bag.  This includes my Therapy Punch Cards and Therapy Awards – a little motivation can go a long way! 
Therapist Pack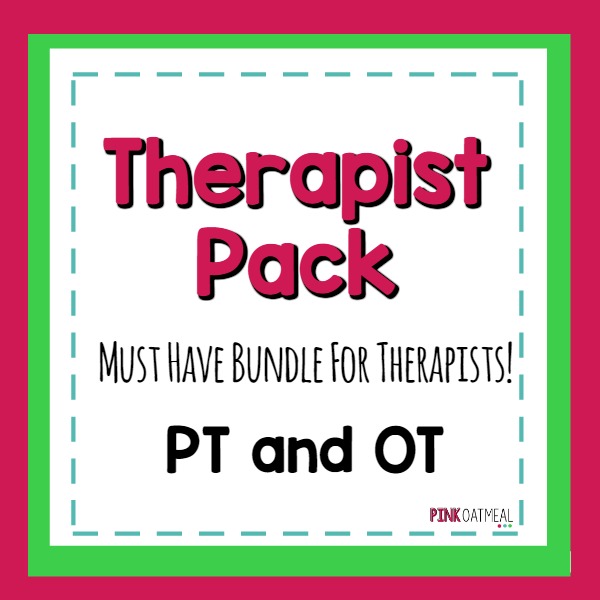 I have a therapist pack available for physical therapists and occupational therapists that is a nice starting off point for the beginning of the year.  This pack includes two different sets of yoga cards – one set has clip art graphics and the other with real kids in the poses.  There are therapy punch cards, therapy awards, motor/sensory printables and cards.  There are superhero themed brain breaks which are a big hit!  There is also a quick summary of motor milestones that is nice to keep handy.  There is also a set-up for movement stations.  When you buy these in the pack you are receiving a 20% discount on the price!  




Freebies
Along with the free communication form there are a few other freebies I'm offering that you might enjoy to start your year off right!  Movement charts are a fun way to motivate kids to move and free for you.  If you are the decorating type be sure to grab your therapy printables!  Movement dice are also a fun addition to any therapy session!
More Therapy Ideas
Follow Pink Oatmeal's board Physical Therapy on Pinterest.




YOU MAY BE INTERESTED IN
My store at Pink Oatmeal has ideas to get the kids moving at home, in the classroom, and in therapy!  If you prefer Teachers Pay Teachers you can find me there too with even more ideas to get the kids moving!
I WANT TO HEAR FROM YOU
Let's connect!  Pink Oatmeal is on Facebook, Pinterest, Twitter, and Instagram!