This is about the time of year that I start to get a little bit stir crazy.  I don't think our temperature has even hit 10 degrees today!  Not only am I stir crazy, but I'm having to keep my little guy entertained as well.  Luckily, we have an unfinished basement that we spend a lot of time in during these cold months.  We've also moved his water/sensory table that we made, into the basement during the winter months.  Up to this point, we've mostly played with water as he loved to mouth most anything else.  C has played with some other sensory table safely, so we've decided to step it up around here.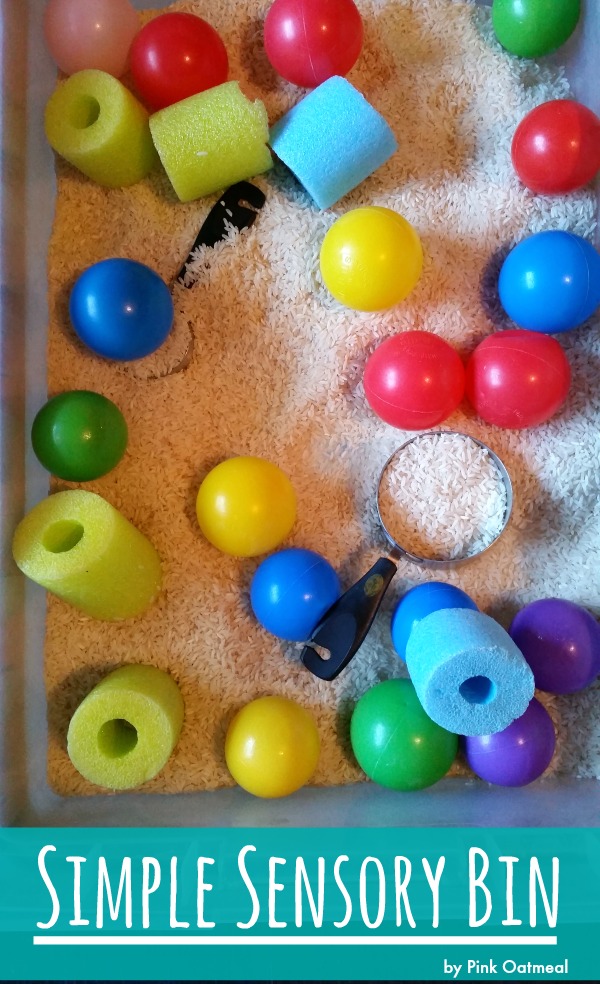 Simple Sensory Bin
I made the decision to start with rice in his sensory table as he's enjoyed it so much in his toddler class.  I was able to buy a cheap rice in bulk at Costco, so I didn't break the bank on it.  I thought about dying the rice colors but after making one batch I decided against it for now.  His attention span when it comes to playing with anything isn't huge yet.  I opted to make it a simple sensory bin, yet fun, as I realized he may only play with it for a minute or two at a time.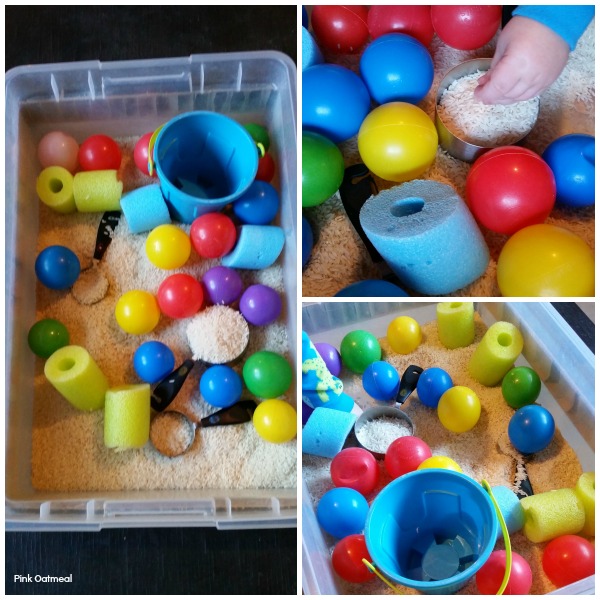 Inside the bin is our favorite plastic balls (affiliate).  We've used them for so many different things.  I also threw in a few pool noodles that I had cut up last summer for sensory play.  I added some measuring cups and a bucket.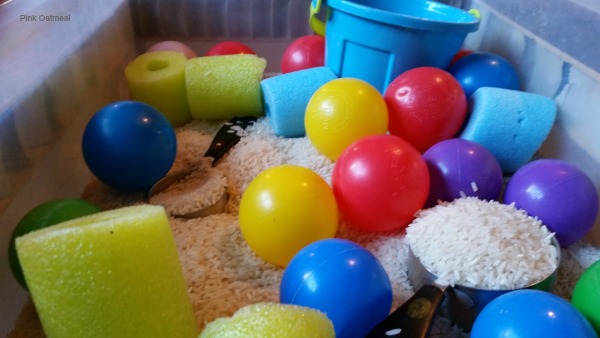 It was a hit, and as I suspected it is played with in short bouts of time.  I was happy I started simple!
More Sensory Ideas
Follow Pink Oatmeal's board Sensory Ideas on Pinterest.

I WANT TO HEAR FROM YOU
Let's connect!  Pink Oatmeal is on Facebook, Pinterest, Twitter, and Instagram!
YOU MAY BE INTERESTED IN
My store at Pink Oatmeal has ideas to get the kids moving at home, in the classroom, and in therapy!  If you prefer Teachers Pay Teachers you can find me there too with even more ideas to get the kids moving!