I can't believe  I'm already thinking about the new school year approaching.  It's going to be a shock to my system since I've been off for maternity leave for the past year.  I've started going through some of my projects and games and came across one that I LOVE!  I affectionately call it the Shower Curtain Game.  Real creative, I know.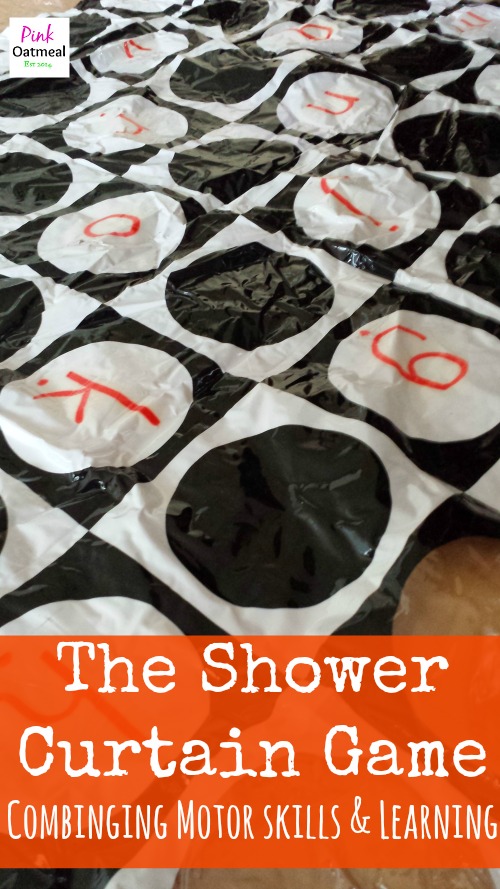 I love this game because it combines learning with movement! With all of the requirements expected of teachers, it seems like there is never time to just let the kiddos move!  We all know, students that move and use motor skills during the day do better.  With demands and many requirements time is of the essence so why not combine both skills with movement!
What You Need:
Shower Curtain (Buy one on clearance or at a second hand store, I use plastic curtains.)
Marker – To write on the shower curtain.
Card Sets (Find them in my Teachers Pay Teachers Store)  You don't have to be a teacher to shop at the Teachers Pay Teachers store.  It's a great resource for parents too.  See my post on it!  You also have the option to make your own!
How the game works:
Select which set of cards you would like to work with.  There are colors, numbers, and letters to choose from (uppercase and lowercase).
The shower curtain is placed on the floor.  You need a different shower curtain for each game.
The shower curtain has the name of the color, a uppercase or lowercase letter, or numbers written on it depending on what you choose.
I have 3 different shower curtains I use.  You only have to have one if you choose.
The teacher, parent, or therapist can select what skill they want to practice.  The student works on matching upper/lower case letters, colors or numbers.
I usually lay out one curtain on one day and when I'm back to see the kiddo play the game with a different curtain.
This can be played individually or as a group.
The game is great for free play or different stations in your classroom.  It's great for parents to use at home as a fun game to work on learning with their kids!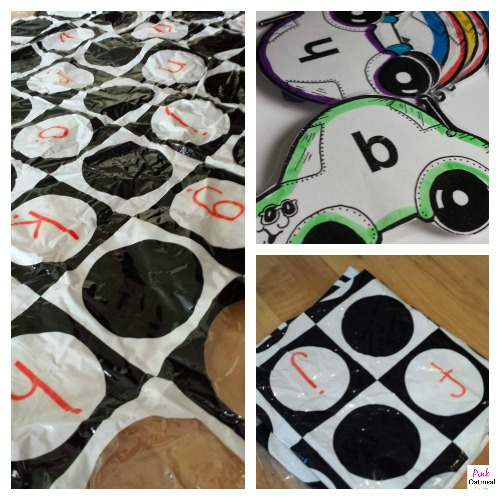 Benefits
Squatting, walking, and  sit to stand skills are all involved in this game!
Great for kinesthetic learners!
Great for letter recognition.
Great for number recognition.
Great for color recognition.
If you have several shower curtains the games can be endless including matching shapes, sounds etc.
Versatile – The game can be moved anywhere! I travel between schools and just fold it up and I am on my way to use it at a different school.
Other Variations
Play barefoot
Play outside
Walk backwards
Walk Sideways
Hop
Enjoy the game!  Get the kids moving and see how they learn!
Even "C" got into the game.  Who knew that crawling on a shower curtain was so much fun?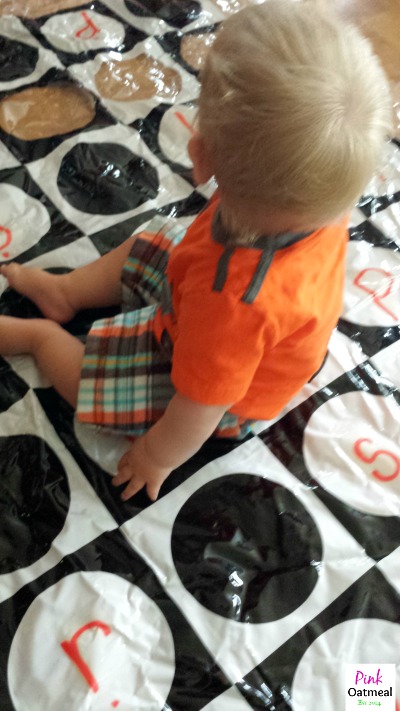 Find ready made cards at my store!
I Want To Hear From You!
 I would love to hear from you!  Leave a comment or stop by one of my social media avenues so that we can connect!  I can be found on Facebook,Twitter, Pinterest, and Instagram!