This weekend my occupational therapist friend and I got together to make our boys sensory bottles.  Yes we realize this is dorky but what do you expect from a pediatric physical and occupational therapist :).    We used Voss water bottles
 to create the sensory bottles.  We choose the Voss due to their ability to roll, sturdy plastic that was most importantly BPA free.   We made a variety of bottles, some of which are good for right now and some that likely won't be used until later.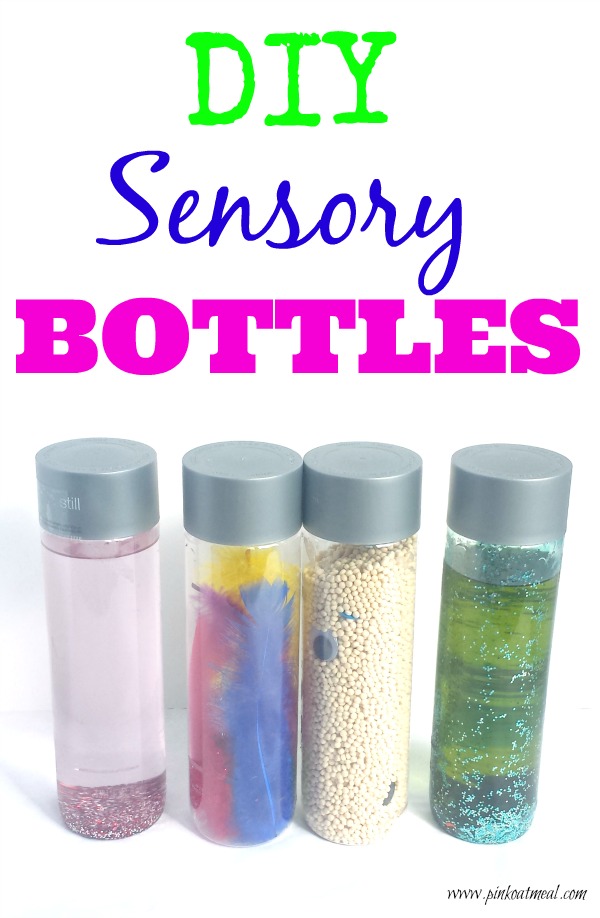 We made bottles several different ways.  The bottles with water or oil were hot glued shut.  The bottles that had dry items were not yet glued shut so they can be interchanged with other items.  As C gets older I may have to hot glue them shut for safety but at this point he can't open them so I'm not worried.
Object Finder
The object finder bottle was made of couscous and several different objects.  Pretty much anything you can find around your house or at the dollar store works.   I have safety pins, poms, little animals, alphabet letters, paper clips etc.  I also took pictures of all of the items I have in the object finder and when C is older will make cards for him to work on matching the objects.
Oil and Glitter
For this bottle I used olive oil, rubbing alcohol (small amount), glitter, food coloring, and sequins.  I first put in the rubbing alcohol and food coloring, then added the olive oil and next added the glitter and sequence.  It is quite pretty and the oil keeps the glitter and sequins moving at a slower pace.
Poms and Feathers
This was very simple I just added some feathers and poms to the bottle.  This way C can look at them when rolling around the floor or when he holds it in his hands.
Water and Glitter
This bottle was just basic water and red and silver glitter.  The glitter moves a lot faster through the water then the oil for a different take on the glittery fun.
Beans and Seeds
This was just simple beans and seeds I had around the house that I added in layers.  I used lentils on the bottom, popcorn seeds in the middle, and garbanzo beans on the top.  This adds a little noise with play as well.