We recently embarked on a 10 hour road trip to South Dakota with "C." In the past, we've been on 5 hour trips without much trouble but now we were doubling the time. The great news is it went very well! We did more planning and were more prepared now than we were pre-baby.  That being said, we did no planning pre-baby so pretty much a little planning means more planning.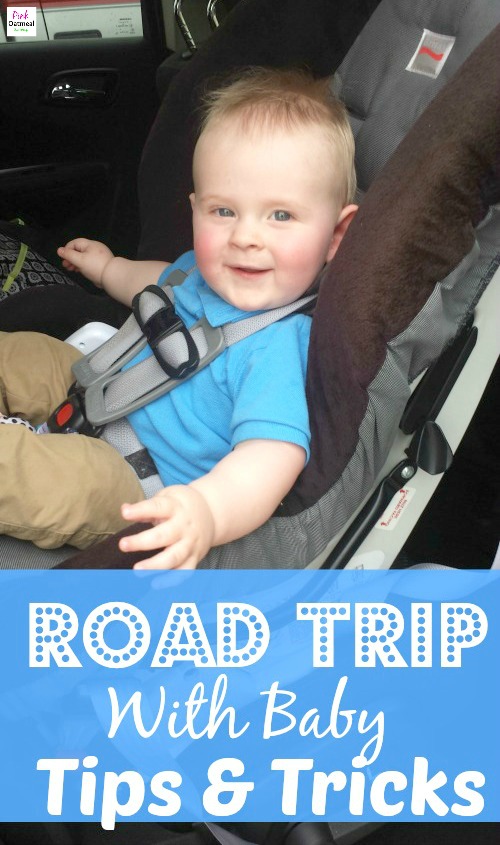 Tips & Tricks That Worked For Us
Start your trip when your baby would normally be sleeping. Our baby still gets up around 6:00 to nurse then typically goes back to sleep. When he got up at his 6:00 time we put him in the car after nursing and took off. It was early but we got 3 hours of straight sleep from him.
Be prepared to stop. You likely aren't going to be able to drive for 5+ hours with a baby on board. You're likely going to need to check out your route and find some good places to stop along the way.
Pack food or buy picnic type food. This gives the little one an opportunity to get out and move. If you need to get tummy time in it's a great time. Stopping at a restaurant and moving your baby from the car seat to high chair or keeping them in the car seat doesn't allow that much needed motor play.
Be prepared for someone to sit back by the baby. You will likely end up being a source of entertainment for baby. Pack some fun toys to play with baby when he or she is up. This will let some more time pass. If you are lucky you may have grandma or grandpa riding with you (like we did) who can take on some of the duties!
Have a bag that is easy to access with everything you need. That way you aren't having to unpack to get something. For us we had a bag that had diapers, wipes, change of clothes, water bottle, snacks, toys, blankets, and pacifiers all ready to go. No digging through our packed bags to find something.
Diaper changes at each stop. Don't forget to change the diaper! It will save you from an unnecessary stop for a diaper (maybe)!
Needless to say we made the 10 hour trip there and back with only a few bumps in the road. We couldn't stop due to bad weather as early as we would have liked one time. We had one necessary diaper stop after changing the diaper a few minutes prior! Other than that it was smooth. Getting our baby out and letting him move and crawl around was key!
I Would Love To Hear From You
What tips or tricks do you have for a road trip with baby? I'd love to hear your tricks.  Have you done it with more than one baby or toddler let me know!  Visit me on my Twitter, Facebook, or follow me on Pinterest!