It's the biggest shopping day of the year, or maybe second biggest now?  I'll admit, I find myself out searching for bargains this weekend too.  I just can't resist!  For those of you looking for great ideas for the babies in your life I'm hoping this list will be of help.  With all the items out there, it's hard to pick!  I love these particular products because they are great for gifts for baby and they promote motor development.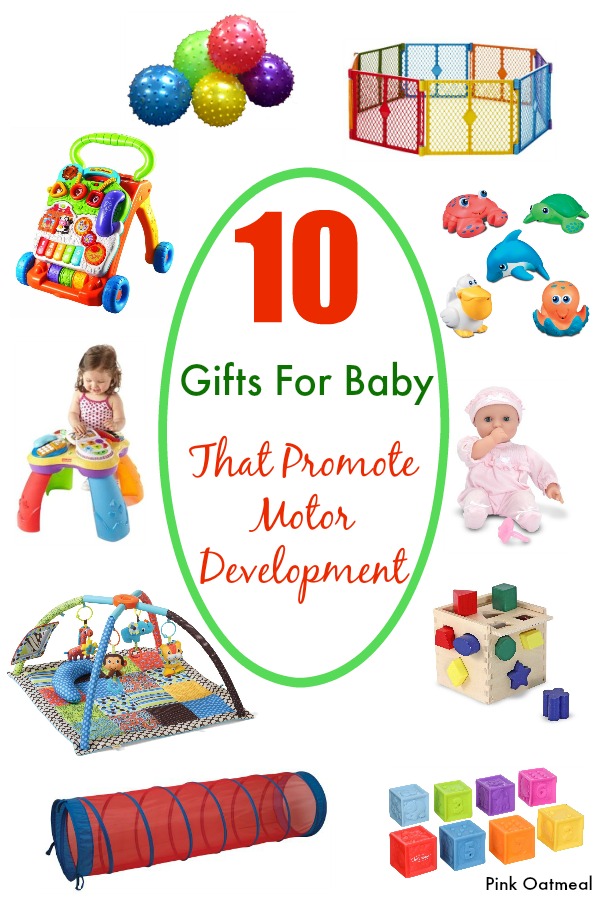 Gifts For Baby
This post contains affiliate links.  All products are those I love or personally use.
Push Toy  – I love how versatile this toy can be.  We used our push toy from very early on.  We used it during tummy time, in sitting, and for walking. Benefits of playing with the push toy include eye-hand coordination, bilateral coordination, weight shifting, and visual attention to name a few.  You can read more about the benefits of a push toy.
Activity Table – This may go down as our most used toy in the first year (and even some now).  The activity table can be utilized right from a very early age.  I really like the tables that have the ability to take the legs off so they can be used in several different positions.  We used the table laying flat on the floor, in the vertical plane, stacked on cushions and with the legs on.  You can read more about the benefits of an activity table.
Baby Gym – One of the best toys from the very first days.  This was in competition with the activity table as the most used toy for the first 12 months.  It was for sure the most used toy of the first 6 months.  The baby gym provides sensory stimulation, cause and effect, eye-hand coordination, and mid line crossing to name a few.  Be sure to read the benefits of the baby gym which goes into detail on all of the reasons to have a baby gym.
Tunnel – When our little guy started getting ready to pull himself along on his belly the tunnel became a favorite.  He loved crawling through the tunnel and it was one of our favorite products to promote crawling.  He still uses it today and I imagine that he will use it for years to come.
Blocks – We stacked blocks with our little guy from an early age.  He obviously couldn't stack them right away but before we knew it he was knocking down the block towers that we made.  Now that he is over one he is starting to stack blocks himself.  They are great for fine motor skills and eye-hand coordination.  The blocks are a great toy that can be used for many years.
Play Yard– Parents sometimes need a minute to put their little ones down and make dinner, clean or go to the bathroom.  The play yard is a great choice for safe and contained play.  It allows the baby free movement which is a better option than a device that contains a baby allowing for minimal movement.  There are several varieties of play yards some that include toys within the play yard and others that are just the basic play yard.  We had the basic and just had several different toys within the play yard.  Play yards are an excellent choice for promoting motor development.
Bath Toys–  They aren't just for baths!  We used them for any water play and even without water.  They are great for hand strengthening to build on fine motor skills.  I love the particular bath toys that water squirts out of the mouth for the cause/effect and hand strengthening skills.
Ball– Playing with a ball can start from when your baby is sitting up.  Rolling a ball can support their development at this early age.  A ball is a fun toy all the way through childhood.  I am a fan of the knobby balls for my little guy due to the sensory feedback the knobs give.
Doll – I never would have considered this as I had a boy until I read the post on Mama OT's blog. I bought one for my boy and I think it is a brilliant toy!  Be sure to read about the benefits of playing with a doll from a speech pathologist, occupational therapist, and play therapist in this post.
Shape Sorter– We started using our shape sorter without a cover on just working on placing the shapes in the container.  We've advanced now and have the cover on with some help of course.  It's been a great toy to grow with our little guy.  It's great for eye-hand coordination and fine motor skills!  You could also consider making your own shape sorter.
Be sure to check out products you may want to avoid for the baby in your life or at least use in moderation.
You May Also Like
Stocking Stuffers To Promote Motor Development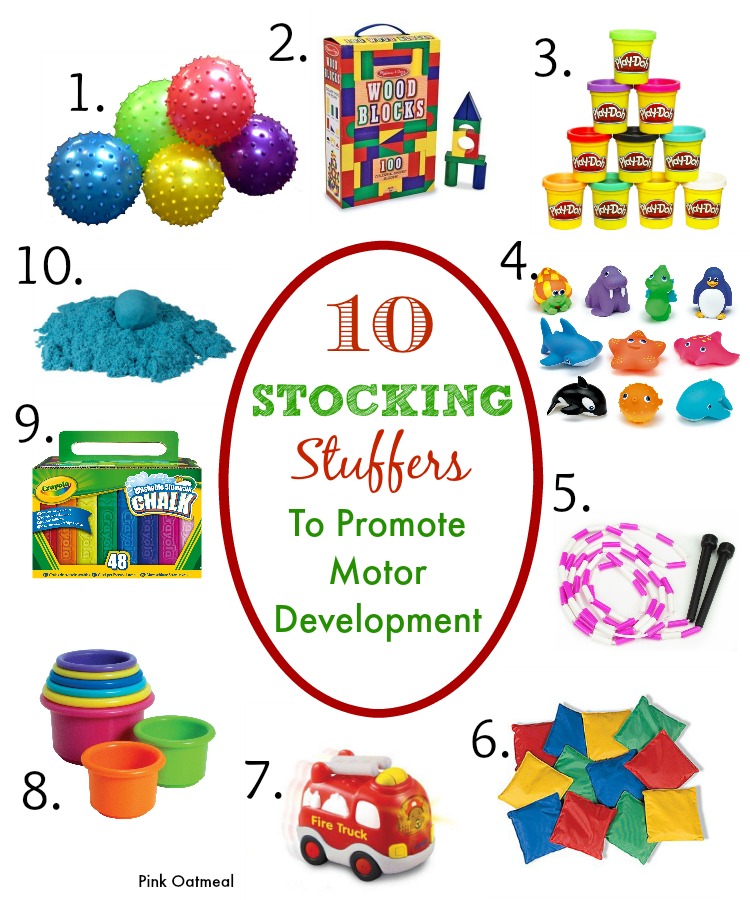 I WANT TO HEAR FROM YOU
Let's connect!  Pink Oatmeal is on Facebook, Pinterest, Twitter, and Instagram!
YOU MAY BE INTERESTED IN
My store at Pink Oatmeal is full of ideas to get the kids moving at home, in the classroom, and in therapy!  If you prefer Teachers Pay Teachers you can find me there too!