Each year I make an attempt at DIY gifts for Christmas.  Some years I succeed, some years I find myself at the mall a few days before Christmas trying to buy gifts that didn't quite work out. Most of these gifts consist of little need to sew or need to use too many tools.  This year I'v started thinking about my projects, but no actual doing yet.  I've compiled a list of DIY projects, some of my own and some from fellow therapist bloggers that would make great gift ideas.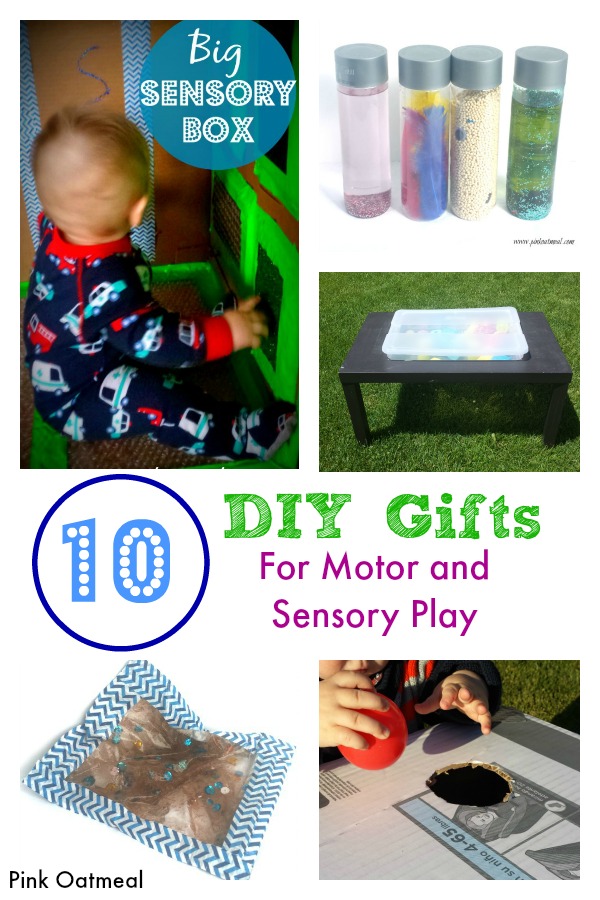 DIY Gift Ideas For Motor And Sensory Play
Big Sensory Box – This one is so simple and the little ones love this one. I made a sensory box for my little guy at 6 months old and he still goes in it today!
Jumbo Shape Sorter – Another box project that entails very little materials.  Simply cut holes on top of a box and you have yourself a giant shape sorter which is perfect for large motor play as well as fine motor skill building!
Sensory Bottles -There are so many different ways you can make sensory bottles.  The favorite bottles at our house right now are the bottles with the glitter in them.
Sensory Bags – There are a ton of possibilities with sensory bags too!  I love the tactile sensory component that the bags entail.  You can even make them holiday appropriate if you would like!  We made Halloween Sensory Bags this year!
Story Stones – Cindy at Your Kids OT shows you a fun way to make story stones.  I would love to act these out with my kids to get big motor movement involved!
I Spy Bags –  What a fun and easy way to keep toddlers busy looking for their favorite things!  Tonya at Therapy Fun Zone shows you how to make these!
Sensory Table – This is a little bigger project since a tool is involved!  Any time I have to use tools I consider it a big project.  Honestly, it only takes a matter of a few minutes once you have the supplies put together.  I have another IKEA table from my college days in our basement that I plan to make another one of these gems soon.
Shower Curtain Game –  This is a hit with my kids at school.  If you have an old shower curtain or can find one on clearance this is such a simple way to work on matching, letters, and motor skills at the same time.
Traveling Chalkboards – I love this idea from Your Therapy Source.  I love how she gives different ideas on how to utilize the chalkboards.
Kids Tent –  This involves just a bit of sewing and a bit of tools so it's probably the most complicated project on this list.  That being said, it really isn't too bad at all to make.  We sit in our tent and read books and it also serves as a tunnel.  Right now we have lots of blankets and pillows all piled up in the tent resulting in an obstacle course to crawl through!
Looking for more ideas?  How about giving a gift that gives back to education or stocking stuffers that promote motor development!
I WANT TO HEAR FROM YOU
Let's connect!  Pink Oatmeal is on Facebook, Pinterest, Twitter, and Instagram!
YOU MAY BE INTERESTED IN
My store at Pink Oatmeal is full of ideas to get the kids moving at home, in the classroom, and in therapy!  If you prefer Teachers Pay Teachers you can find me there too!