Fried rice has always been one of those things that we loved to order at most any restaurant that served it. I would venture to guess that it probably isn't one of the healthiest things on the menu. In an attempt to find a healthier version and something that we could have at home I came across a recipe from Iowa Girl Eats that I absolutely loved. I made some modifications to the recipe to better fit our family. It has become a staple in our house. We honestly think that it is better than take-out and it is really easy to make. Easy is key, or I wouldn't make it. 🙂 Here is the recipe!
3 cups of prepared rice (~equivalent to cooking one cup of rice out of the bag)
2 cups of Vegetable or Chicken stock to cook the rice (much better flavor than water)
3 teaspoons of sesame oil
1 1/2 cups of frozen vegetable mix (corn, carrot, bean)
2 eggs
3 Tbsp of Soy Sauce
(2) Green Onions Chopped (optional)
Prepare your rice as directed on the bag. Generally it is a 2 cup of liquid to one cup of rice ratio. I recommend using vegetable or chicken stock as it adds a much better flavor to the rice then plain old water does.
While rice is cooking
1. Whisk 2 eggs with 2 teaspoons of sesame oil in a small dish and set aside
2. Measure out 3 tbsp of soy sauce in a separate dish.
3. Measure out 1 1/2 cups of frozen vegetables (costco carries these in organic for a good deal) and set aside.
4. Chop onions and set aside if desired.
It is easier to have everything measured out and ready to go so when you throw it all in the wok pan you aren't chasing around trying to measure it then and the process goes smoothly.
When your rice is done cooking.
1. Heat up wok pan and add 1 tsp of sesame oil.
If you want to add some kind of meat you can fry it up here or see what we do below.
2. Add your vegetables until starting to warm through.
3.Push vegetables to the side then add your egg mixture and scramble up the egg mixture.
4. Once egg is scrambled throw in your rice and soy sauce and mix all together.
This should be your result!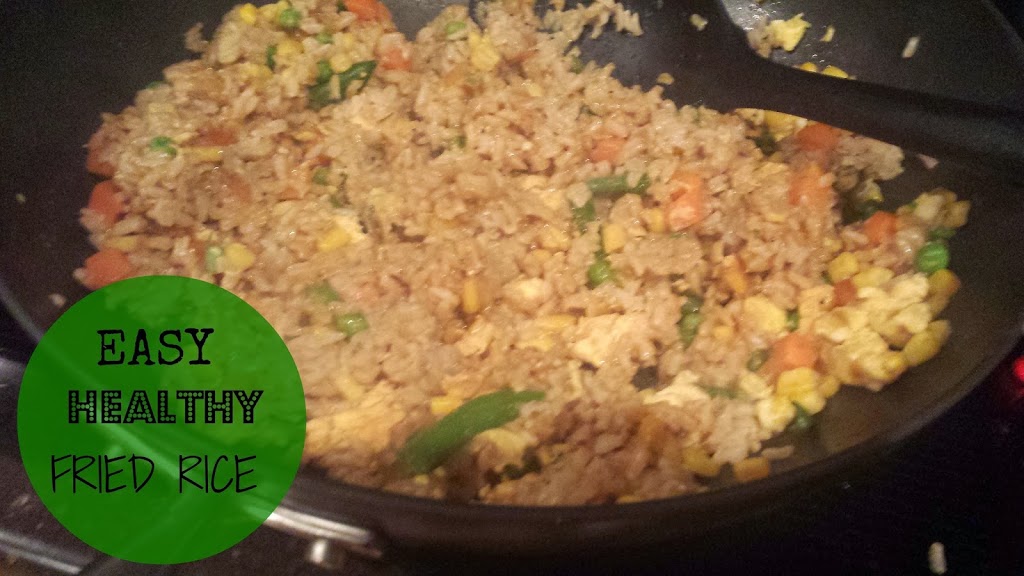 What we do since we are a bit divided in our house about meat (meaning I don't care for it) is I put some in the crockpot earlier that day if we know we are going to have this meal at night. Usually I will put in chicken or pork with a bit of sesame oil or an asian sauce that I have from my Wildtree collection for Nick to have with his rice. This way I can keep my rice veggie style and everyone is happy! Enjoy!