Dinosaurs are the perfect way to incorporate gross motor movement into the day!  There are fast dinosaurs, big dinosaurs, small dinosaurs, flying dinosaurs etc.  Think of all of the possibilities when it comes to dinosaurs and gross motor movements.  Dinosaur gross motor and brain break ideas are perfect to combine with a dinosaur unit in the classroom, use as a game during a party, or in a therapy session!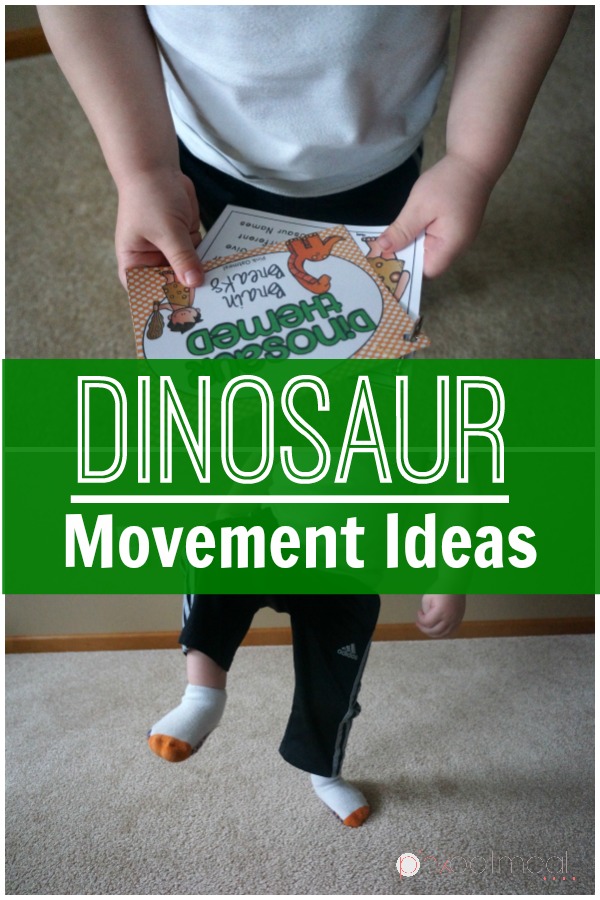 Dinosaur Gross Motor and Brain Break Ideas
Make movement fun with a dinosaur theme.  Set a time and distance that works for you and your needs!  Make sure you perform activities long enough to get the students moving.  Do as many as you would like before taking a break!
Dinosaur Walks
March, Forward Stomp Walking, Backward Stomp Jumping, Jumping Around A Room, Knee Walking, Crawling, Side Stepping, Skipping, Large Steps, Tiny Steps, Arm Flaps (While Walking), Walk On Your Tip Toes
Flying Dinosaur
Forward Arm Circles, Backward Arm Circles, Side Arm Circles, Shoulder Blade Squeezes
Dinosaur Dance
Body Wiggles, Free Dance, Fast Dance, Slow Motion Dance
Dinosaur Stomp
Fast Jumps, Side To Side Jumps, Forward and Backward Jumps, Fast Stomping In Place, Slow Big Stomps In Place, Jump and Turn, Right Foot Hops, Left Foot Hops
Dinosaur Power
Squats, Lunges, Heel Raises, Toe Raises, Jumping Jacks, Squat To Jump, Squat and Hold, Run In Place As Fast As You Can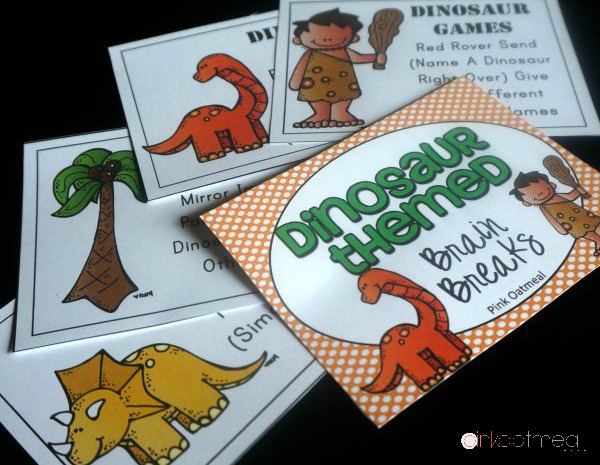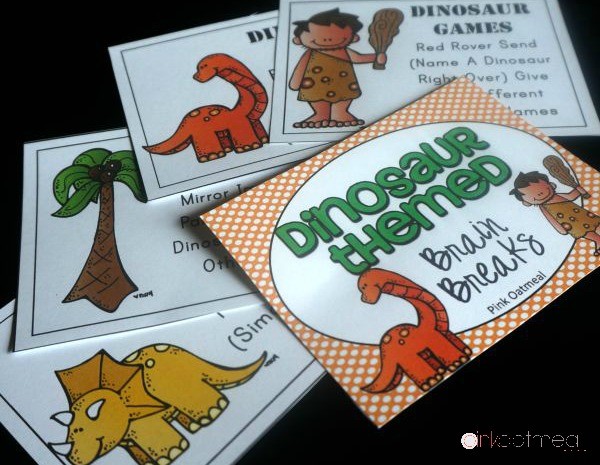 Dinosaur Feet
Balance On Your Right Foot, Balance On Your Left Foot, Stand With Your Right Toe Touching Your Left Heel Hold, Stand With Your Left Toe Touching Your Right Heel Hold
Dinosaur Games
Brontosaurus, Brontosaurus, Triceratops (Duck, Duck, Goose), T-Rex Says (Simon Says), Red Rover Send (Name A Dinosaur Right Over) Give Kids Different Dinosaur Names, Mirror Image: In Partners – Mirror Dinosaur Moves Of Other Partner
Dinosaur Size
Line Up Tallest To Shortest, Floor Touch To Stand, Floor Touch To Arms Above The Head, Move From Your Knees To Standing
Dinosaur Brain Breaks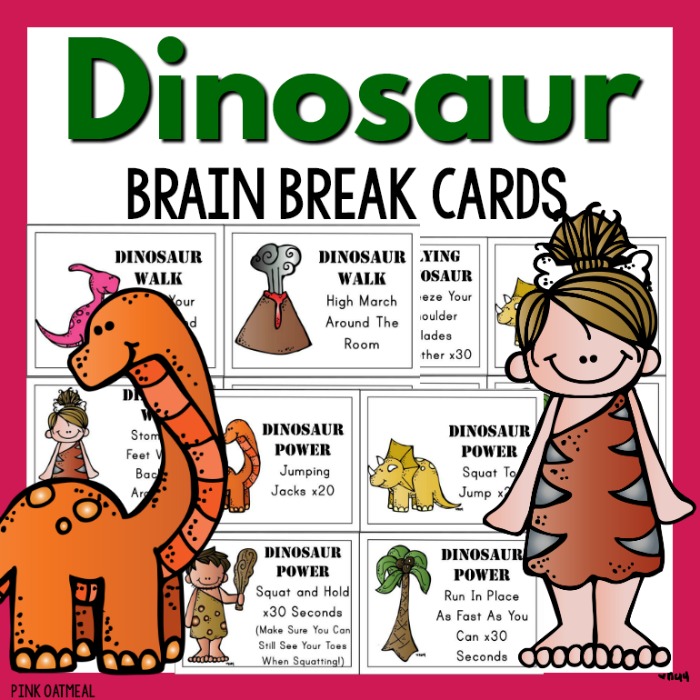 If  you love the idea of dinosaur brain breaks, I have a full set of 48 cards available in my Teachers Pay Teachers store for download.  It can also be found in my shop on the blog.    They are a fun and exciting way to get the kids moving.  They are perfect to incorporate into stations,  morning meetings, or as brain breaks.  Make movement fun!




I WANT TO HEAR FROM YOU
Let's connect!  Pink Oatmeal is on Facebook, Pinterest, Twitter, and Instagram!
YOU MAY BE INTERESTED IN
My store at Pink Oatmeal has ideas to get the kids moving at home, in the classroom, and in therapy!  If you prefer Teachers Pay Teachers you can find me there too with even more ideas to get the kids moving!