February is dental health month. Often times, this means education and activities about taking care of your teeth. At Pink Oatmeal we are going to add some dental health gross motor skills to the mix. These ideas and games can easily be incorporated into a dental health lesson or to use during the month of February.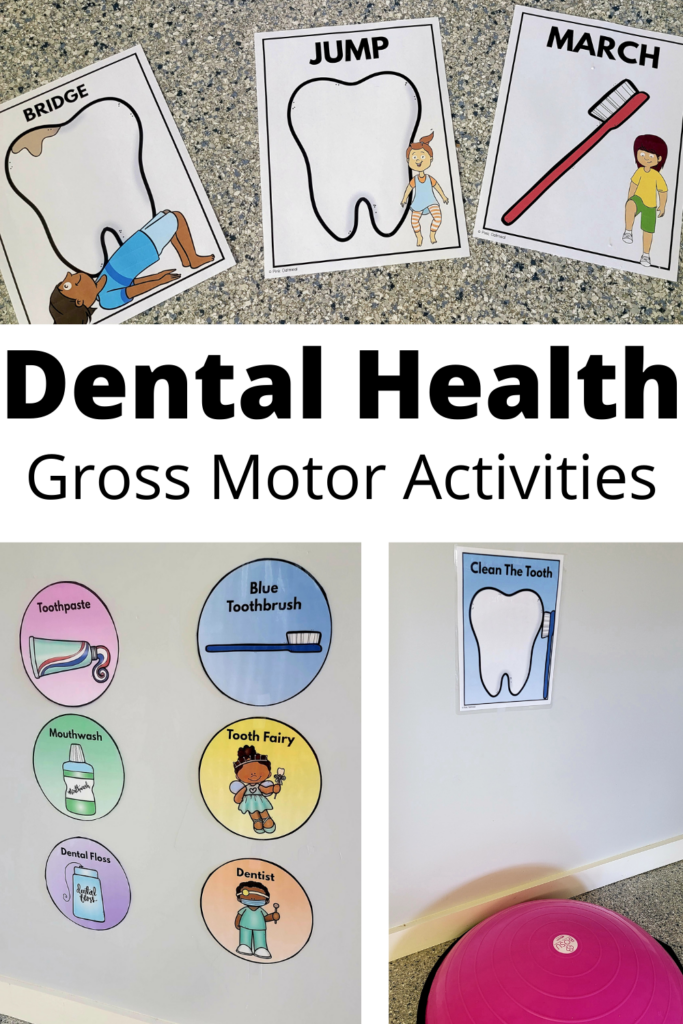 Dental Health Gross Motor Activities
Below are six different dental themed gross motor activities and games. One of the games included is a digital game. With digital games, they can be played on a computer or tablet. You could even use it on an interactive whiteboard and add an obstacle to the game.
Without further delay, here are your dental health gross motor games.
I have included links to different products below. Many are my affiliate links.
Tooth Fairy Balance
In this game, you need to transport the teeth to the tooth fairy jar. This game is all about the skill of balance. You will need to create a balance challenge to complete this game.
Balance Challenge Suggestions
Painters tape works to create a line perfect for working on heel to toe walking.
Pool Noodles as hurdles
Materials
Teeth (Small Marshmallows, White Chocolate Chips, White Poms)
Container with tooth fairy printable.
How to Play
Place the teeth on one end of your balance challenge and transport them to the jar. This may require several attempts at moving through the balance challenge to complete the task.
Below is a video of this game being played on a balance beam. The beam could be replaced by painters tape, hurdles etc.
Vertical Surface Teeth Cleaning
Next up, is cleaning those dirty teeth. The vertical surface is where the teeth are going to be cleaned in this example. The beauty of the vertical surface is that it lends itself to several different positions that it can be worked in.
Supplies Needed
Toothbrush
Dirty Tooth Printable – You will need to laminate this.
Dry erase marker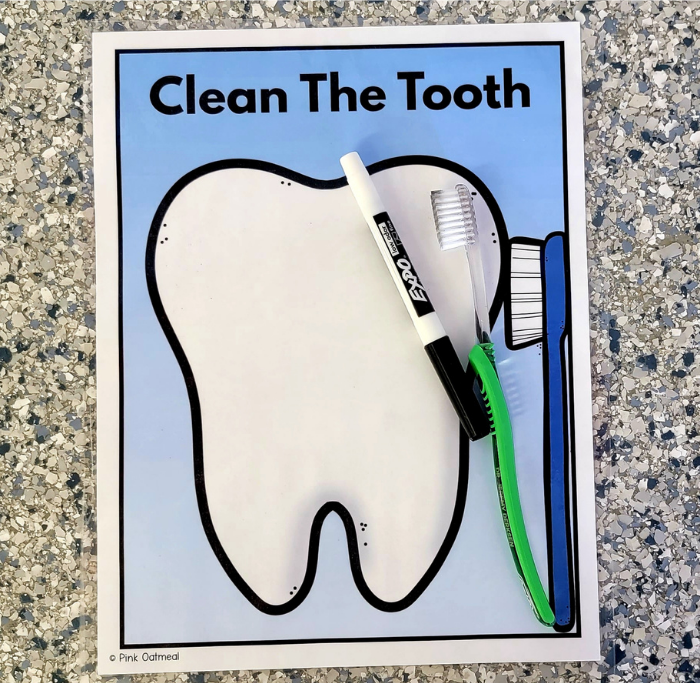 How to Play
You will need to make sure you laminate the dirty tooth printable before starting. This will allow you to have the ability to use a dry erase marker to make the tooth dirty. The toothbrush will easily be able to brush away the dry erase marker to clean the tooth.
Put the printable on the wall or door and get to work. There are several different positions that can be used including, but not limited too, tall kneeling, half kneeling, tandem standing, and standing with feet together.
Then of course you can also add pieces of equipment such as a Bosu ball, balance board, or pillow to these positions.
Below are a couple videos of this game in action. My kids LOVED it! They actually fought over who got to be in the video…so they both did
Dental Health Taps Game
This game is perfect for balance and strength skills. It is a versatile game with several different positions you can try for different strength and balance benefits.
What You Need
Dental Health Spots – I recommend laminating these to use over and over again.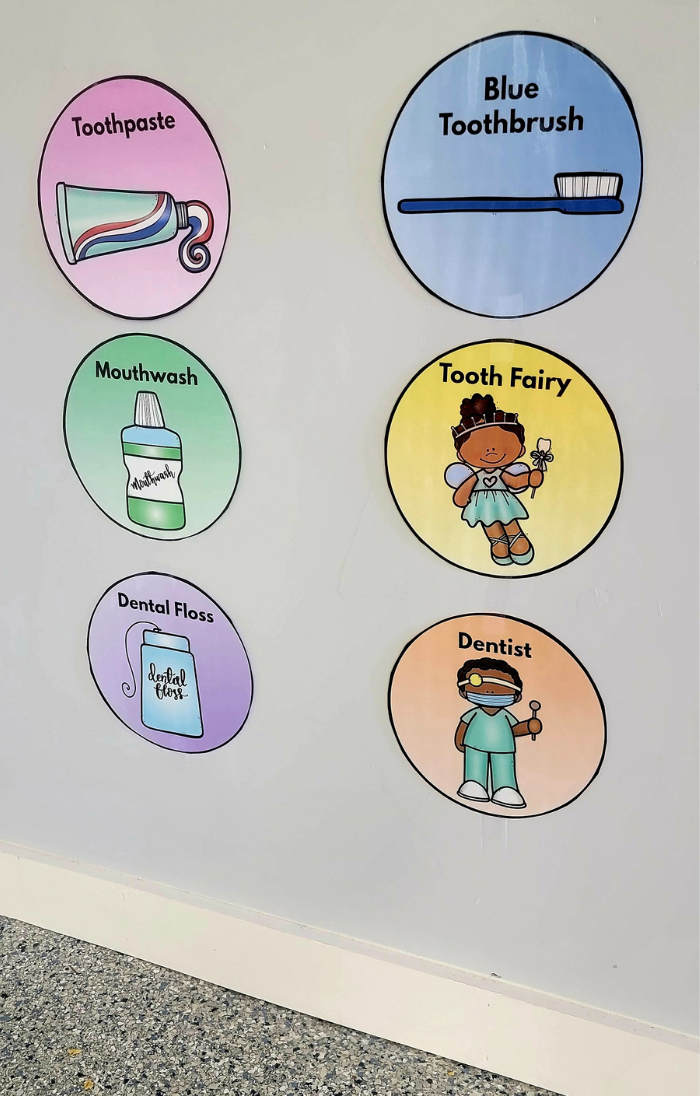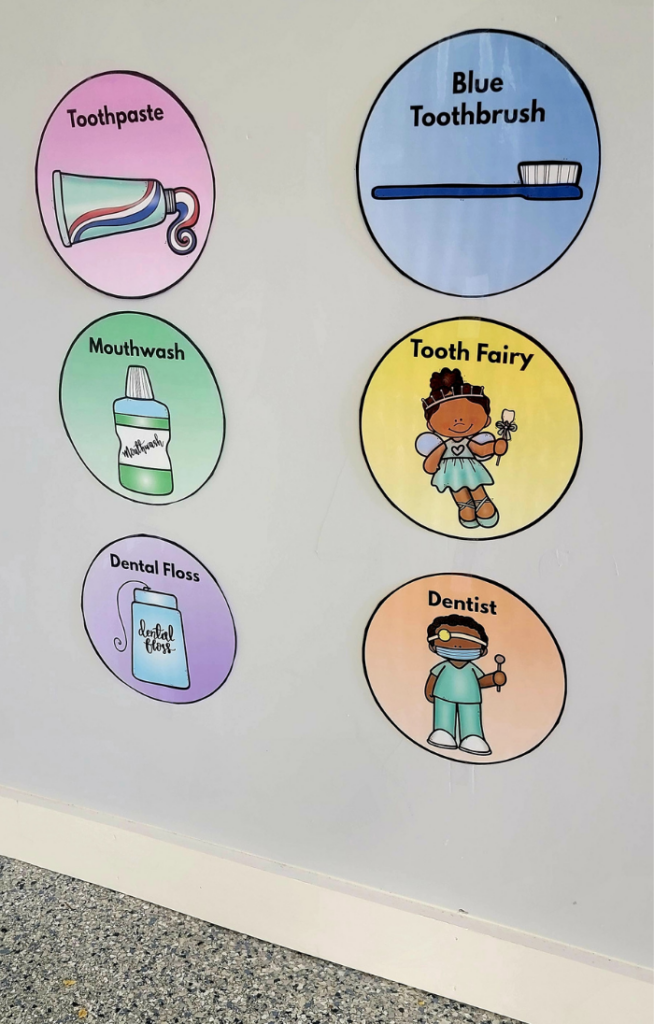 How To Play
You will place the spots on the wall in the best arrangement for your desired outcome.
You will call out the different dental items on the spots. If your kiddo doesn't recognize the dental items you can also add the colors. For example, tap the toothbrush which is the blue spot.
Below are a couple of examples of this game in action in two different positions.
Smile Agility Drills
Nothing says dental health like a pearly white smile. The smile agility drills gross motor activity is the perfect addition to your dental health theme.
What You Need
Painters Tape/Chalk – To create your agility ladder (it takes about 2 minute)
Smile Agility Drill Printables
How To Play
Print and laminate (for long term use) the smile agility drills. Follow the steps on the agility drill cards.
Below is a video of the cards in action. The agility ladder was made with painters tape.
See more fun ways to create obstacle courses, and sensory/motor paths.
Tooth Friends Gross Motor Game
This next game is a game that is formatted to be played in a digital manner. It can be played on a tablet, computer, or interactive whiteboard.
If you choose and interactive whiteboard, it would be easy to make it part of an obstacle course or even it's own motor station. It could be played with one kiddo to an entire classroom of kids!
You will pick your tooth friend. Meet your friend, and get to know their name. Finally, you will perform the gross motor movement they ask of you.
The is perfect for dental health month!
You also have the option to print the game and use it as printables.
Dental Health Scramble
Finally, the last game is the dental health scramble. This game has you scrambling around to match different dental items. When you find your match you will perform the gross motor movement.
What You Need
How To Play
Print and laminate the cards for long-term use. Prep these once and you are done. Set up the large printables with the exercises around the room on the floor or wall.
Your kiddo will draw a dental card. They will scramble to find the printable with the matching dental item. That printable will also have a picture of an exercise they must perform.
Once they have completed the exercise, they will run back to grab the next card and the scramble continues.
To goal is to match all of the cards.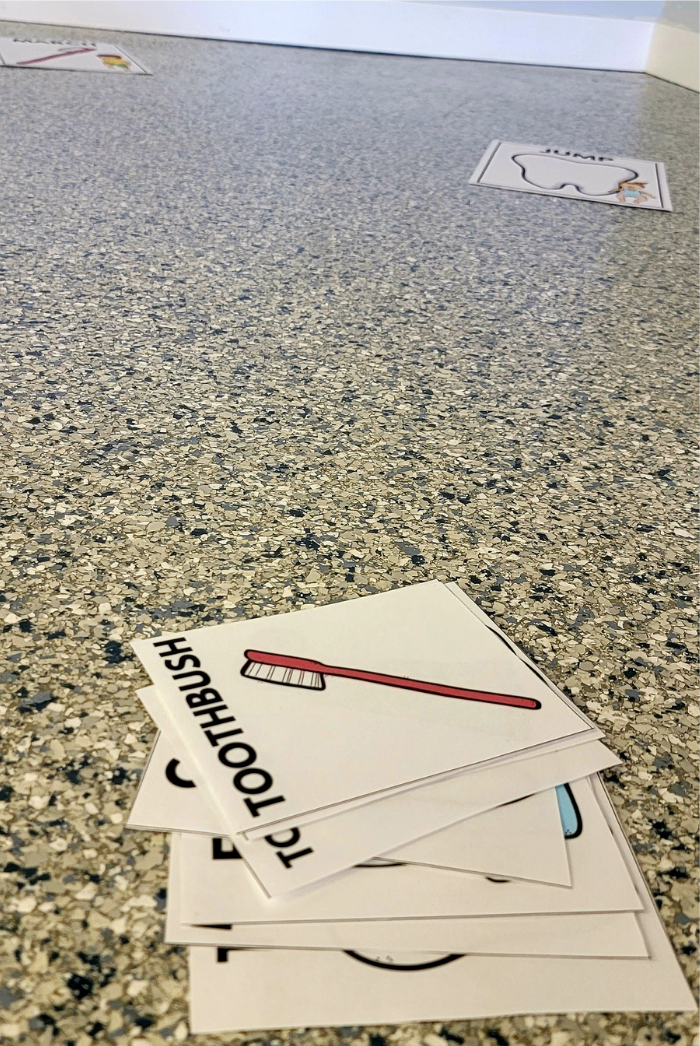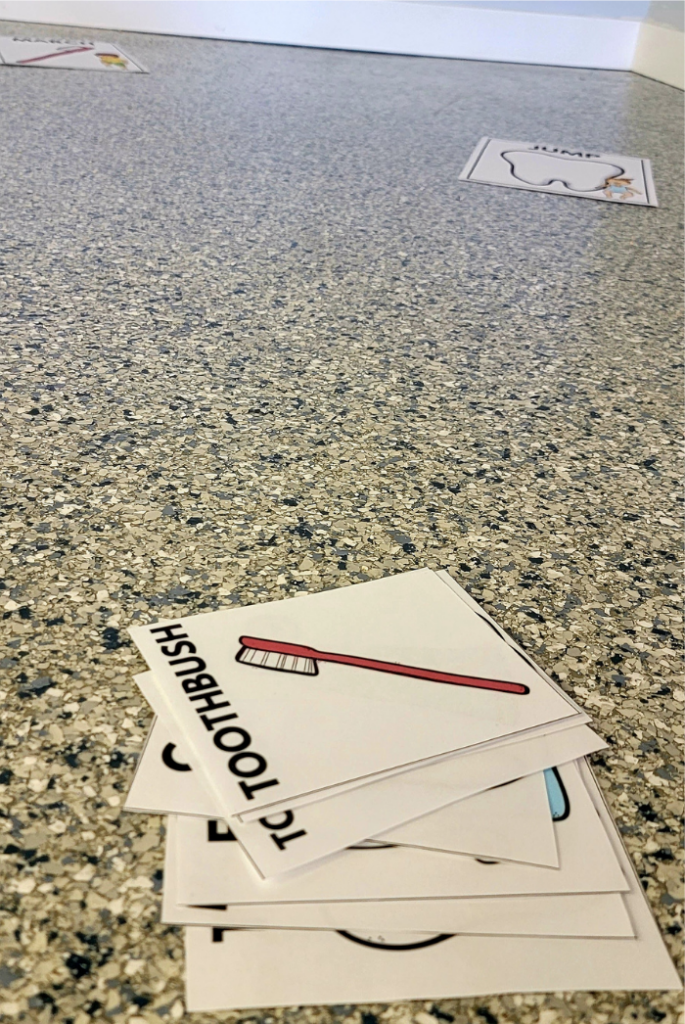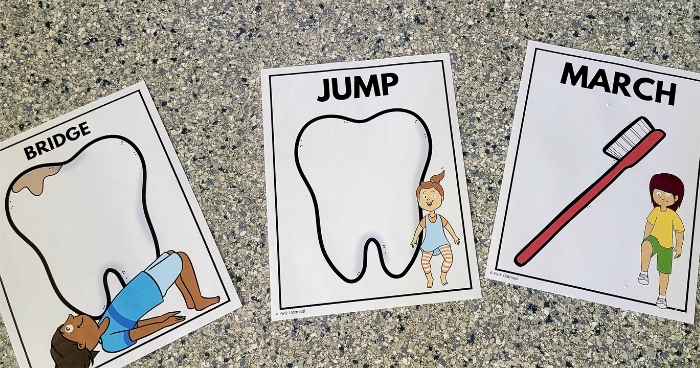 Dental Health Gross Motor Resources
Pink Oatmeal has all of these games ready for you to use today. Save yourself time and effort and use our games. You can use these during dental health month or all year long. They are great games to use year after year! Pink Oatmeal has them packaged together for you in one pack.
CLICK HERE TO GET THE DENTAL HEALTH GROSS MOTOR GAMES