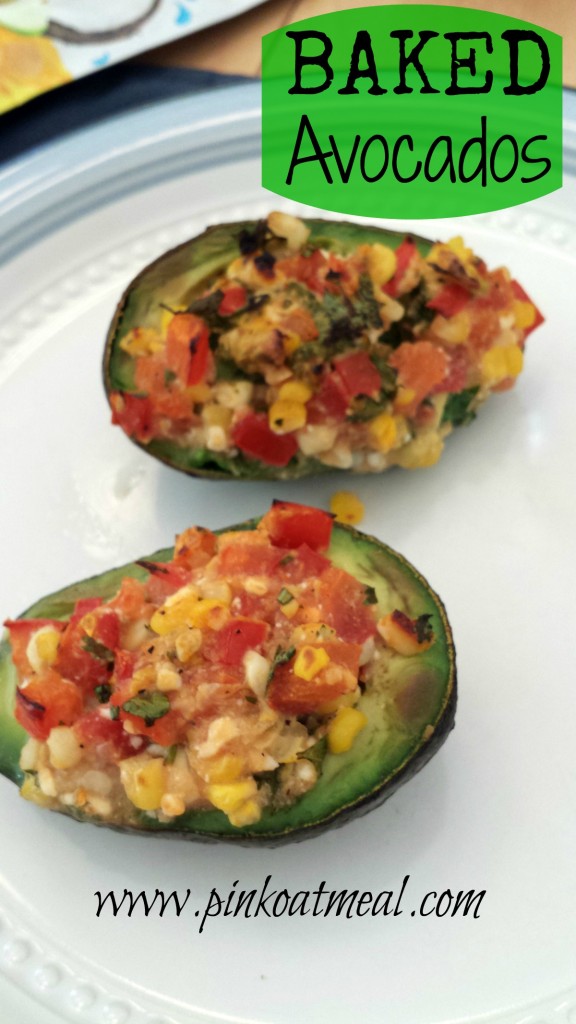 I am a lover of avocados no matter what way they are served. So delicious!  As I am not a big meat eater I find that I will add avocados to salads as sides etc instead of adding meats.  So when my mother in law introduced me to these baked avocados I was hooked.  The other part is that they are really easy to make.  Like I have said many times before, I only make food that is easy.  A few basic ingredients are needed and a few minutes and you have a delicious side or meal depending on how many you consume.  For me, for sure a meal!
Ingredients
1 tomato, chopped
1/2 cup corn kernels
1/4 cup feta cheese crumbles
1/4 fresh cilantro, chopped
1 Tablespoon lime juice
Salt and pepper, to taste
2 avocados, halved and pitted
Directions
1. Preheat broiler (if desired). In a medium bowl, combine the tomato, corn, feta cheese, cilantro, lime juice, salt and pepper. Mix well and set aside.
2. Spoon the mixture over the top of the 4 avocado halves. If desired, place the stuffed avocados on a baking sheet and broil for 3 to 4 minutes. The peel can serve as a bowl.
You can either eat these exactly as they are or you can eat them with chips.  Of course I prefer to eat them with chips.  I recommend that you go with the hint of lime chips – sooo good with these.
Enjoy! If you have any great avocado recipes I would love to hear about them!
More Nummy Ideas